Schedule of Events
Saturday, February 1, 2020

Banquet for 2019 Season Champions
Saturday, February 22, 2020

Sweetheart Enduro 200
Open practice from 1-3 p. m. for any class of dirt car (no enduro cars). 200 laps, $1,000 to win and paying the top 15. The race will begin from a standing start three wide.

Racing + Test & Tune
USRA B-Mods, Midwest Modz, Pure Stocks, Legends and Mini Late Models
USRA B-Mods $1,000 to win + Summit USRA Weekly Racing Series national points
Pit Gate Opens 1:30 p.m. | Grandstands Open 4:30 p.m.
Hot Laps 5:00 p.m. | Racing 5:30 p.m.
General Admission $15 | Youth 18 & Under FREE
Pit Pass $3
** Two-hour Test & Tune session following the racing program **

Return to Racing
Bad Boy Mowers IMCA Modifieds, Wheeler Metals USRA B-Mods, Casey's Midwest Modzs (A & B Class), Pepsi Pure Stocks. INEX Legend Cars, Sharp Mini Late Models
TIMES
Pit Gate Opens 3:45 • Grandstands Open 5:00
Hot Laps Start 6:15 • Racing Begins 6:45
TICKETS
Adults $15 • Military & Seniors (65+) $13
Kids (6-12) $5 • 5 & Under FREE
Pit Pass $35

Weekly Racing
Bad Boy Mowers IMCA Modifieds, Wheeler Metals USRA B-Mods, Casey's Midwest Modzs (A & B Class), Pepsi Pure Stocks. INEX Legend Cars, Sharp Mini Late Models
TIMES
Pit Gate Opens 4:00 • Grandstands Open 5:30
Hot Laps Start 6:30 • Racing Begins 7:00
TICKETS
Adults $15 • Military & Seniors (65+) $13
Kids (6-12) $5 • 5 & Under FREE
Pit Pass $35 • Kids (6-12) $15 • 5 & Under FREE

Weekly Racing
Bad Boy Mowers IMCA Modifieds, Reliable Chevrolet USRA B-Mods, Casey's Midwest Modz (A & B Class), Pepsi Pure Stocks, Wheeler Metal INEX Legend Cars, Sharp Mini Late Models
TIMES
Pit Gate Opens 4:00 • Grandstands Open 5:30
Hot Laps Start 6:30 • Racing Begins 7:00
TICKETS
Adults $15 • Military & Seniors (65+) $13
Kids (6-12) $5 • 5 & Under FREE
Pit Pass $35 • Kids (6-12) $15 • 5 & Under FREE

Weekly Racing
Bad Boy Mowers IMCA Modifieds, Reliable Chevrolet USRA B-Mods, Casey's Midwest Modz (A & B Class), Pepsi Pure Stocks, Wheeler Metal INEX Legend Cars, Sharp Mini Late Models
TIMES
Pit Gate Opens 4:00 • Grandstands Open 5:30
Hot Laps Start 6:30 • Racing Begins 7:00
TICKETS
Adults $15 • Military & Seniors (65+) $13
Kids (6-12) $5 • 5 & Under FREE
Pit Pass $35 • Kids (6-12) $15 • 5 & Under FREE

Weekly Racing
Bad Boy Mowers IMCA Modifieds, Reliable Chevrolet USRA B-Mods, Casey's Midwest Modz (A & B Class), Pepsi Pure Stocks, Wheeler Metal INEX Legend Cars, Sharp Mini Late Models
TIMES
Pit Gate Opens 4:00 • Grandstands Open 5:30
Hot Laps Start 6:30 • Racing Begins 7:00
TICKETS
Adults $15 • Military & Seniors (65+) $13
Kids (6-12) $5 • 5 & Under FREE
Pit Pass $35 • Kids (6-12) $15 • 5 & Under FREE

Weekly Racing
Bad Boy Mowers IMCA Modifieds, Reliable Chevrolet USRA B-Mods, Casey's Midwest Modz (A & B Class), Pepsi Pure Stocks, Wheeler Metal INEX Legend Cars, Sharp Mini Late Models
TIMES
Pit Gate Opens 4:00 • Grandstands Open 5:30
Hot Laps Start 6:30 • Racing Begins 7:00
TICKETS
Adults $15 • Military & Seniors (65+) $13
Kids (6-12) $5 • 5 & Under FREE
Pit Pass $35 • Kids (6-12) $15 • 5 & Under FREE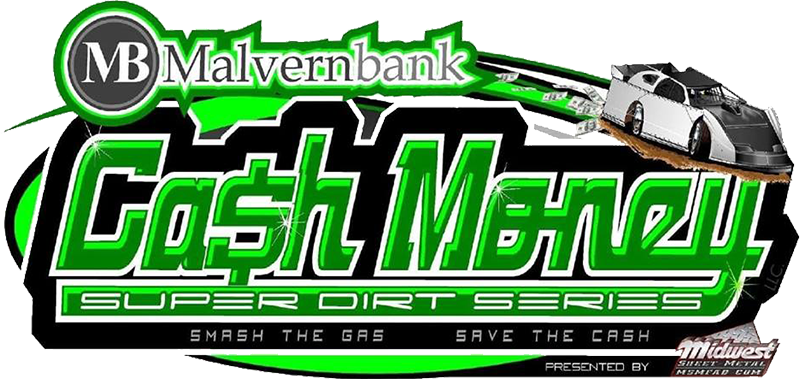 Malvern Bank Cash Money Late Model Series
Dirt Late Models, Bad Boy Mowers IMCA Modifieds, Reliable Chevrolet USRA B-Mods, Casey's Midwest Modz (A & B Class), Pepsi Pure Stocks, Wheeler Metal INEX Legend Cars, Sharp Mini Late Models
TIMES
Pits Open 3:30 • Grandstands Open 5:30
Draw Cutoff 6:20 • Hot Laps 6:30 • Racing 7:00
TICKETS
Adults $20 • Kids (6-12) $5, Under 6 FREE
Pit Pass $35 • Kids (6-12) $15, Under 6 FREE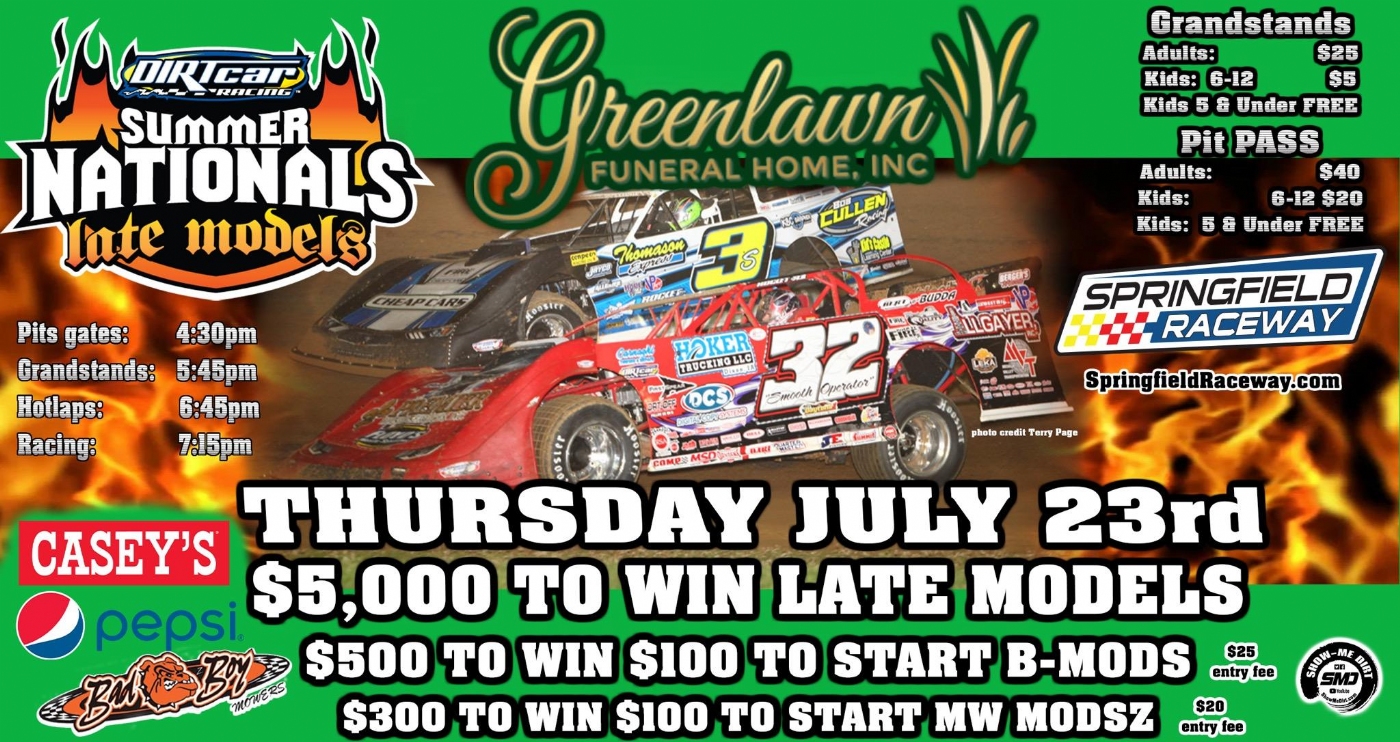 DIRTcar Summer Nationals "Hell Tour" presented by Greenlawn Funeral Homes
DIRTcar Late Models, Reliable Chevrolet USRA B-Mods, Casey's Midwest Modz
$5,000 TO WIN LATE MODELS
$500 TO WIN, $100 TO START B-MODS ($25 entry fee)
$300 TO WIN, $100 TO START MW MODZ ($25 entry fee)
TIMES
Pit Gate Opens 4:30 • Grandstands Open 5:45
Hot Laps Start 6:45 • Racing Begins 7:15
TICKETS
General Admission (13+) $25
Kids (6-12) $5 • 5 & Under FREE
Pit Pass $40 • Kids (6-12) $20 • 5 & Under FREE

Weekly Racing
Bad Boy Mowers IMCA Modifieds, Reliable Chevrolet USRA B-Mods, Casey's Midwest Modz (A & B Class), Pepsi Pure Stocks, Wheeler Metal INEX Legend Cars, Sharp Mini Late Models
TIMES
Pit Gate Opens 4:00 • Grandstands Open 5:30
Hot Laps Start 6:30 • Racing Begins 7:00
TICKETS
Adults $15 • Military & Seniors (65+) $13
Kids (6-12) $5 • 5 & Under FREE
Pit Pass $35 • Kids (6-12) $15 • 5 & Under FREE

Weekly Racing
Bad Boy Mowers IMCA Modifieds, Reliable Chevrolet USRA B-Mods, Casey's Midwest Modz (A & B Class), Pepsi Pure Stocks, Wheeler Metal INEX Legend Cars, Sharp Mini Late Models
TIMES
Pit Gate Opens 4:00 • Grandstands Open 5:30
Hot Laps Start 6:30 • Racing Begins 7:00
TICKETS
Adults $15 • Military & Seniors (65+) $13
Kids (6-12) $5 • 5 & Under FREE
Pit Pass $35 • Kids (6-12) $15 • 5 & Under FREE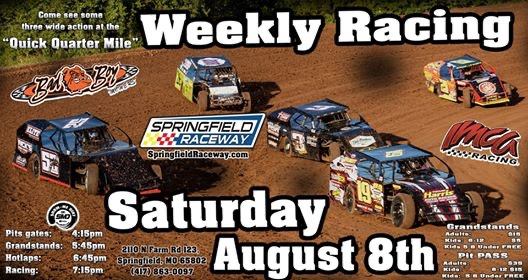 Weekly Racing
Bad Boy Mowers IMCA Modifieds, Reliable Chevrolet USRA B-Mods, Casey's Midwest Modz (A & B Class), Pepsi Pure Stocks, Wheeler Metal INEX Legend Cars, Sharp Mini Late Models
TIMES
Pit Gate Opens 4:15 • Grandstands Open 5:45
Hot Laps Start 6:45 • Racing Begins 7:15ish
TICKETS
Adults $15 • Military & Seniors (65+) $13
Kids (6-12) $5 • 5 & Under FREE
Pit Pass $35 • Kids (6-12) $15 • 5 & Under FREE
Saturday, August 15, 2020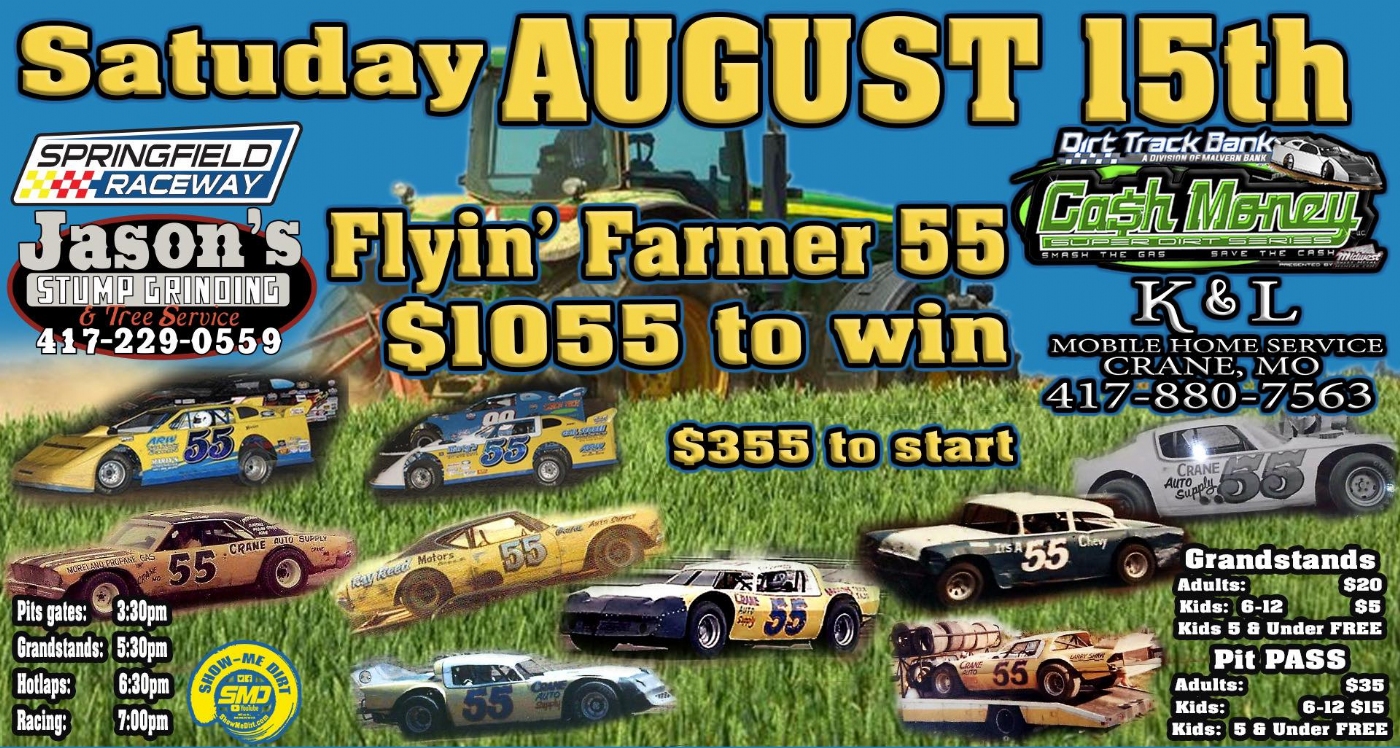 Cash Money Late Models Flyin' Farmer 55
Dirt Late Models, Bad Boy Mowers IMCA Modifieds, Reliable Chevrolet USRA B-Mods, Casey's Midwest Modz (A & B Class), Pepsi Pure Stocks, Wheeler Metal INEX Legend Cars, Sharp Mini Late Models
TIMES
Pit Gate Opens 4:00 • Grandstands Open 5:30
Hot Laps Start 6:30 • Racing Begins 7:00
TICKETS
Adults $15 • Military & Seniors (65+) $13
Kids (6-12) $5 • 5 & Under FREE
Pit Pass $35 • Kids (6-12) $15 • 5 & Under FREE
Saturday, August 22, 2020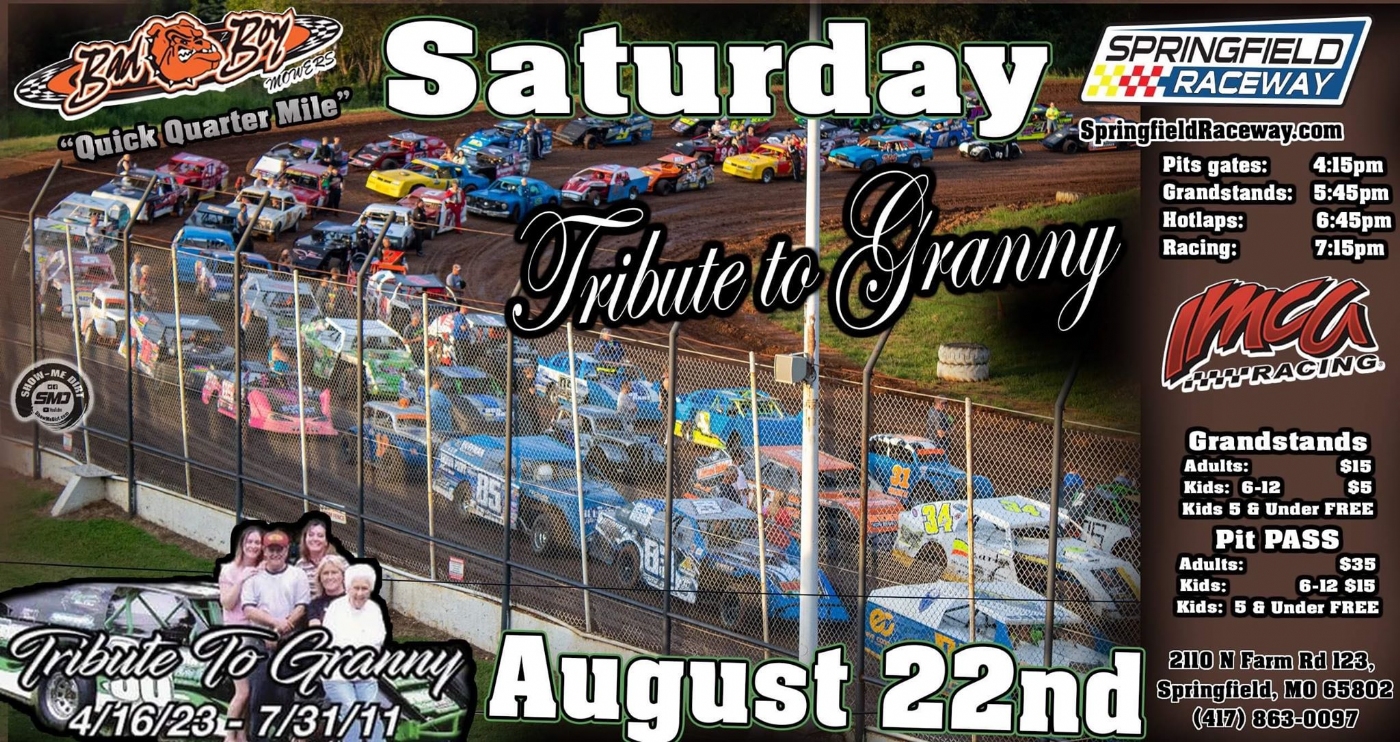 Weekly Racing
Bad Boy Mowers IMCA Modifieds, Reliable Chevrolet USRA B-Mods, Casey's Midwest Modz (A & B Class), Pepsi Pure Stocks, Wheeler Metal INEX Legend Cars, Sharp Mini Late Models
TIMES
Pit Gate Opens 4:00 • Grandstands Open 5:30
Hot Laps Start 6:30 • Racing Begins 7:00
TICKETS
Adults $15 • Military & Seniors (65+) $13
Kids (6-12) $5 • 5 & Under FREE
Pit Pass $35 • Kids (6-12) $15 • 5 & Under FREE
Sunday, September 6, 2020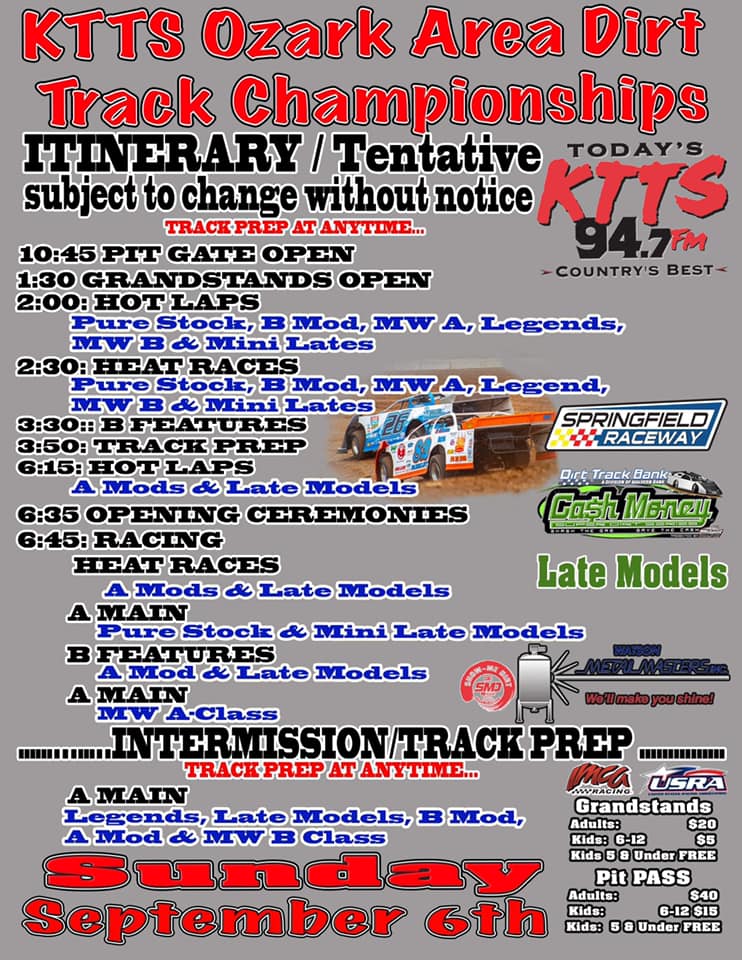 KTTS Ozarks Area Dirt Track Championships
Late Models, Modifieds, B-Mods, Midwest Modz, Pure Stocks, Legends, Mini Lates
Saturday-Sunday, September 19-20, 2020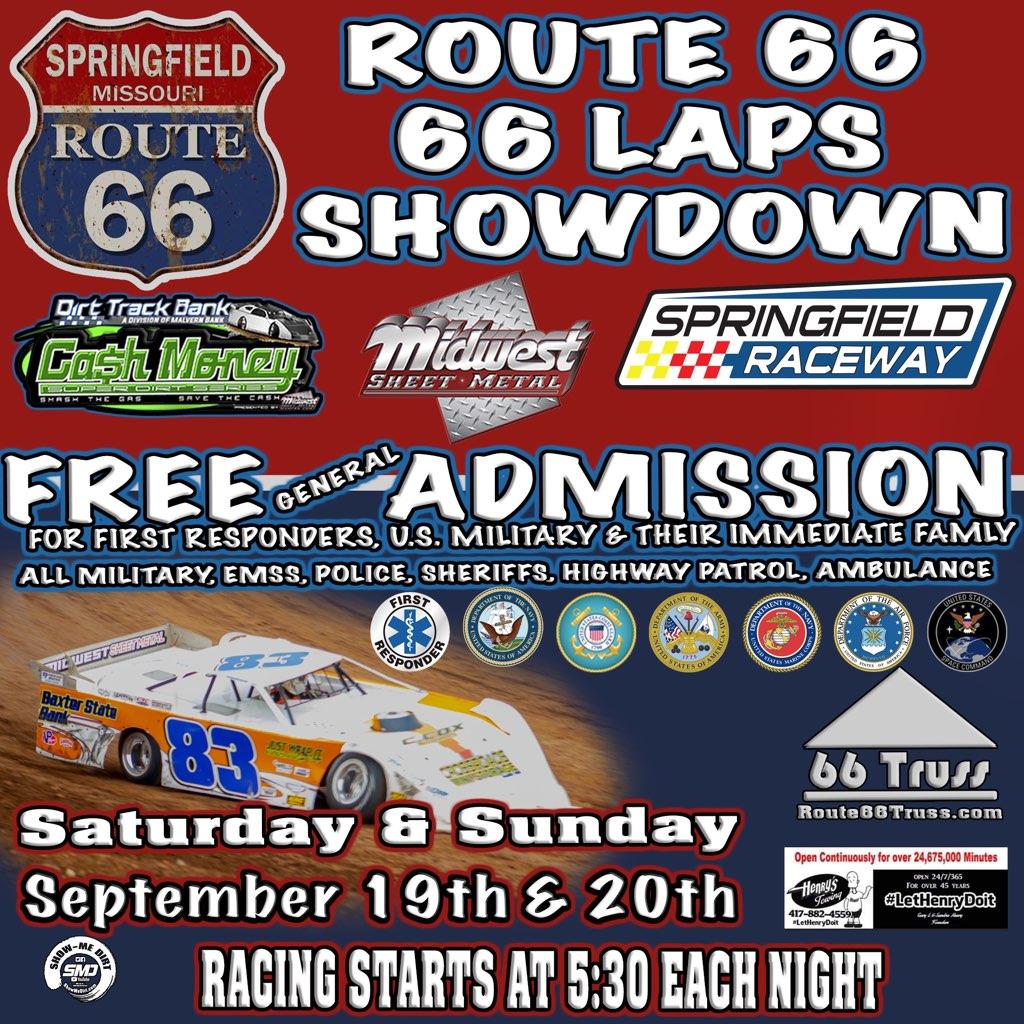 Route 66 Showdown
Cash Money Late Models, Bad Boy Mowers IMCA Modifieds, Reliable Chevrolet USRA B-Mods, Casey's Midwest Modz, Pepsi Pure Stocks, Wheeler Metal INEX Legend Cars, Sharp Mini Late Models
Saturday, October 3, 2020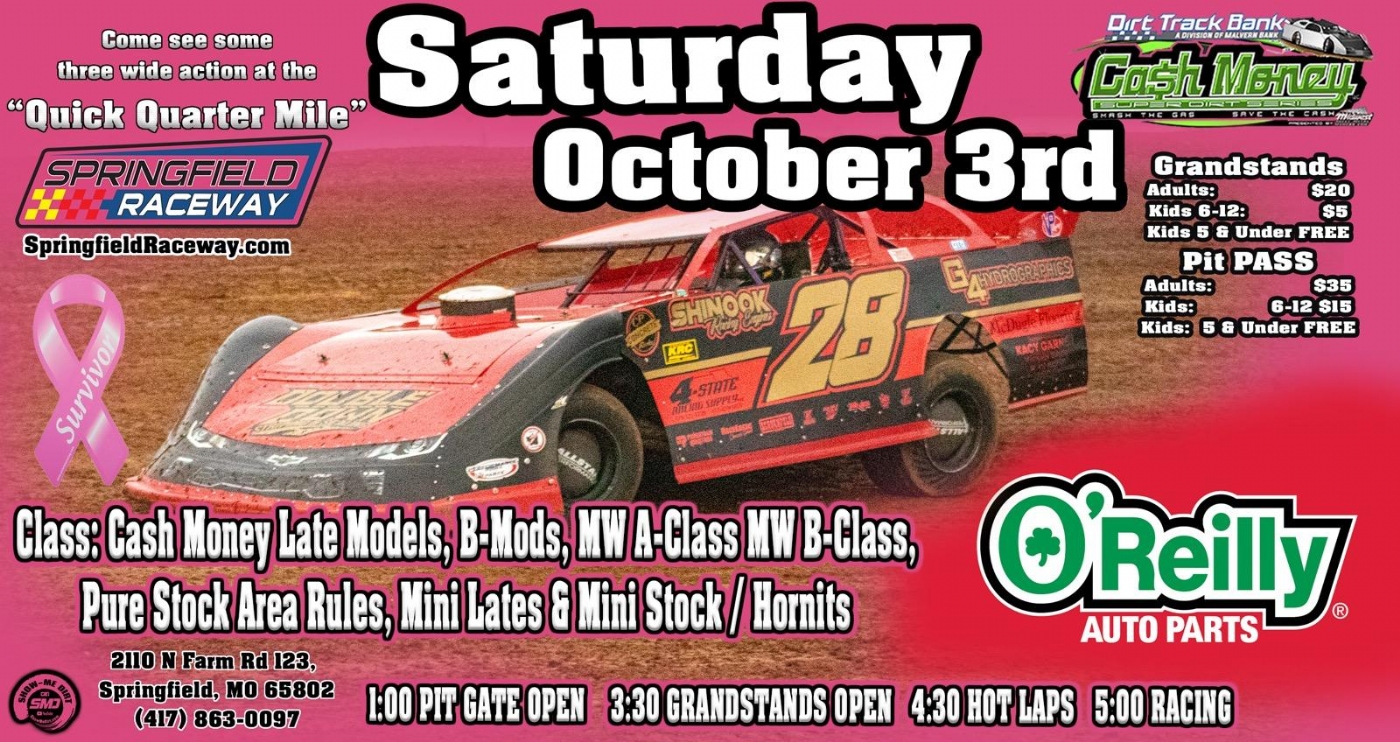 O'Reilly Auto Parts presents Cash Money Late Models
Cash Money Late Models, B-Mods, MW A Class, MW B Class, Pure Stocks (area rules), Legends, Mini Lates Mini Stocks/Fwds
Grandstands
Adults - $20
Kids 6-12 - $5
5 & under FREE
Pits
Adults - $35
Kids- 6-12- $15
5 & Under - FREE
Pit Gate - 1:00
G.S. - 3:30
H.L. 4:30
Racing - 5:30
B Mods- $400 to Win $50 start
MW A - $200 to Win $35 start
MW B - $100 to Win $50 start
P.S.- $150 to Win $35 start
Legend-$259 to Win $35 start
Mini Stk/fwd-$200 to Win $35 start
Mini late
Saturday, October 10, 2020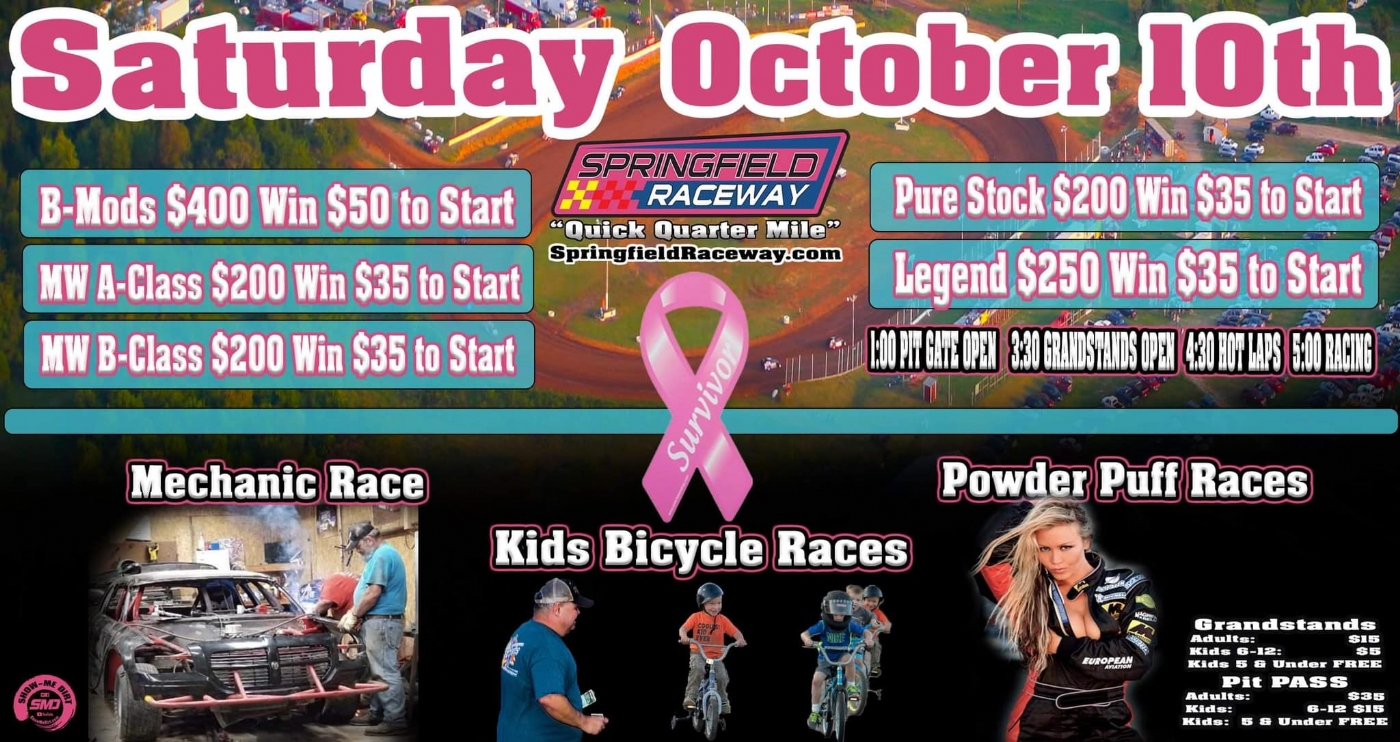 Saturday, October 17, 2020
Added Money B Mod Race
Presented by Joplin Home Inspection, Comer's Auto Xpress and Eagle Machine
Saturday, October 24, 2020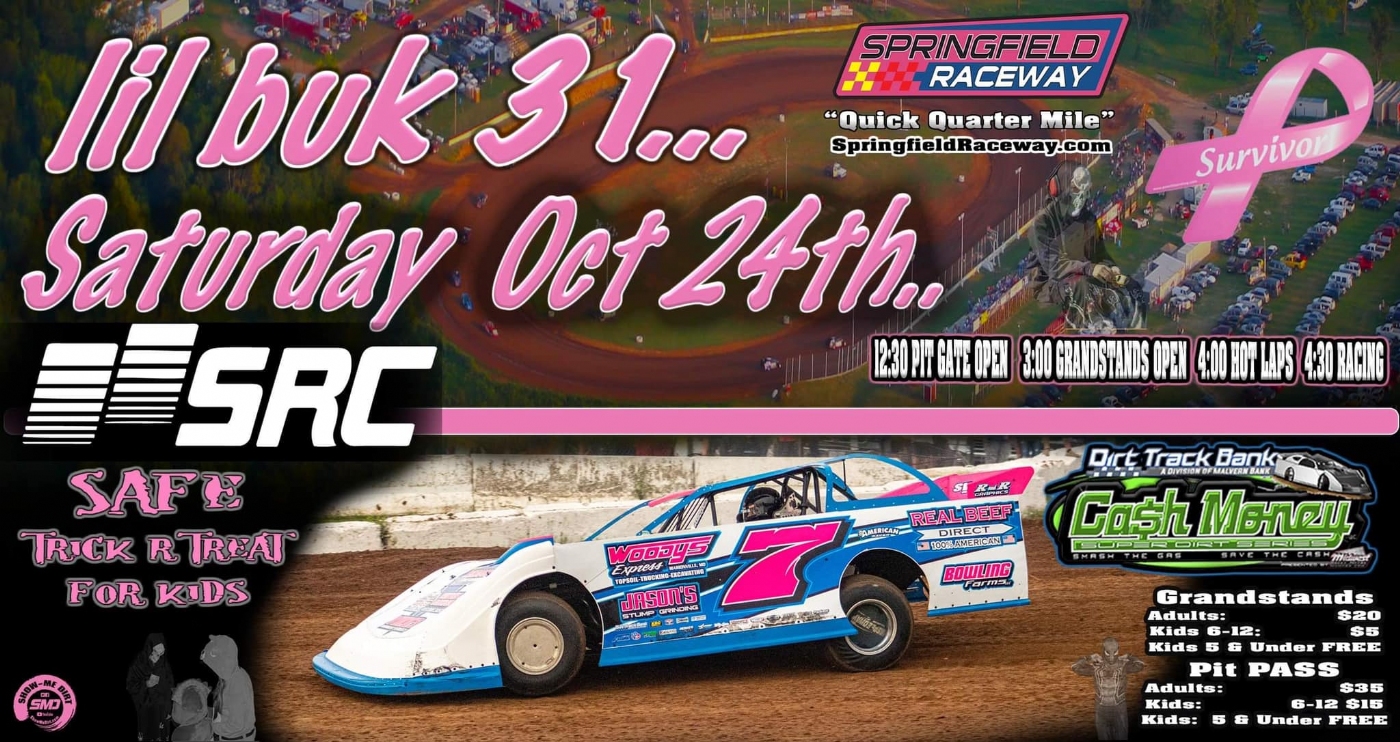 Saturday, November 7, 2020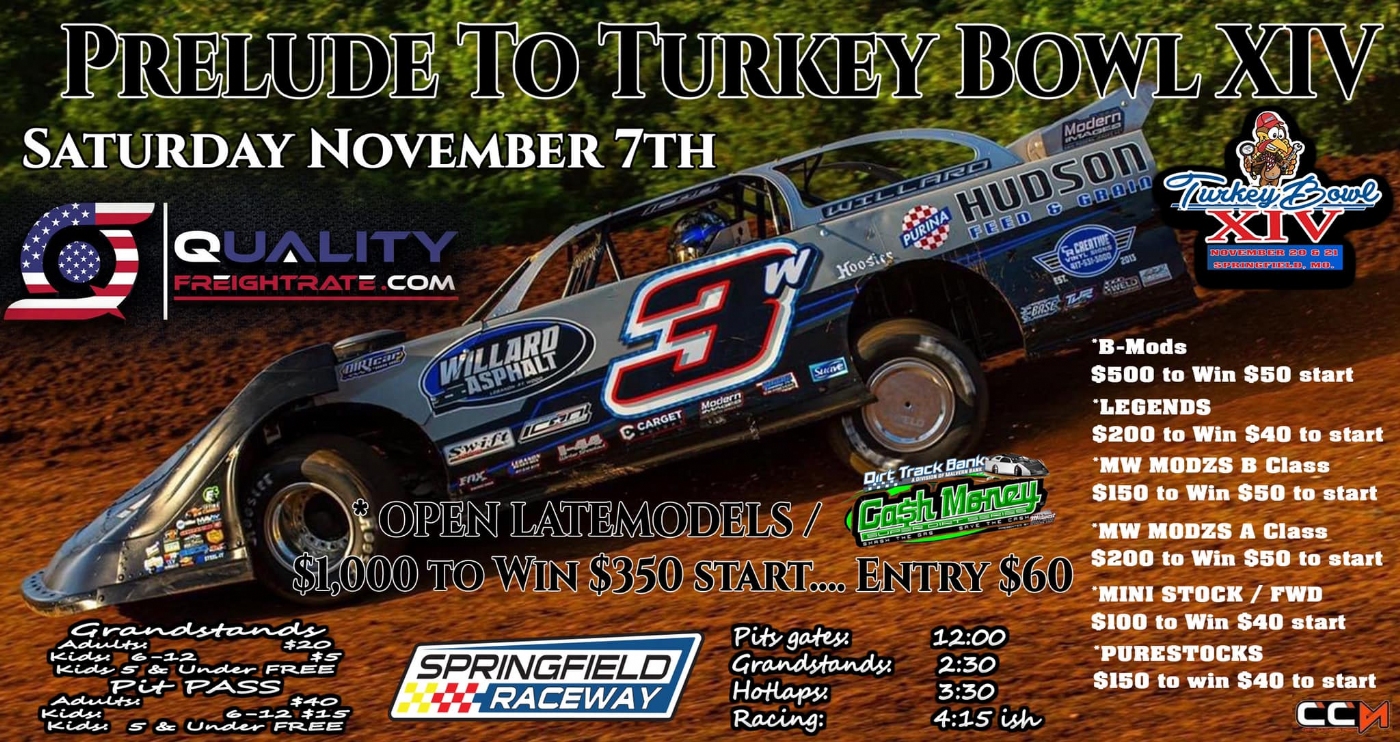 Prelude to Turkey Bowl XIV
Friday-Saturday, November 27-28, 2020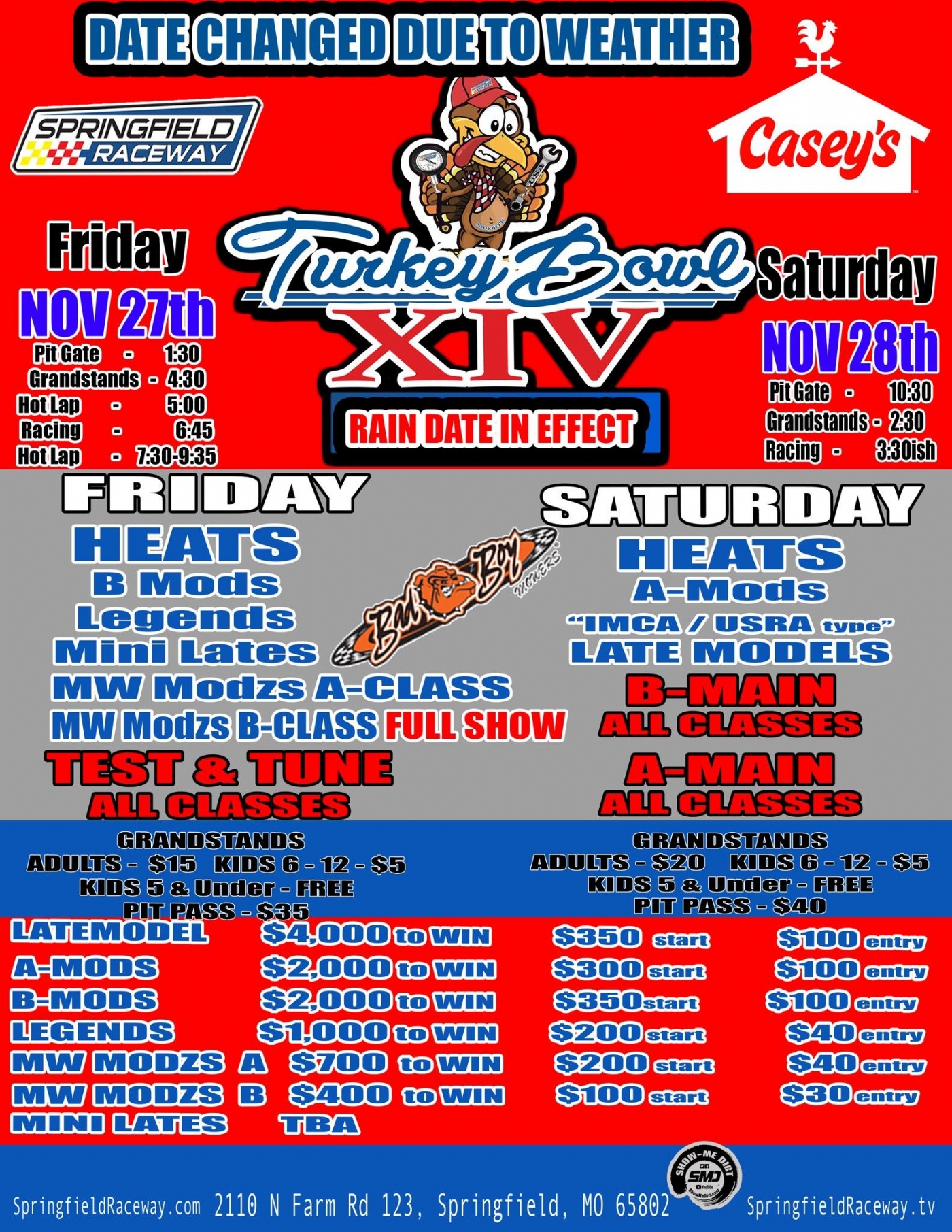 Turkey Bowl XIV presented by Casey's