Free general admission for your birthday
September 20, 2023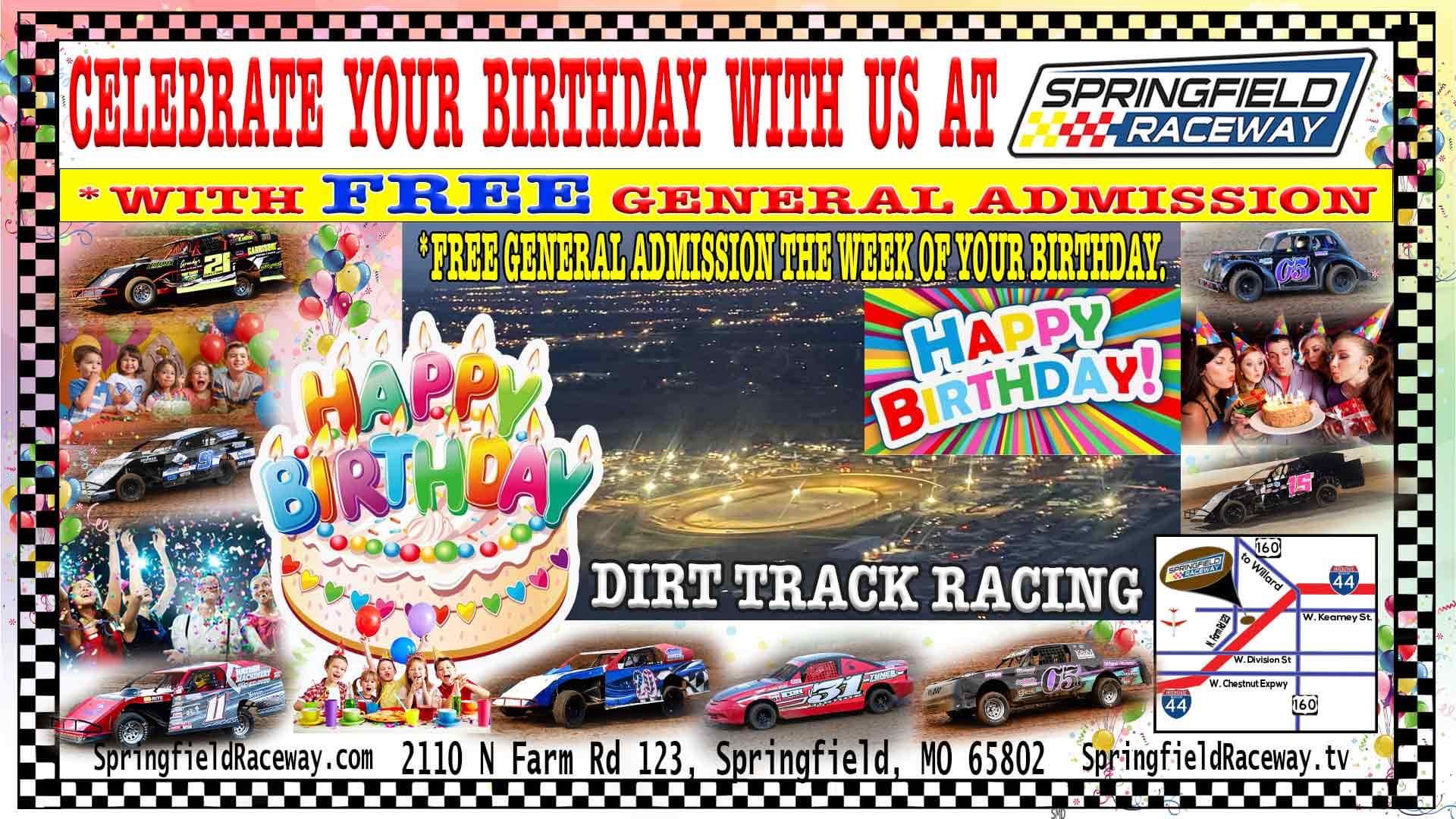 Springfield Raceway offers free general admission to anyone young or old the week of your birthday... That's right, free general admissiont at the famous quarter-mile clay oval in Springfield, Mo.
"When I was a little kid growing up, my dad and mom always made our birthdays a very special day. It was our day and we basically could do whatever we wanted (within reason)," said Springfield Raceway owner Jerry Hoffman. "On our birthdays, we always had friends over to stay the night with a big backyard football game out in the yard. ​ Mom would make us whatever we wanted to eat for our birthday feast. I usually wanted Mexican fixin's with tacos and homemade egg rolls and pop (ya, we called it pop back then). To us, that was a treat. All the Dr. Pepper we wanted to drink. After the game, a huge birthday cake and ice cream along with presents and then movies at night with no bedtime.
"I remember way back then, restaurants would give folks a free meal on their birthday and I always thought that was a nice gesture of kindness on a special day for somebody. Back then, seems weird, but I'm 50 now and that was a long time ago. So with the great birthday memories I still have today, I would like to share Springfield Raceway birthday memories with anyone wanting to attend the dirt track races the week of their birthday."
The week of your birthday, Sunday through Saturday, show a valid id for proof of your birthday and watch the races for free at Springfield Raceway. Springfield Raceway also offers discounts on groups for any gathering and especially a birthday. You can check the details out on the Springfield Raceway website at SpringfieldRaceway.com.
For booking a birthday party, call or text (417) 863-0097 and leave a message. Somebody will contact you back. Happy birthday from Springfield Raceway and track owner Jerry Hoffman. Click here for more information.
Subscribe to the Springfield Raceway YouTube channel and watch the races live at springfieldraceway.tv. Be sure to subscribe to our YouTube channel.
We'll see you at the races.