Upcoming Events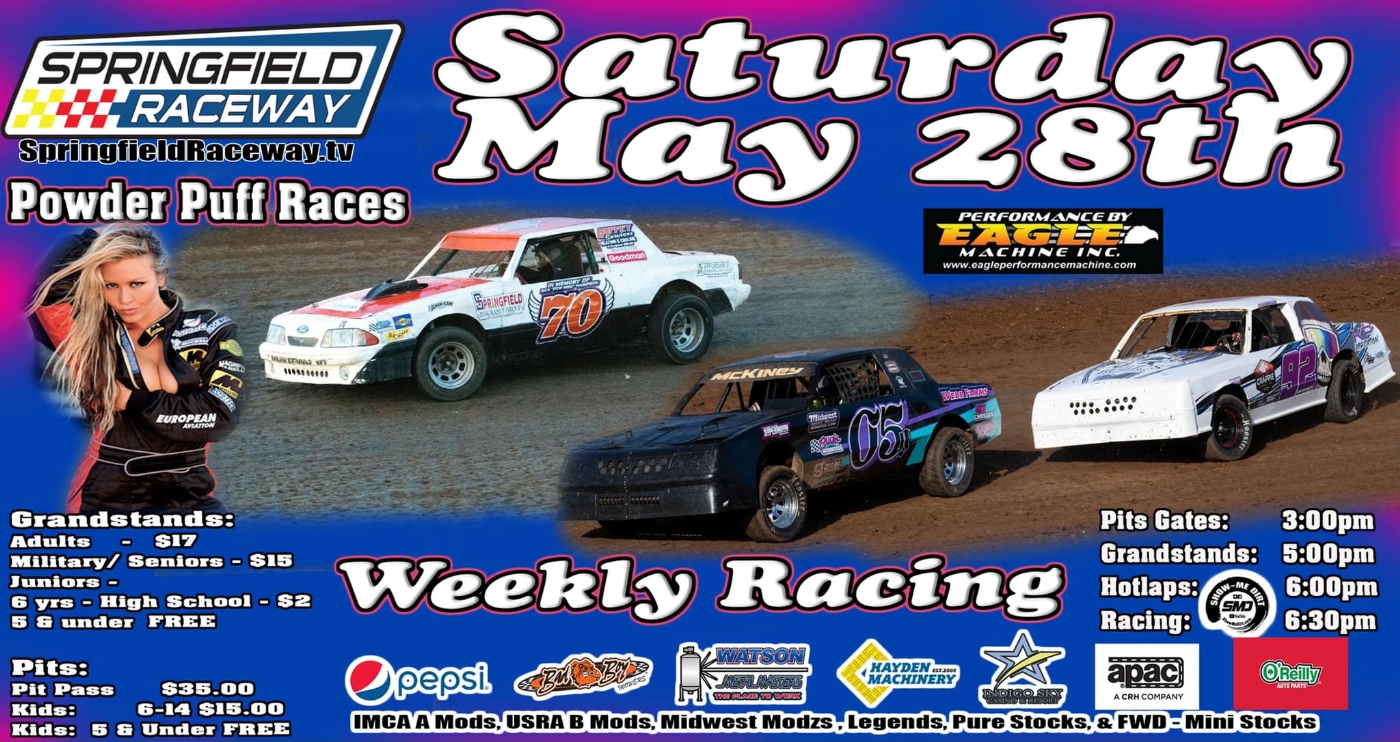 Weekly Racing

Dirt Track Racing continues this Saturday May 28 with the Powder Puff Races. Come on out as the ladies will be getting a chance to display their driving talents.
A-1 Automotive & Machine in Springfield Mo. has added money to the PureStocks & will pay $400 to Win.
Springfield Raceway has 6 Classes of Dirt Cars that compete weekly. Bad Boy Mowers IMCA Modifieds,USRA B Mods, Indigo Sky Casino MW Modzs , Hayden Machinery MW Modzs B Class, INEX Legends, Pepsi Pure Stock & Mini Stock / Fwd.
Eagle Machine Adds Lottery Draws To Springfield Raceway.
Eagle Machine in Buffalo has added $300 to the following classes for Saturday May 28.
USRA B Mods, POWRI Pure Stocks, And both Midwest Modified A class and B class. Shane and Greg Mckinney both know it takes everyone to make a good race program and feel this is the best way to help drivers in the payout beyond the top 3.
In each of these classes, the winner will pull 2 sticks with the numbers 4 through 20. Those numbers that are drawn will represent the final finishing positions after tech.
The 1st number drawn is going to be worth $50 while the other drawn will be worth $25.
Eagle Machine not only builds race motors, but also build Drag boat motors, everyday vehicle motors and offer a full machine shop service.
Thanks to Eagle Machine for giving back to local racing.
DIRECTIONS
Driving Directions: I-44 to exit 75, then south to Kearney Hwy., then 1.0 mile west to Westgate Ave., then 0.3 mile south.
2110 N Fm Rd 123
Springfield Missouri
WEEKLY EVENT $ $
Grandstands
Adults- $17
Seniors/Military- $15
Special Events prices subject to change.
PIT PASS $ $
Adults- $35
Kids 6-14 - $15
5 & under FREE
Special Events prices subject to change.
Times for 5/28/22
Pit Gate -3:00
Grandstands-5:00
Hot laps -6:00
Racing -6:30

Weekly Racing

CASH MONEY Late Model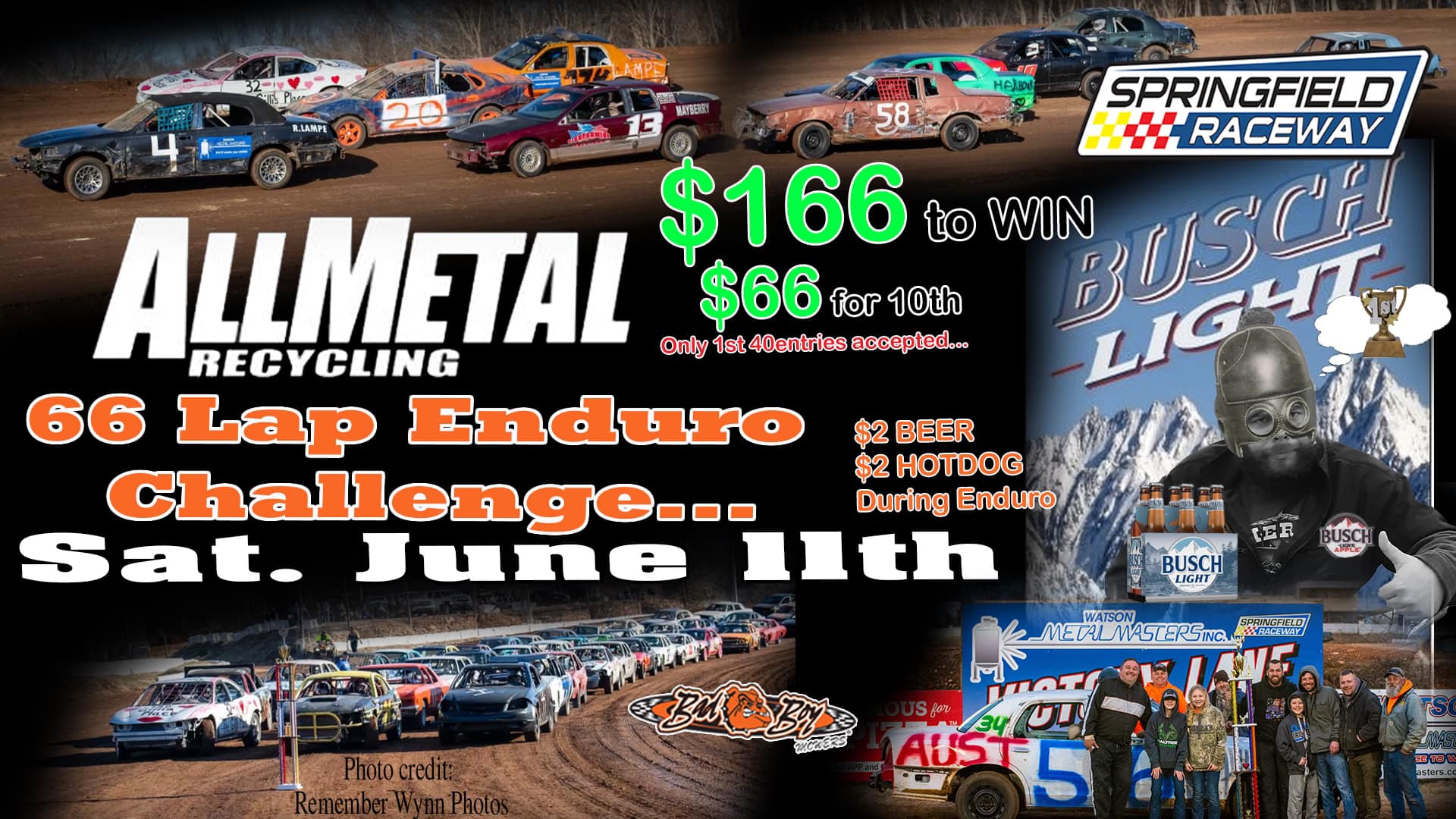 Weekly Racing

Entries are 1/2 way filled….
Check to make sure your name is on the entry list….
Enter by replying to this post…
Saturday June 11 along with Weekly Racing Springfield Raceway will be having the ALL Metal Recycling 66 lap Enduro Challenge paying $166 to the winner & paying back $66 for 10th….
ENDURO CARS….
We will take only the first 40 entries …..
You can enter by replying to this post or send a message to the Facebook page or get in contact with track owner Jerry Hoffman by texting your entry confirmation to….
1-417-863-0097
Entries will be listed on Facebook… make sure your name gets on the list…
2022 ENTRY LIST…
ALL METAL RECYCLING 66 LAP ENDURO CHALLENGES …
1. Jerry Hoffman…
2. Copenhagen Bandit's…
3. Tyrel Jones
4. Clay Goodman
5. Don Moye
6. Tom Lampe
7. Zac Mitchell
8. Matt Gratton
9. Tyler Flannery
10. Karla Lampe
11. Jacob Cater
12. Michael Harmon
13. Michael Gillis
14. Michael Groesbeck
15. James Dewitt
16. Brian Sanders
17.Jerry Freeman
18. Brian Long
19. Josh Mayberry
20. Brennon Swank
Enduro cars running 66 laps no yellows ….
Red ONLY if a car is turned over or or on fire or track blocked ….
Enduro cars will be split in half into 2 groups ….
Each group will get a 2 lap Hotlap session ….
We will Line the 66 Lap Main Event up off of your time in … Fastest times in front of the slowest times…
We will start 3 wide from a stop….
Enduro Rules are on the Springfield Raceway web page …
ALL CARS MUST BE STRIPPED….
Entry Fee is $20
The $20 pays for transponder rental …..
Pay Out
1.$166 2.$100 3.$75 4.$70
5-10. $66
If any car Wins the event with a passenger ( meaning a breathing human ) they will receive a $66 Bonus….
There are a lot of folks who think they can be a great dirt car driver …. Here is your chance to show everyone in the Ozarks & live across tha world on
https://springfieldraceway.tv/you can do er ….
Come get ya sum….
ENDURO RULES....
... ALL CARS MUST HAVE ALL HEADLIGHTS , MIRRORS & CHROME REMOVED FROM YOUR CAR OR YOU WILL NOT RACE... NO REFUND...
1.We will running a straight 66 Laps. 2. Each car and driver must be entered.TAKING FIRST 40 entries & 10 alternates.ABSOLUTELY NO REFUNDS ON THE FIRST 40 ONLY 1 passenger are allowed,no passengers in back seats. All Drivers & Passengers must wear a fire suit & gloves . 3. The race will begin from a standing start 3 wide 4. Cars must hold their position until the green flag is displayed. 5. The red flag will be displayed if the track is blocked and racing can't continue, all cars must stop. (cars moving under the red will receive a 5 lap penalty). The race will be restarted with the cars in the same position as before the red flag. A car involved in the blockage that can continue may do so. 6. Cars will be allowed to enter the pits for repairs or servicing. Re-entry to the race surface will be allowed as the pit official indicates. Pit stops will be permitted under green conditions only. (pitting under/durring a red flag will result in a 5 lap penalty unless the car was already on pit road before the red came out). 7. No communication between cars, crew or spectators. Two-way radios are not permitted in cars, pits or grandstands. 8. Transponders will be used for scoring. Each car must have a transponder mounted before entering the racing surface. Drivers will be responsible for the transponder mounted to their car. If a transponder is lost or damaged, driver is responsible for repair or replacement. 9. Pit stops must be achieved in an orderly and safe fashion. Cars entering the pit area may not exceed 5 mph or will be disqualified. Suspension, Tires, Wheels 1. Suspension parts must remain absolutely stock for that make and model car. No spacers, lumber or chains, etc. may be used to alter stock suspension of that car. 2. Springs must be of an OEM design. No overload shocks with coilover springs. One spring and shock in original mount only. 3. Stock wheels only. No racing wheels or offset wheels. DOT legal tires must pass through a 9" hoop at the bulge. No gumball tires, no studded tires. All season radial allowed. Engine 1. The engines must be strictly stock for that model and make and in its original mounts. No aftermarket external air coolers. 2. A/C and heat components may be removed. 3. Smog equipment may be removed. 4. Minimum 18lbs of vacuum at 1000 RPM. 5. Air cleaner to oil pan must be all factory equipment! 6. Radiator may be replaced with aftermarket unit. Car and Body 1. Any 1960 or newer car is eligible.Small pickups like a ranger ,S-10 , Chevy Blazer 2 wheel drive only . No full size pick-ups, full size vans, four wheel drives, jeeps type vehicles. 4, 6 or 8 cylinder engines allowed.. 2. Roll cage optional. Roll cage may not extend into engine compartment. Gutting of factory interior panels only allowed for roll cage clearance. EXAMPLE: you may remove the inner door bracing if you are replacing it with door bars. 3.Front Bumpers can be removed & be replaced or reinforced with no larger than 2" square or 2" round. Bumpers must be secured tightly. 4. All doors must be closed. Recommend welded, chained or bolted shut. 5. Removal of windshield is optional. If removed, 1/3 of opening must be replaced with a screen (must be completely covered if carrying a passenger). All broken glass must be removed. 6. Racing approved shoulder harness and lap belts are recommended. Racing seats allowed. 7. All burnable type material, floor mats, head liners, rear seats, etc. must be removed. The rear seat shelf must be left in as a fire stop, any openings to the trunk area must be enclosed if aftermarket fuel cell is mounted in trunk. 8. Complete bumper to bumper steel unibody must be retained. Plasic bumpers must be removed. No lightening permitted. 9. The stock steel unaltered floor pan, firewalls and trunk must be retained. (fuel cells, properly attached may be located in trunk.) 10. Cars must retain their strictly stock appearance, no cutting, chopping, channeling or shortening allowed. Hoods must be kept in place at all times. 11. Mesh window nets are permitted, but must be removable. 12. Front inner fenders may be removed, rear inner fenders must remain. Wheel wells may be trimmed for tire clearance only. 13. No added weight allowed! No spare parts, extra battery, water bottles, tires, etc... may be carried while racing. 14. All outside trim, light covers, or anything on the outside that can be torn off MUST be taking off. Transmission 1. Stock transmission and rear end only. No aftermarket external oil coolers. Miscellaneous 1. Fuel cells permitted, and may be placed in the trunk area if securely fastened, or gas tanks must be original and remain in original location. Must have two (2) metal holding straps. 2. Batteries may be relocated but must be contained in a marine container or comparable container securely fastened. 3. Headlights, tail lights and all chrome must be removed. 4. Any loss of wheel or tire requires your immediate leaving the race course. Continuing on a flat tire is not permitted. 5. Rupture of your gas tank and/or loss of gas requires immediate black flag. 6. No locked rears. 7. Approved helmet required. 8. Any driver climbing out of a car while on the racing surface during the green flag will be disqualified. NO Exception! 9. Cars will hold their position until the green flag is displayed. 10. The yellow flag will not be used. If there are cars with breakdowns or crashed, the other cars will avoid them and continue to race. 11. The red flag will be displayed ONLY if the track is blocked and racing cannot continue. All cars must stop under the red flag. The race will be restarted with the cars in the same position as before the red flag. Any car involved in the blockage that can continue to race may do so. The flagman will indicate the middle of the race. The white flag will indicate the leader is on the final lap. . MUST WEAR GLOVES, CLOSED-TOE SHOES OR BOOTS,Or RACING SHOES .FIRESUIT MANDATORY.... ANY CAR, TEAM OR DRIVER NOT MEETING SPRINGFIELD RACEWAY SPECIFICATIONS, OR STANDARD RACING SAFETY PROCEDURES AND EQUIPMENT, IS SUBJECT TO AUTOMATIC DISQUALIFICATION AND /OR PENALITIES
If we get a good turn out we will run a couple more Enduro events this season…

Weekly Racing



SUMMERNATIONALS OPEN LATEMODELS

TBA

Weekly Racing



FIRE FALL FIREWORKS

CASH MONEY LM / ADDED MONEY / B Mods / MW Modz / Leg / IMCA Mods / P.S.

Weekly Racing

Mechanics Races

Weekly Racing



Weekly Racing

MW Modz Added Money

Weekly Racing

Bicycle Races

Weekly Racing

CASH MONEY Late Model
Saturday, August 13, 2022

Weekly Racing


Saturday, August 20, 2022

Weekly Racing


Saturday, August 27, 2022

Weekly Racing


Sunday, September 4, 2022

KTTS Ozark Area Dirt Track Championships

CASH MONEY Late Model / ALL Weekly Classes Added Money
Saturday, September 10, 2022

Weekly Racing


Friday-Saturday, September 16-17, 2022

Route 66 Truss

CASH MONEY Late Model + Weekly Racing TBA
Saturday, September 24, 2022

Weekly Racing

Ladies Powder Puff
Saturday, October 1, 2022

Weekly Racing

Mechanics Races
Saturday, October 8, 2022

Weekly Racing

CASH MONEY Late Models
Saturday, October 15, 2022

SEASON CHAMPIONSHIP


Saturday, October 22, 2022

Weekly Racing


Saturday, October 29, 2022

Weekly Racing

CASH MONEY LATE MODEL CHAMPIONSHIP
Thursday-Saturday, November 17-19, 2022

TURKEY BOWL XVI

CASH MONEY LATE MODEL CHAMPIONSHIP
Thursday - Pit Parking / Test & Tune ALL CLASSES
Friday - Heats- Leg, B Mod,MW A , MW B Pure Stock full show / Test & Tune ALL CLASSES
Saturday - Heats - IMCA/USRA type Modifieds / Late Model B Mains & A Mains all classes