Schedule of Events
Saturday, February 18, 2023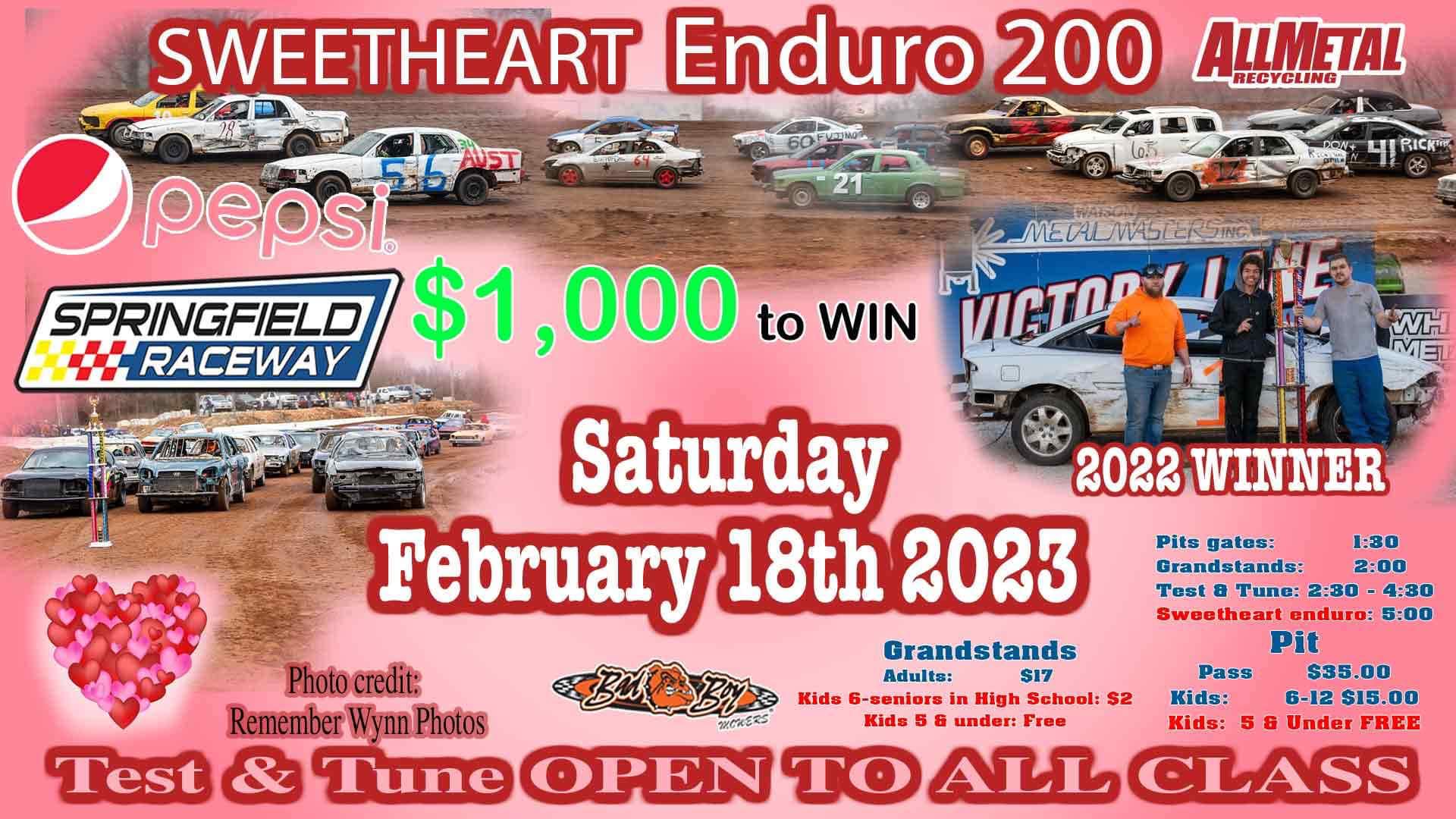 All Metal Recycling Sweetheart 200
Saturday February 18 Pepsi presents the All Metal Recycling Sweetheart 200 BOMBERs Enduro style paying $1,000 to win along with a 12 pack of Pepsi & a huge, big , tall trophy. A Valentine's $168.99 bonus will go to any Man & Women Team showing some Love & riding together & Winning the event. Disclaimer: Anyone riding double in a car is doing it at their own will. Enduro races are wild & crazy live unscripted events where you never know what will happen. Enduro cars may have a passenger.
The day begins with a test & tune open for all classes. All Enduro Cars MUST go through pre tech & any Enduro car running on a flat tire where the wheel is on the track will not be scored.
Springfield plans on running All Metal Recycling BOMBERs Enduro style cars once a month at Springfield Raceway.Pre Entries are now open.Will start 3 wide & lineup is off of the way we receive your entry.
Pre Entry is $100 / Cut of is February 13
Late entry is $150
We are taking the first 60 entries
NO REFUNDS
Any Enduro Driver NOT returning or has a destroyed transponder will have to pay $100 to replace .
Weather date February 19
Times…
Pit Gate : 1:30
Grandstands: 2:00
Test & Tune : 2:30- 4:30
Sweetheart Enduro - 5:00 ish
Prices…
Adults - $17.00
Seniors / Military - $15.00
Kids 6-12 - $2.00
5 & Under - FREE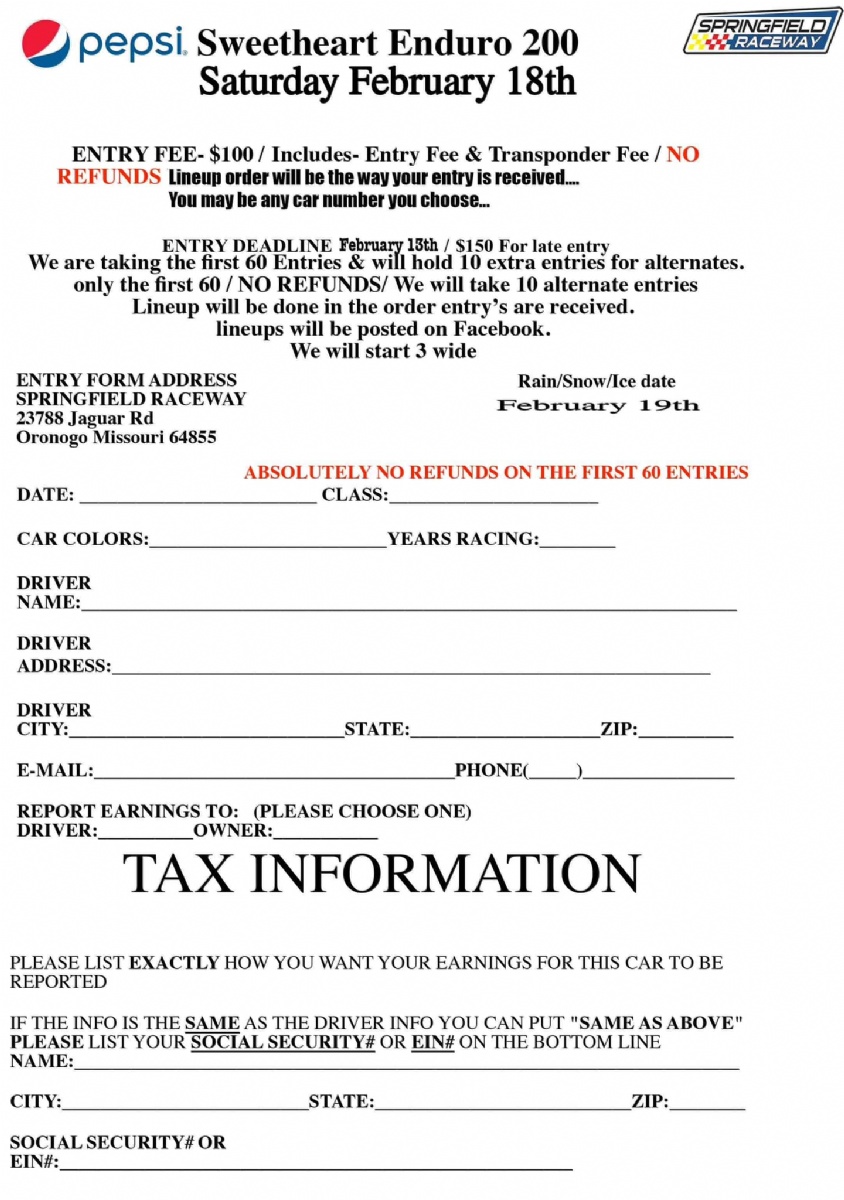 Thursday-Sunday, March 2-5, 2023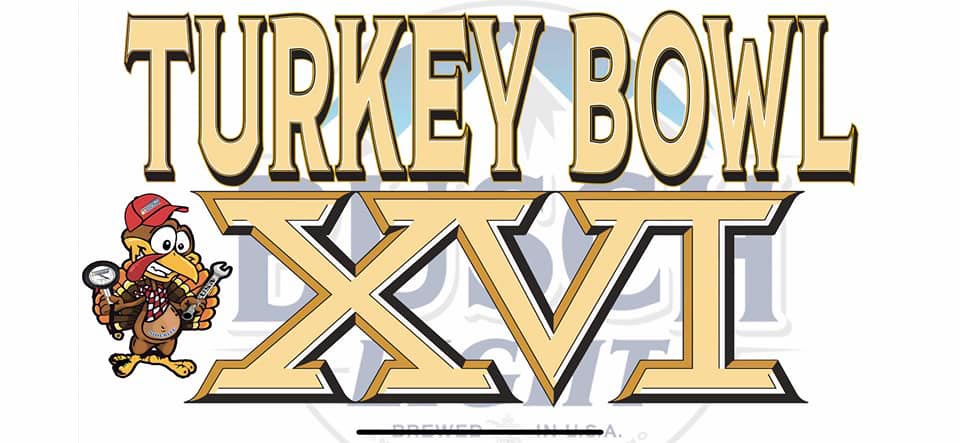 Turkey Bowl XVI
Thursday - Pit Parking / Test & Tune ALL CLASSES
Friday - Heats- Leg, B Mod,MW A , MW B Pure Stock full show / Test & Tune ALL CLASSES
Saturday - Heats - IMCA/USRA type Modifieds / Late Model
B Mains & A Mains all classes

This race has been cancelled!
Test & Tune All Classes

This race has been cancelled!
Comp Cams LM $5000 to Win

This race has been cancelled!
Comp Cams LM $5000 to Win/$1000 to Win Stock Car

$1000 to WIN USRA STOCK CARS
Usra Stock Cars, POWRi B Mods, POWRi MW Modzs A Class, POWRi MW Modzs B Class, POWRi Pure Stocks, Legends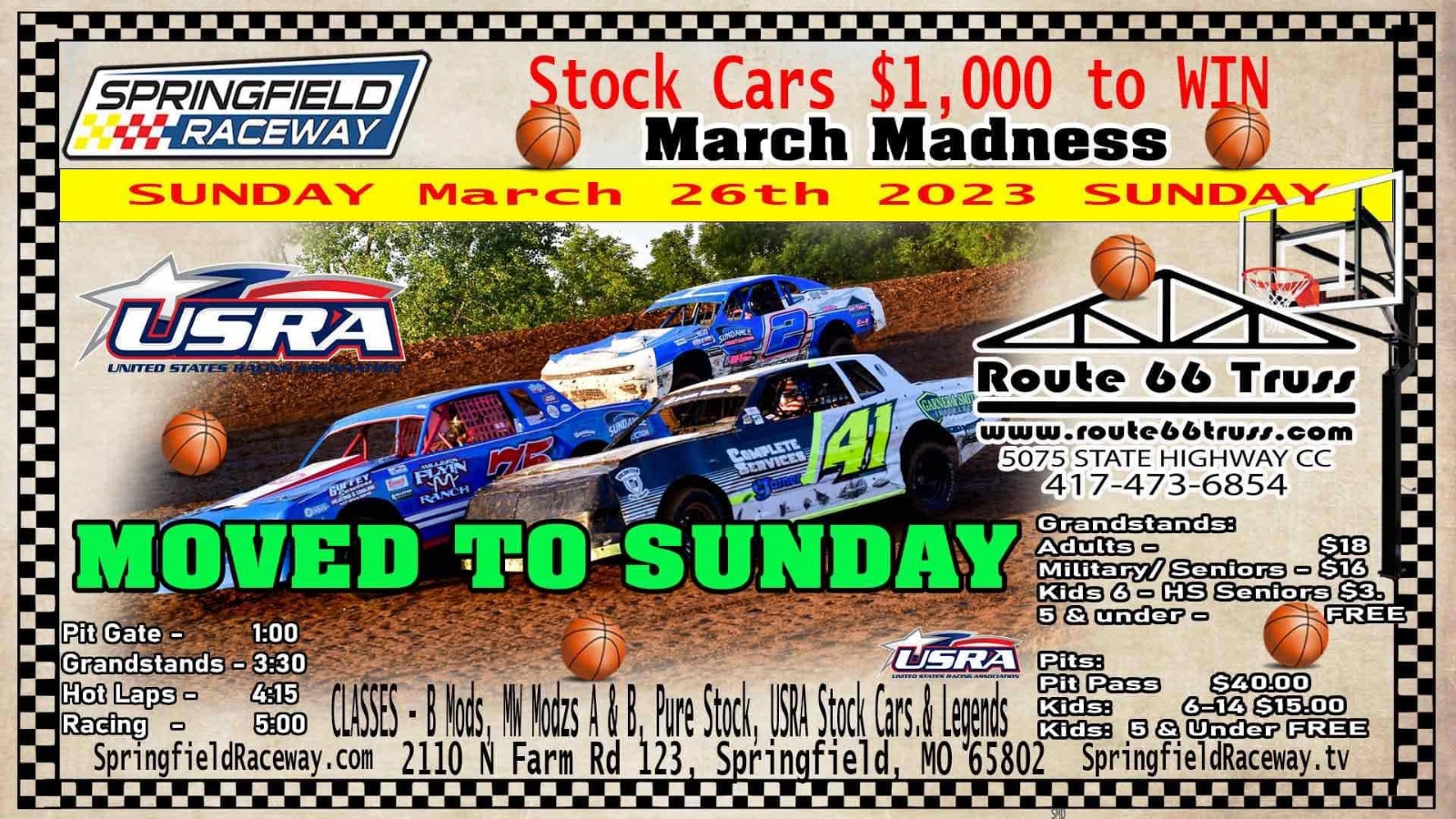 Opening Night
POWRi B Mods, POWRi MW Modzs A, POWRi MW Modzs B, POWRi Pure Stocks, USRA Stock Cars, Legend, Mini Stock / Fwd
All Classes

Cash Money Late Model/Weekly Racing
BMods, POWRi Midwest Modz - A Class, POWRi Midwest Modz - B Class, INEX Legends Cars, Open Late Models, Cash Money Super Dirt Series, POWRi Pure Stocks, USRA Stock Cars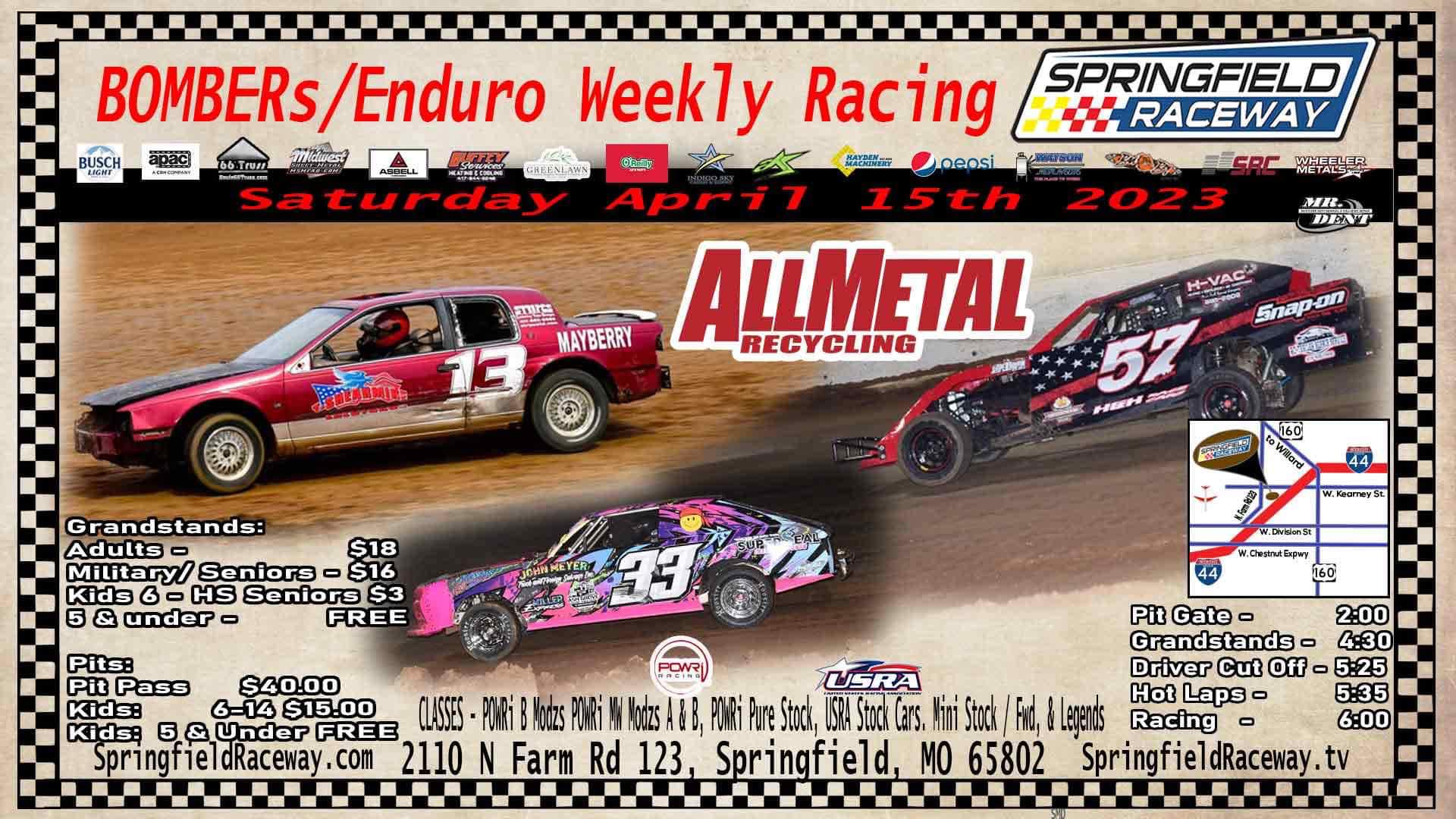 Bombers/Enduro - Weekly Racing
BMods, POWRi Midwest Modz - A Class, POWRi Midwest Modz - B Class, INEX Legends Cars, Mini Stocks, POWRi Pure Stocks, USRA Stock Cars

Watson Metal Masters Weekly Racing

Watson Metal Masters Weekly Racing + Bicycle Races
66 Truss USRA Stock Cars, Indigo Sky Casino OWRi Mw Mods (A Class), Hayden Machinery POWRi Mw Mods (B Class), All Trailer Services POWRi B Mods, Pepsi POWRi Pure Stocks, Wheeler Metals Legends Cars, Guffey Services Heating & Cooling Mini Stocks/FWDs

Watson Metal Masters Weekly Racing + Mechanics Races
66 Truss USRA Stock Cars, Indigo Sky Casino OWRi Mw Mods (A Class), Hayden Machinery POWRi Mw Mods (B Class), All Trailer Services POWRi B Mods, Pepsi POWRi Pure Stocks, Wheeler Metals Legends Cars, Guffey Services Heating & Cooling Mini Stocks/FWDs
TICKETS
Adults – $18
Seniors/Military – $16
Kids 6-High School Seniors – $3
5 & Under – FREE
PIT PASSES
Adults – $40
Kids 6–14 – $15
5 & under FREE
5 & Under – FREE
TIMES
Pit Gate Opens – 2:00
Grandstands Open – 4:30
Driver Draw Cutoff – 5:25
Hot Laps – 5:30
Racing – 6:00
If you can't attend in person, watch live from home at SpringfieldRaceway.TV

Cash Money Late Models + Watson Metal Masters Weekly Racing

EMSS Night - Watson Metal Masters Weekly Racing

EMSS Night
Watson Metal Masters Weekly Racing + Bombers/Enduro

Cash Money Late Models + Watson Metal Masters Weekly Racing

Watson Metal Masters Weekly Racing + Bombers/Enduro
Trucker Appreciation Night

Watson Metal Masters Weekly Racing

Watson Metal Masters Weekly Racing

Greenlawn Funeral Home DIRTcar Summer Nationals
DIRTcar Late Models, MW Modz, B Mods
DIRTcar Late Models $5,000 to win

Cash Money Late Models + Watson Metal Masters Weekly Racing
Fire Fall Fireworks Celebration

Watson Metal Masters Weekly Racing

Watson Metal Masters Weekly Racing

Watson Metal Masters Weekly Racing

Watson Metal Masters Weekly Racing + Bombers/Enduro

Watson Metal Masters Weekly Racing
Saturday, August 12, 2023

This race has been cancelled!
Watson Metal Masters Weekly Racing
Saturday, August 19, 2023

Cash Money Late Models + Watson Metal Masters Weekly Racing
Back to School Bash
Saturday, August 26, 2023

Watson Metal Masters Weekly Racing + Bombers/Enduro
Sunday, September 3, 2023

KTTS Ozark Area Dirt Track Championship
Randy Mooneyham Family Tribute
Added money in all classes
Saturday, September 16, 2023

Watson Metal Masters Weekly Racing + Mechanics Races
Saturday, September 23, 2023

66 Truss Cash Money Late Models + Watson Metal Masters Weekly Racing
Saturday, September 30, 2023

Watson Metal Masters Weekly Racing + Bombers/Enduro
Saturday, October 7, 2023

Cash Money Late Models + Watson Metal Masters Weekly Racing
Saturday, October 14, 2023

$2 Night Season Championships - Watson Metal Masters Weekly Racing
Saturday, October 21, 2023

Watson Metal Masters Weekly Racing + Powder Puff Races
Saturday, October 28, 2023

Cash Money Late Models + Watson Metal Masters Weekly Racing
Thursday-Saturday, November 16-18, 2023

Turkey Bowl XVII
Rain Dates: Thursday-Saturday, November 23-25