Start times for the Route 66 Truss Showdown
September 17, 2022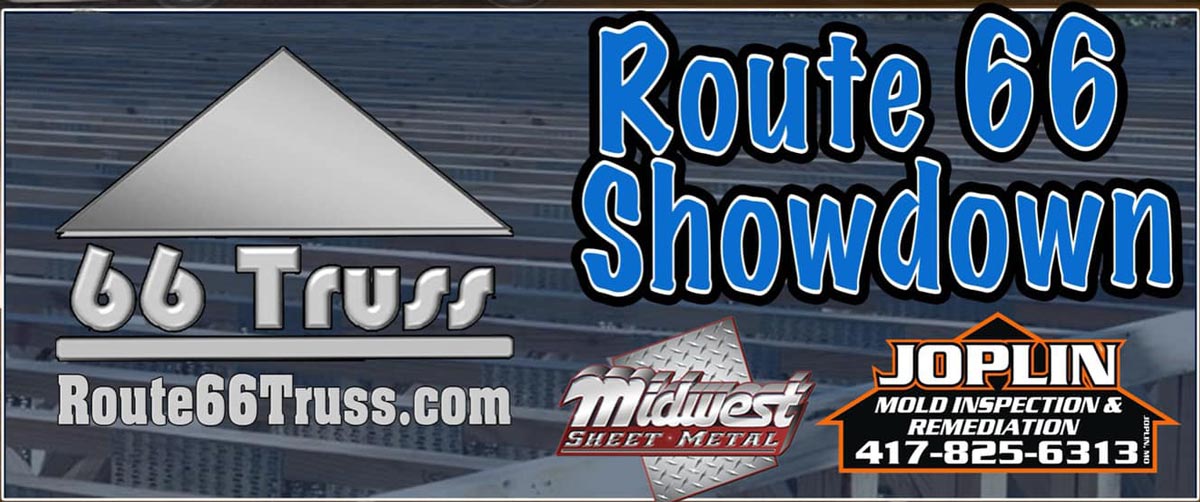 Start times for the Cash Money Late Model event for today Saturday September 17……. presented by 66 Truss Company …
…………TIMES…………
Pit Gate:11:30
Grandstands : 2:00
Driver cut off: 2:15
Hot laps if necessary : 2:45
Heats: 3:10
MS/Fwd,MW A, B Mod
Leg,Pure Stock,MW B
Hot laps Late Model: 6:45
Opening Ceremony: 7:05
Main Events: 7:15 ish
After a week off Dirt Track Racing continues at Springfield Raceway with the Route 66 Truss Showdown. Cash Money Late Models top the card with a 44 lap main event paying $1566 to Win & $466 to start. All Trailer Services USRA B Mods presented by Joplin Mold Inspection will pay $1,066 to Win & $200 to start. MW Mods A & B, Pure Stocks, Legends, & M/S Fwd will as well be racing.
…………TIMES…………
Pit Gate:11:30
Grandstands : 2:00
Driver cut off: 2:15
Hot laps if necessary : 2:45
Heats: 3:10
MS/Fwd, MW A, B Mod
Leg, Pure Stock, MW B
Hot laps Late Model: 6:45
Opening Ceremony: 7:05
Main Events: 7:15 ish
………..PRICES…….
GRANDSTANDS
Adults- $20
Seniors/Military- $18
Kids 6-Seniors
in High School - $2
5 & Under - FREE
Classes on the card for the
Route 66 Truss Showdown.
# ALL TRAILER SERVICES B Mods Presented by Joplin Mold Inspection
Double Down Asphalt
Elusive Competition Engines
$1,066 to WIN $200 start
$70 entry fee
# INDIGO SKY CASINO MW MODZS A
$366 to Win $50 start
# HAYDEN MACHINERY MW MODZS B
$266 to Win $50 start
# INEX LEGENDS
$366 to Win $50 start
# PEPSI PURE STOCK
$366 to Win $50 start
# GUFFEY SERVICES HEATING & COOLING Mini Stock / Fwd.
$166 to Win $50 start
# CASH MONEY LATE MODEL
$1566 to WIN $466 to start
$100 entry fee
If you can't make it to Springfield Raceway you have the option to watch live at home at https://springfieldraceway.tv/.
About 66 Truss Company
For over the last 20 years, family-owned Route 66 Truss has been Springfield and South West Missouri's trusted source for custom-designed trusses.
We use state of the art design software to design and build custom wooden truss packages to your exact specifications, and can meet any of your truss-related needs, including roof trusses and floor trusses. Learn more about our truss packages here.
If you're in SW Missouri and you need trusses, then contact Route 66 Truss today!