KTTS Ozarks Area Dirt Track Championships Information
September 3, 2022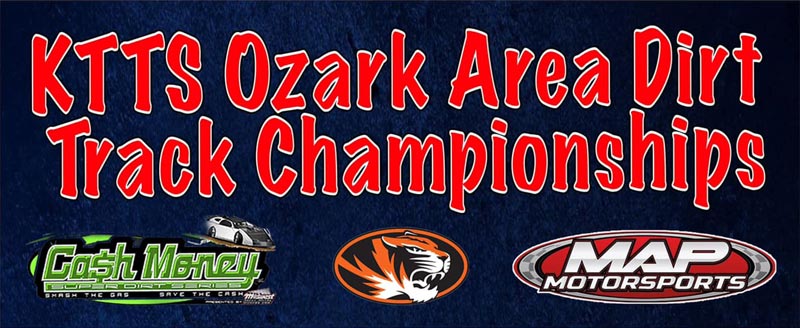 The KTTS Ozarks Area Dirt Track Championship Trophies are Ready for delivery.
KTTS OZARKS Ozarks Area Dirt Track Championships Information
SUNDAY SEPTEMBER 4
Classes on the card for the Labor Day Weekend event…
# ALL TRAILER SERVICES B Mods
# INDIGO SKY CASINO MW Modzs
# HAYDEN MACHINERY MW Modzs B Class
# INEX Legends
# PEPSI Pure Stock
# GUFFEY SERVICES HEATING & COOLING Mini Stock / Fwd.
# USRA Stock Cars
……….TIMES…………
Pit Gate: 11:30
Grandstands : 2:00
Driver cut off: 2:15
Hot laps if necessary : 2:45
Heats weekly classes : 3:10
Hot laps: 6:40
Opening Ceremony: 7:05
Main Events: 7:15 ish
ATTN. STOCK CARS:
You can check in at the beer garden from 11:30 until 2:15
If you are not checked in by 2:15 the check in will move to the ANNOUNCERS booth for Stock Car check in……
ATTN. WEEKLY CLASSES:
Please do not be late to the driver check in
11:30-2:15 at the Busch Light Beer garden…
………..PRICES…….
GRANDSTANDS
Adults- $20
Seniors/Military- $18
Kids 6-Seniors
in High School - $2
5 & Under - FREE
If you can't make it to Springfield Raceway you can watch it live from home at https://springfieldraceway.tv/
KTTS Ozark Area Dirt Track Championships info.
SPRINGFIELD RACEWAY......
Sunday,September 4 RACING ( inclimate weather date Monday September 5 )
LATEMODEL, B MODS
LEGENDS,PURE STOCK,
FWD/MINI STOCK, MW A
MW B , STOCK CAR
LATEMODEL
Cash Money latemodel Rules apply
USRA STOCK CAR
PAYOUT1)700 2)400 3)300 4)250 5)220 6)200 7)140 8)120 9-20) $100 10)
Non-Qualifiers $80 must start Last Chance Event to collect
Entry Fee $30
B MODS / USRA Rules
Payout 1) 700 2) 400 3) 300 4) 250 5) 220 6) 200
7) 140 8)120 9-20 100
Non-Qualifiers $80 must start Last Chance race to collect
B Mod Car Entry Fee $30
LEGENDS
1)400 2)275 3)200 4)125 5)100 6)90 7)85 8)80 9)80 10)75 11-20 70
Legend Car Entry Fee $25
MIDWEST MODZS A CLASS
RULES: Springfield / EMOD - Lakeside i 35 GrainValley MUST RUN A 6000 RPM CHIP
1)400 2)250 3)200 4)150 5)120 6)100 7)90 8)80 9)75 10)75 11-20 80
B Main - $60
Must start b main to collect
MW A Class Car Entry Fee $20
MIDWEST MODZS B CLASS
RULES : Springfield
1)300 2)200 3)150 4)125 5)110 6)100 7)100 8)90 9)85
10)80
MW B Class Car Entry Fee $20
PURE STOCK
RULES: Springfield,Dallas County,Lebanon,Nevada
Salina,Lake Ozarks,Crawford County, Monett,
Caney, Humboldt,i35, IMCA Hobby Stock
1)$700 2)400 3)200 4)125 5)120 6)$100 7)95 8)90
9)90 10-20) $80
Pure Stock Entry Fee $25
Pit Gates Open: 11:15
Grandstands Open: 2:00
Drivers meeting : 2:30
Driver cut off : 2:15
Hot laps: 2:40 if needed
Racing around : 3:10
Hot Lap: Stock Car 6:40
Late Model
Opening Ceremony: 7:05
Main Events: 7:15 ish
...Any cars after cut-off will tail to rear of a heat race and not Receive passing points only the heat position finish.
Grandstands: Adult Admission $20
KIDS 12 and under $5.00
Passing points used to set fields for Stock Car & B Mod Top 8 to redraw for starting spots...
MW Modzs , PureStock & Legends straight up lineup for feature
How many transfers will be determined by Car Count in each class….
THANK YOU TO THE SPONSORS OF THE KTTS OZARK AREA DIRT TRACK CHAMPIONSHIPS.
# KTTS COUNTRY 94.7 FM
# MAPS MOTORSPORTS
# BUSCH LIGHT
# AUTO EXPEDITE
USRA Stock Cars added to the KTTS OZARK AREA CHAMPIONSHIPS
Springfield Raceway announces Randy Mooneyham as the Grand Marshal of the Labor Day Weekend Ktts Ozark Area Dirt Track Championship Event Sunday, September 4th.
Springfield Raceway & Today's KTTS 94.7 FM Country's Best Radio Station have teamed up to bring the KTTS OZARK AREA DIRT TRACK
CHAMPIONSHIPS back to the Ozarks Sunday September 4th. KTTS is not a stranger to Huge Labor Day Dirt Track Racing Events leading all the way back to the mid late1970's at the Bolivar Speedway promoted by Nevelle Neil.The Event was called the Fina Dirt Track Championships.The same type of Labor Day Weekend Event moved to Monett Speedway & was Promoted by Curtis Lockhart.Randy Mooneyman & his family took over Monett Speedway in 1980 labeling it the KTTS 4 State Dirt Track Championships.Randy continued the Labor Day Event until selling the track few years back.The continual tradition of this Labor Day weekend race seemed to dwindle as time passed.Springfield Raceway owner Jerry Hoffman stated "Growing up the KTTS Labor Day Race was always a big event & it really is a honor to have Randy Mooneyham as the Grand Marshal of our Ktts Ozark Area Dirt Track Championships. Randy & his family owned & operated dirt tracks around the area from 1980 until 2017.The Mooneyham Family not only had a love for Dirt Track racing but a love as well for Republic Tigers Athletics.Randy served on the Republic R3 School Board for 15 years. Randy & his wife Linda had 5 children & they all participated in Republic Athletics. Two of their daughter's went on to be teachers at Republic & one is a Coach. Randy & Linda's entire family worked together at the race tracks all those years.The Springfield Raceway & the Mooneyham Family together are going to have an Athletic Scholarship for a Graduating Senior for the class of 2023.
The Malvern Bank Cashmoney Latemodels top the card with a $1,000 to Win & $325 to start Main Event.Ironically the Cashmoney series is owned by Randy Mooneyham's older brother Darrell Mooneyham & Darrell's son Dustin Mooneyham.
Classes on the card for the Labor Day Weekend event….
# ALL TRAILER SERVICES B Mods
# INDIGO SKY CASINO MW Modzs
# HAYDEN MACHINERY MW Modzs B Class
# INEX Legends
# PEPSI Pure Stock
# GUFFEY SERVICES HEATING & COOLING Mini Stock / Fwd.
# USRA Stock Cars
……….TIMES…………
Pit Gate:12:00
Grandstands : 2:00
Driver cut off: 2:30
Hot laps if necessary : 3:00
Heats weekly classes : 3:30
Hot laps Late Model: 7:00
Opening Ceremony: 7:20
Main Events: 7:30 ish
………..PRICES…….
GRANDSTANDS
Adults- $20
Seniors/Military- $18
Kids 6-Seniors
in High School - $2
5 & Under - FREE