Trick or Treat, Cash Money Late Models Saturday at Springfield
October 25, 2021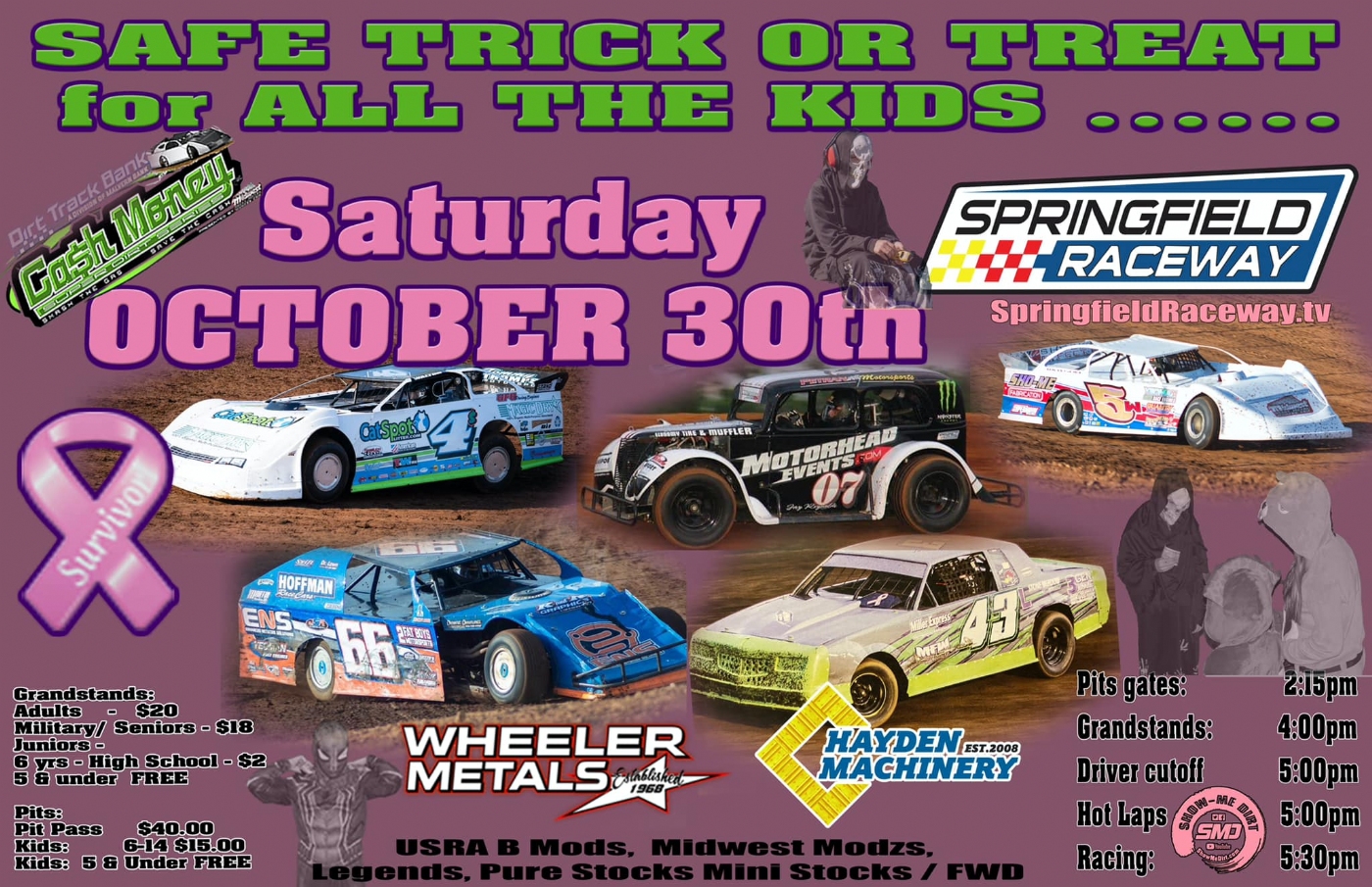 Trick or Treat for the Kids this Saturday October 30 Wheeler Metals & Hayden Machinery presents the Trick or Treat with the Kids Cash Money Late Model series at the Springfield Raceway.The Cash Money Late Models will crown a Champion on this night.The Cashmoney Late Model Main Event will pay $1,200 to win & $450 to start.
Race Fans will as well get to watch 6 weekly classes race on the ¼ mile clay oval .
Mom & Dad load the kids up & the neighbor kids up & bring them to Springfield Raceway for a TRICK OR TREAT during intermission. Springfield Raceway will be offering All the kids to join in on a Spooky Halloween walk from the Grandstands to check the Pit Area out where Drivers will be handing candy out.The Spooky Halloween walk again will be during intermission & intermission will be around 7:30ish.The Grandstands will open at 4:00 this Saturday.Springfield Raceway will be having a kids costume contest with cash prizes to winners along with cash giveaways all night long to the kids.Springfield Raceway will be giving a Family Pass away to attend the John Schneider Event on November 6.
@springfieldraceway
PRICES/Special Event
GRANDSTANDS
ADULTS: $20.00
SENIORS: $18..00
AGE 6 - Seniors in High School $2.00
KIDS 5 & UNDER FREE
TIMES
PIT GATE 2:15
G S 4:00
DRIVER CUT OFF 5:00
HOTLAPS 5:00
RACING 5:30
RACE FANS be here for your chance to win the Indigo Sky Casino Play & Stay at Indigo Sky Casino which includes a one night Deluxe King or Double Queen Room, $50 in Dining Credit & $20 Rewards Credit for 2 people .This is a $239 value.
IMCA/USRA/UMP type
$500 to Win $100 to Start
MODIFIEDS RULES..
NO MIXING OF RULES…
IMCA Type - USRA Type UMP type 2021
USRA type
•NO rear spoiler (may leave sides)
•American Racer Tire K7704
IMCA type
Must run all 4 Hoosier G-60 / May Groove & sipe
4 " Maximum height rear spoiler ( open motor or crate )
39" Maximum height rear deck
MUST RUN BACK PANEL
2400 weight rule
USRA B Mods
$400 to Win $50 to start
CASEYS MW A Class
$200 to Win $50 to start
HAYDEN MACHINERY
MW B Class
$100 to Win $50 to start
APAC Mini / Fwd
$100 to Win $40 to start
PEPSI PURESTOCK
$300 to Win $50 to start
INEX LEGENDS
$275 to Win $50 to start
About Hayden Machinery …….
Hayden Machinery, LLC is an independent heavy equipment dealer headquartered at the heart of the United States in Springfield, Missouri. While proudly renting, selling and supporting used equipment on both the wholesale and retail markets all across North America and around the world; Hayden Machinery also represents quality new products such as Kobelco Excavators, Bell Trucks, Atlas Copco Hydraulic Attachments and Kawasaki/KCM Wheel Loaders.
Hayden Machinery was founded in 2008 by Justin and Sarah Hayden and has since grown to become a globally recognized player in the heavy earth moving equipment business. Built around strong moral principles and flexibility, Hayden Machinery stands proudly behind their Money Back Guarantee, customer service, and a win-win mentality. This structure has built a loyal customer following in the local, domestic and international markets. With decades of experience, Hayden Machinery excels at supporting specialized industries such as environmental, mass excavation and civil construction, land and right-of-way clearing, quarrying and mining, energy distribution, recycling, waste handling, and more!
Excellent parts support is an essential asset to any equipment user; Hayden Machinery can meet the demand with our superior customer service, new and used parts, and quality ground engaging tools that can deliver a lower cost of ownership on your machine(s). We also buy machines for dismantling purposes, offering an option for a value driven used parts inventory.
Our shop and field service capabilities keep your machine up and running in the most critical times; whether you need a hydraulic hose repaired, or a complete machine rebuild, Hayden Machinery has the experience and support to keep you working! We offer specialty services such as fabrication and structural repair, line-boring up to a 24" diameter, special application buildout, and component rebuilds.
Whether you're right up the road building a pond, pipelining in Pennsylvania, remediating in Utah, or looking for your next quality used machine, Hayden Machinery is ready to partner up and support your needs.
About Wheeler Metals….
BUILD IT TO LAST...BUILD IT WITH STEEL
Since 1968, Wheeler Metals has been your best source for steel. From pipe and square tubing, to welders, metal buildings, structural steel, fencing materials and more, our friendly staff is always on hand to help you make the right steel purchase.
We've now been in our current location at Highway 69 and the Arkansas River Bridge in Muskogee, Oklahoma for more than 20 years. Our locations in Springfield, Missouri and Rogers, Arkansas have now been serving you for more than a decade.
The years of experience allows us to understand the steel market better than anyone, which means we deliver the best quality products at the best prices to you.
Call us anytime, browse through our online store, or stop by and come check out our now covered loading area. With this great new addition, we can easily get you loaded with your materials, no matter how disruptive the weather might get.
@wheelermetals