Springfield postpones EMS Night to Sunday
April 24, 2021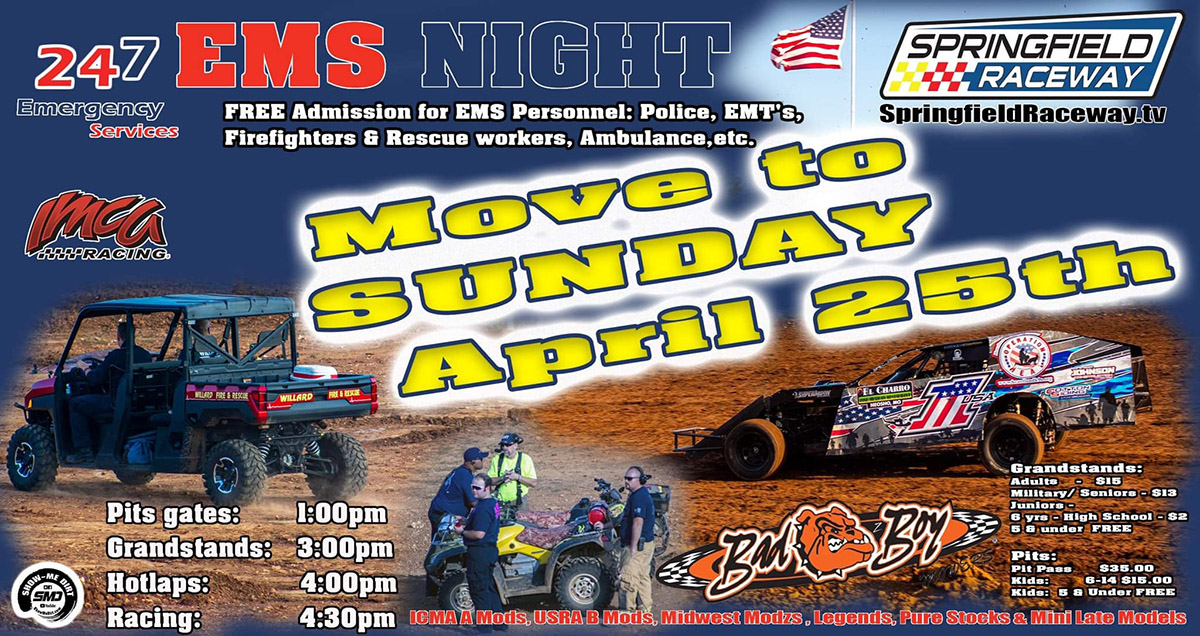 Springfield Raceway will be continue action packed Dirt Car Racing on the 1/4 mile clay oval with Emergency Services Personnel Night at the races Sunday, April 25. Raceway Officials want to recognize the men & women that risk their own lives as they work in the trenches everyday helping not only in the Ozarks but across the entire USA making a better & safer place for us to live. We tip our hat to you ALL & SAY...
THANKS ....
Springfield Raceway offers a FREE night of Dirtcar Racing to All EMS Personnel that live in the USA ... Mom , Dad load the kids up ….bring them out to the races...remember kids 5 & under are FREE & 6 thru Seniors in High School are just $2......
Police, Firefighters, EMT's,Nurses ,Doctors & Rescue workers will be allowed FREE Grandstand admission on this night. On this night Race Fans will be treated to 7 Divisions of Racing as the Drivers compete for prize money and accumulate points to determine who is crowned Champion at the end of the season. Everyone knows someone in this line of work…. spread the word & let them know.EMS Personnel needs to bring ID badge for FREE general admission.See you at the Races.
THANK U ALL AGAIN FOR WHAT YOU DO…
We stand tall for all the RED , WHITE & BLUE….
For more information about Springfield Raceway check out our Facebook Page or visit springieldraceway.com.