Springfield season opener this Saturday
March 30, 2021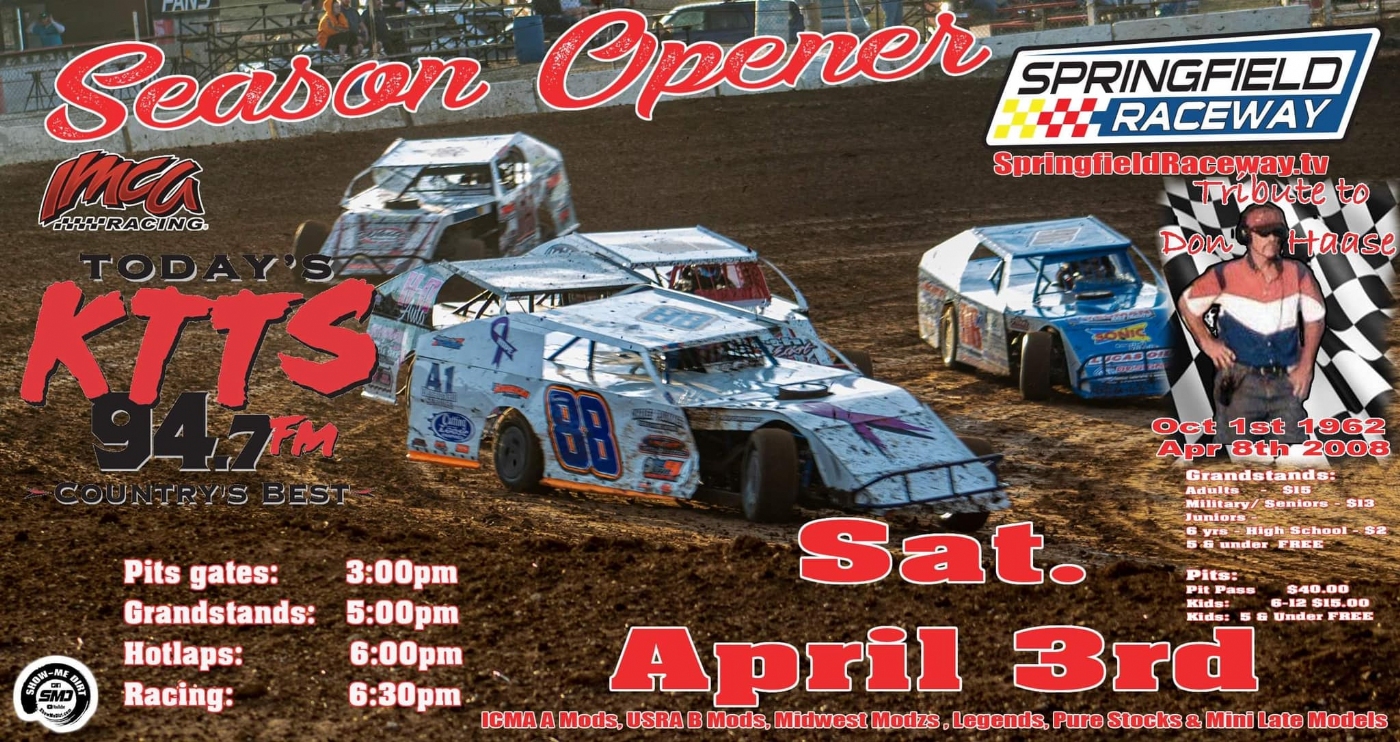 Dirt track racing action is back in the Ozarks as Today's KTTS 94.7 FM Country's Best Radio Station presents Opening Night at Springfield Raceway this Saturday, April 3, with seven weekly classes beginming their points battles.
Opening night this Saturday at Springfield Raceway will feature IMCA Modifieds, USRA B-Mods, Midwest Modz (A & B Classes), Pure Stocks, Legends Cars and SHARP Mini Lates.
TICKETS
Adults $15
Seniors/Military $13
Youth (6 to high school) $2
Kids 5 & Under FREE
PIT PASSES
Adults $35
Youth (6-12) $15
Kids 5 & Under FREE
TIMES
Pits Gates Open 3:00
Grandstands 5:00
Hot Laps 6:00
Racing 6:30
From Promoter Jerry Hoffman:
"We kick our racing season off each year by honoring my friend Don Haase (October 1, 1962 - April 8, 2008). At 46 years of age, Don passed young. Don and I worked together back in the early mid '90s. Don said I was one of the wildest and craziest guys he had ever met. Don was the type of guy who could fix anything. He was one hell of a mechanic. He Loved all sports and just being outside. When we bought the racetrack back in 2007 we needed a tech man. I thought Don would be perfect. Don was our tech man in 2007 and did a great job. Early March, Don called me at the shop and said he wanted to talk to me. A few hours later, Don showed up and with a big lump in his throat he said he didn't want to tech any more and wanted to flag. He told me he has always wanted to be a flagman. I looked at him and told him okay, you can flag. He smiled and said you sure. I said yep, you got the job. Well, Don passed away due to diabetic ketoacidosis and didn't get to drop the green flag that 2008 season at the Springfield Raceway, so for as long as we own the Springfield Raceway dirt track each and every year to start the racing season Don's children will climb the flagstand as we listen to the Dobie Gray's song Drift Away as they release balloons into the sky as they drop the green flag in honor of their Dad to start the first heat race of our season... Live. Love. Laugh. Believe... We just never know what tomorrow may or may not bring,"