Open Late Models added March 6
March 2, 2021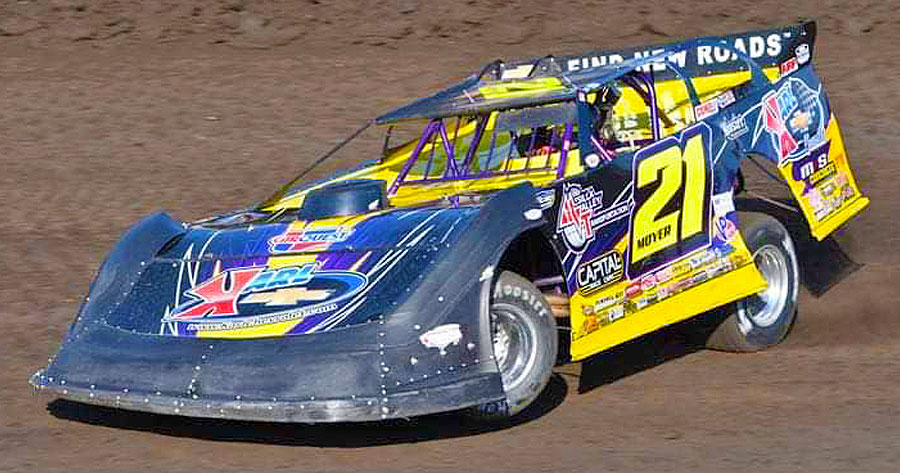 Open Late Models will be added to the racing program this Saturday, March 6. Springfield Raceway will be paying $3,000 to win and $400 to start.
Billy Moyer from Batesville, Ark.; Jason Papich from Arroyo Grande, Calif.; and Jesse Stovall from Billings Mo.; along with several other local and regional drivers have called and are planning on making the trip to Springfield Raceway this weekend.
If you can't make it you can catch all the action on https://springfieldraceway.tv
Special thanks to these businesses for helping to bring Open Late Models to Springfield Raceway this Saturday:
Papich Construction
Lowe Boats I-44 Winter Shootout
Midwest Sheet Metal
Reid Millard
Toste Construction
There will be a alphabet soup of BMOD division rules packages battling for a top prize of $1,000 to the A Main Event Winner.
Midwest Modzs,Pure Stock,Legends will as well be racing.
Any FWD/MINI Stocks that want to Hotlap can….
You can Hotlap at beginning of the night….
1 set after intermission & 1 set after races...
TRANSPONDERS……
We will be using Westhold Transponders for scoring..
Drivers that have their own can use it…
Drivers wanting to purchase a Transponder can at the track this Saturday…
…….TRANSPONDER OPTIONS …….
$220 - TRANSPONDER, POUCH & CHARGER…
or
$185 - TRANSPONDER HARD WIRED….
Drivers that are a little low on funds & plan to race at Springfield Raceway all year... We will keep $20 a night out of your pay & it will go towards you buying the transponder…..
$15 a night - Drivers that are just wanting to rent a transponder & will not be racing with us all season …
Must purchase a transponder pouch at track $12.00 & the Driver keeps the pouch...
Drivers renting a Transponder must leave their Drivers license & are responsible for returning the transponder in working conditions….if Driver looses or damages the Transponder they must purchase the Transponder for
$185….
EVENT INFORMATION…
RULES
OPEN LATEMODELS
$3,000 to WIN $400 Start / $100 Entry / $100 Tow $
COMP CAMS / MLRA TYPE RULES /
Tire Rule
*LM 20 may be ran on the front
*1350 may be ran on 3 corners
*LM 40 RR ONLY
*American Racer 56
(If running 4 American Racer 56
You get a 42 " rear deck height / 10" spoiler
American Racer 56 May be ran on all 4 corners & be grooved & siped…
*D55 on ULMA CARS ONLY
*D21 Crate on 3 corners & 40 ONLY RR
NO TIRE DOPE…..
Payout 1)3000 2)1500 3)1000 4)850 5)800 6)650
7)600 8)550 9)500 10)450 11-20)400
Non qualifiers- $100-must start Last Chance Event to collect
Car Entry Fee $100
NO TIRE DOPE….
B MOD (no mixing rules of rules)
USRA Type
IMCA Type
IMCA Southern Sport Mod
Wissota : NO rear spoiler
ALL UMP : 60s on 30 pounds in front of midplate
Payout: 1)1000 2)500 3)320 4)260 5)220 6)200 7)150 8)130 9)110 10)105 11-20)100
B Feature : $70 to start
B Mod Entry Fee $40
MIDWEST MODZS 1 CLASS (no mixing rules of rules) $400 to win $40 to start
Springfield
I-35 , Lakeside : NO rear spoiler
PURE STOCK (no mixing rules of rules)
$300 to win $40 to start
SPRINGFIELD AREA TRACK PURE STOCK RULES BRING YOUR RULES
LEGENDS $250 to win $40 to start
Inex dirtcar
TIMES:
Pit Gate : 1:30 ADULTS - $40
GS 4:30 HIGH SCHOOL - 6 yrs $2
Hotlap : 5:00 ish 5 & UNDER - FREE
Racing : 5:45 ish