Six classes, test 'n' tune on tap March 6
February 28, 2021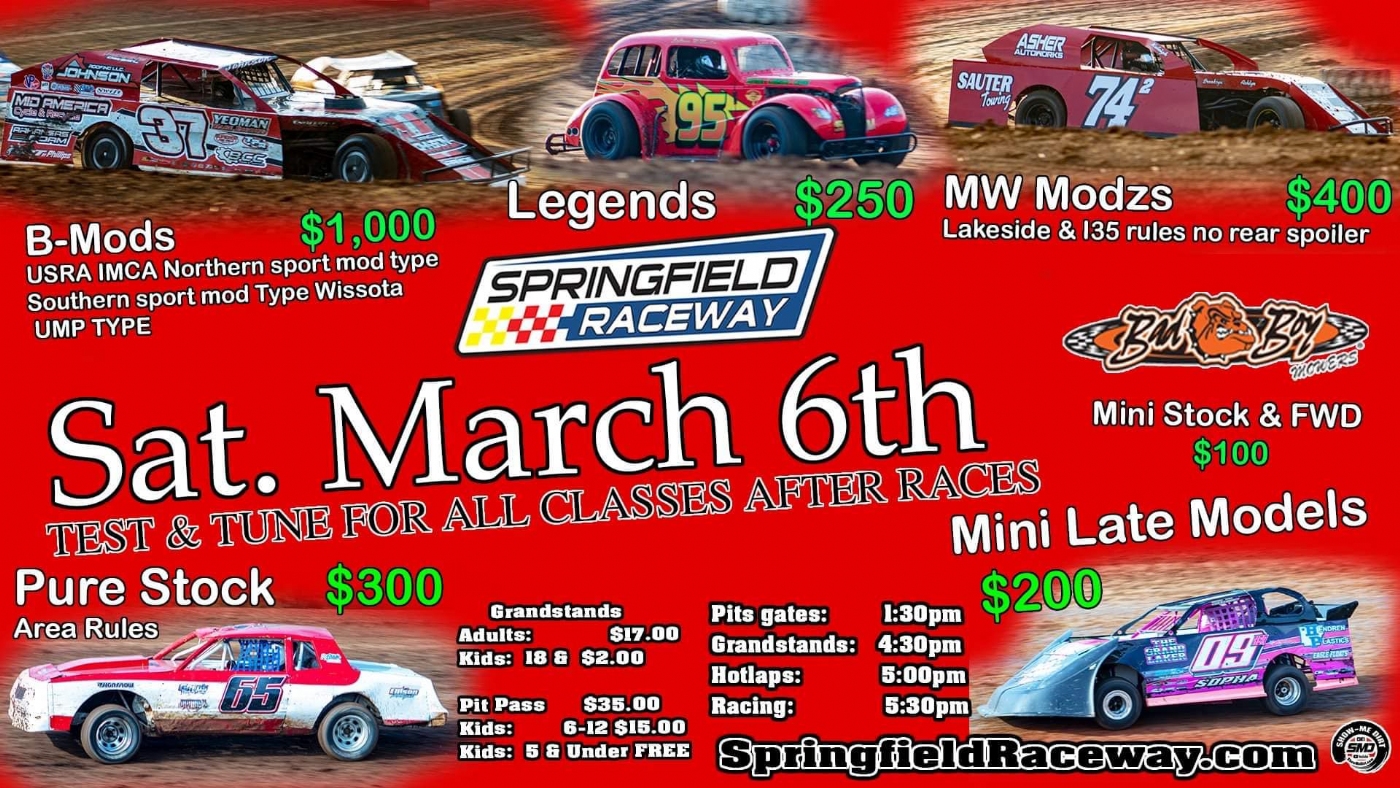 Springfield Raceway will be having a race along with a test 'n' tune Saturday March 6. The B-Mod division will be battling for a top prize of $1,000 to the main event winner. Midwest Modz, Pure Stocks, Legends, FWD/Mini Stocks and Mini Lates will be racing as well.
All cars will hot lap at the beginning of the event. Open Late Models, Malvern Bank Late Models, IMCA Modifieds, Open Modifieds, hornets, Mini Stocks, Outlaw Mini Stocks, Front-Wheel Drives, Factory Stocks, Street Stocks... even the cars that are not racing on this night will hot lap before the races start and then we will run our racing program with six classes.
Directly following the racing program we will have a one-hour test 'n' tune. All cars that did not race in the racing program be in line at the lineup area. We will give you guys two rounds of hot laps. After the two rounds of hot laps for the cars that did not race, we will open it up to everyone as you get in line.
TRANSPONDERS
We will be using Westhold Transponders for scoring. Drivers that have their own can use it. Drivers wanting to purchase a transponder can do so at the track this Saturday. The cost is $220 for transponder, pouch and charger or $185 for transponder hard wired. Drivers that are a little low on funds and plan to race at Springfield Raceway all year, we will keep $20 a night out of your pay and it will go towards you buying it. For drivers that are just wanting to rent a transponder and will not be racing with us all season, the rental cost is $15. Must purchase a transponder pouch at track for $12 and driver keeps the pouch. Drivers renting a transponder must leave their drivers license and are responsible for returning the transponder in working condition. If driver looses or damages the transponder they must purchase the transponder for $185.
EVENT INFORMATION
B MODS:
USRA type
IMCA type
IMCA Southern SportMod
Wissota: No rear spoiler
UMP: 60s on 30 pounds in front of midplate
(no mixing rules of rules)
Payout: 1)1000 2)500 3)320 4)260 5)220 6)200 7)150 8)130 9)110 10)105 11-20)100
B Feature: $70 to start
Entry Fee $40
MIDWEST MODZ:
$400 to win, $35 to start
Springfield
I-35, Lakeside: NO rear spoiler
(1 class, no mixing of rules)
PURE STOCKS:
$300 to win, $35 to start
Springfield area track, bring your rules
(no mixing rules of rules)
LEGENDS:
$250 to win, $35 to start
INEX, DIRTcar
MINI LATE MODELS:
Sharp Mini Lates
FWD/MINI STOCKS:
$100 to win, $35 to start
TIMES
Pit Gate: 12:30 p.m.
Grandstands: 4:30 p.m.
Hot Laps: 5:30 p.m.
Racing: 5:45 p.m.
TICKETS
General Admission $17
Kids 6-18 $2
5 & Under FREE
Pit Pass $3