Springfield adds B-Mod race October 17
October 7, 2020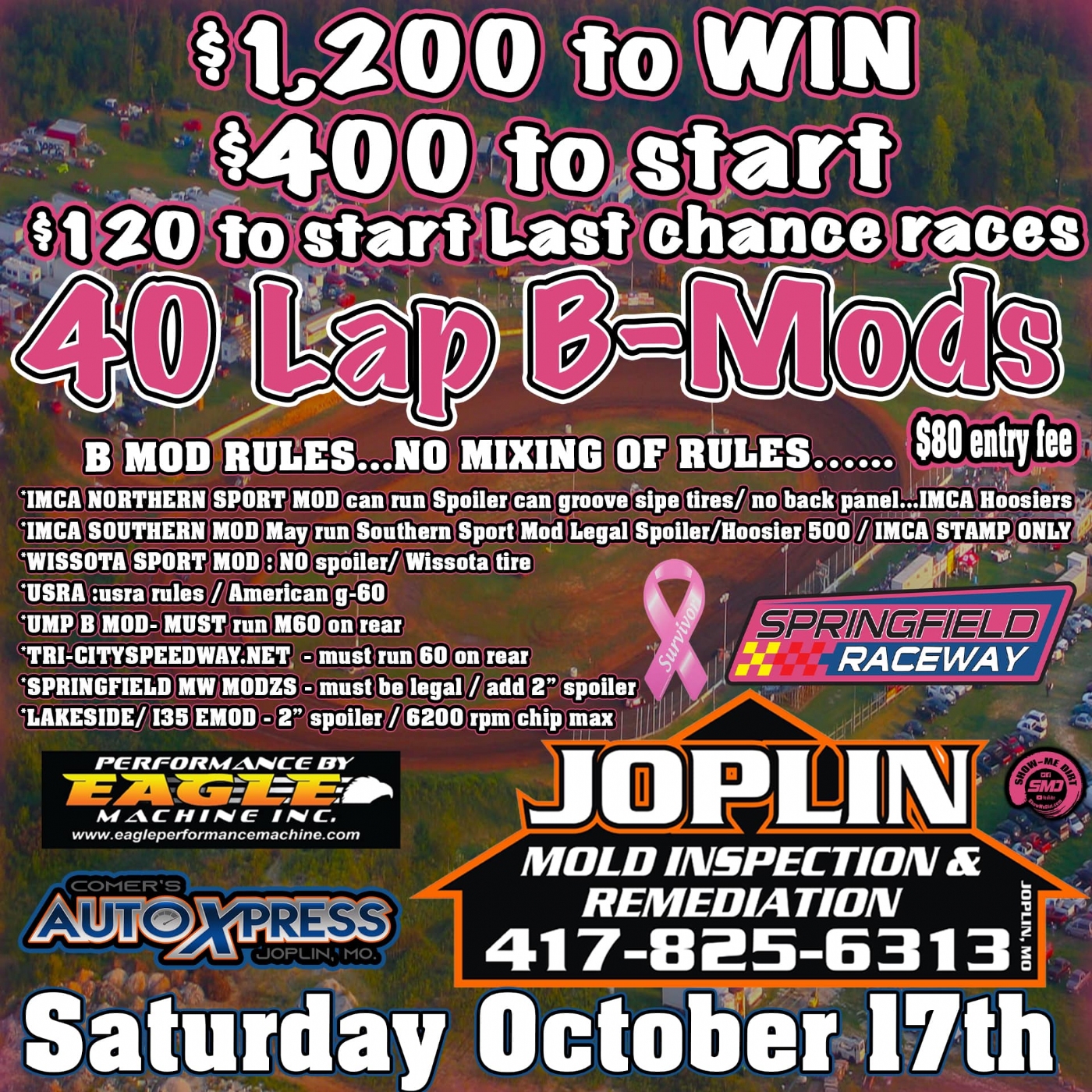 Springfield Raceway will be having an added money B Mod Race Saturday October 17.Springfield Raceway Track owner Jerry Hoffman states." The ever so rising costs of the A Mod division the B Mods have given a Modified Racer a little less expensive class to compete in . The differences in the B Mod rules across the United States Springfield Raceway has made a rules package to bring all the major Sanctioning Bodies together for an added money B Mod Race.The Springfield Raceway is a equalizer to help with the rules packages as the ¼ mile clay oval is small but races big with multi grooves , slick with a cushion & you need to be up on tha wheel but still be easy on the right foot to get some traction. This B Mod Event will be limited keeping the National Touring series Drivera from being able to race. Thank You goes out to Joplin Home Inspection, Comer's Auto Xpress,& Eagle Machine for their help in putting this B Mod Event on .
Support Classes TBA....
……….Payout A MAIN …….
1) $1200 2) 600 3) 525 4) 515
5) 510 6)505
7) 500 😎 490 9) 485 10) 480 11) 475 12) 470 13) 455
14) 445 15) 435 16) 425 17) 415 18) 410 19) 405
20) 400
$120 to start the B Main…..
B Mod Car Entry Fee $80 / Racereceivers required..
ALL CARS WILL DRAW FOR HEAT….
TOP 8 PASSING POINTS TO A MAIN ….
TOP 8 WILL REDRAW FOR TOP 4 ROWS LINEUP
ALL OTHER CARS WILL BE LINED UP IN B MAINS BY PASSING POINTS ….
B MAINS & TRANSFER CARS DEPEND ON CAR COUNT /WE WILL START 20 CARS IN A MAIN...
........B MOD RULES...NO MIXING OF RULES…...
*IMCA NORTHERN SPORT MOD can run Spoiler
can groove sipe tires/ no back panel...IMCA Hoosiers
*IMCA SOUTHERN MOD May run Southern Sport Mod Legal Spoiler/Hoosier 500 / IMCA STAMP ONLY
*WISSOTA SPORT MOD : NO spoiler/ Wissota tire
*USRA :usra rules / American g-60
*UMP B MOD- MUST run M60 on rear
*TRI-CITYSPEEDWAY.NET - must run 60 on rear
*SPRINGFIELD MW MODZS - must be legal / add 2" spoiler
*LAKESIDE/ I35 EMOD-2" spoiler/ 6200 rpm chip max
B Mod Driver Eligibility Requirements for October 17.
# Drivers cannot be in the top 25 of a National Points or Touring series in 2020 in the list below.
( IMCA Modfied,USMTS Modified, USRA A Modified,
WISSOTA Modified,UMP Modified,UMP Latemodel
WISSOTA Latemodel,NCRA Latemodel )
(MLRA, Comp Cams,MARS,Lucas Oil Latemodels World of Outlaws Latemodel or Sprint Cars, ASCS,
Any NASCAR Cup , Xfinity , Truck Series. )
# NO A MODIFIED TRACK CHAMPIONS 2020
# If you Qualified for a Main Event in any of the above Series or Sanctioning Bodies…..
# If a Driver qualified for Main Event
2019-2020 with A Mod or Latemodel Duel in the Desert,King of America , Doug Murphy Memorial,IMCA Supernationals,Fall Jamboree,Hope for 71
# Kyle Larson is NOT eligible to run this race….
# Springfield Raceway reserves the right to refuse entry to this race to anyone they may deem ineligible for this type of race…..