Weekly Racing continues Saturday at Springfield
August 18, 2020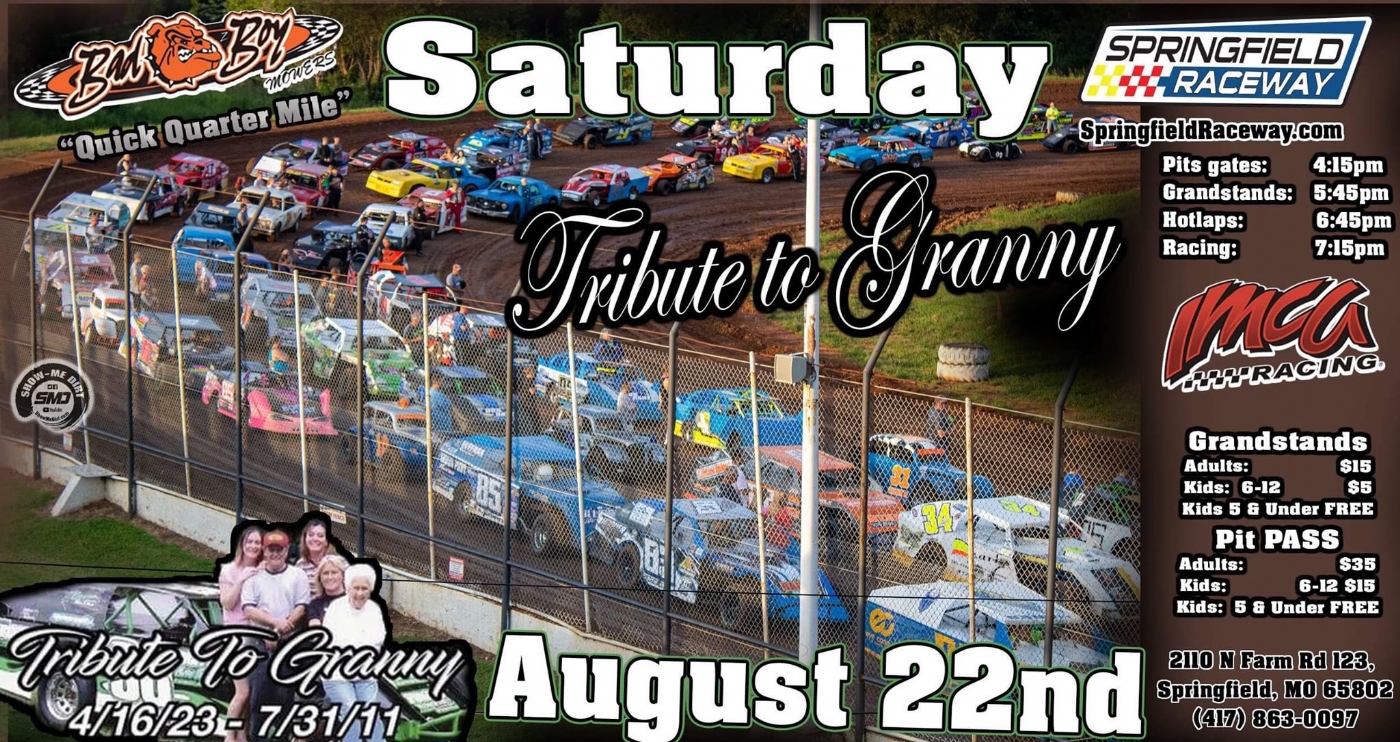 This Saturday August 22 Weekly Dirt Track action continues as we honor one of the GREATEST RACE FANS a Dirt Track could ever have….
Yes….time....time....yes ....it's time again... Springfield Raceway will be Honoring
……….Granny ....
The Greatest Race Fan a Race Track could have…. Wanda Jeffries was born 4/16/23 in Springfield Missouri ...
Her & Husband of 45 years had one Child, Pam......Granny had a Huge Love for Racing...Pams husband Larry Tindle was a Race Car Driver so a great combination of Family & a Love for Racing was born.....Granny would go with Pam & Larry all over the area so she could watch her sweet little Larry Race...if Larry didn't Race Granny would still go to Springfield Raceway to watch the Races....When Doug & I bought the Track 13 years ago Granny had been to EVERY Race we had.....Doug & I gave Granny a SEASON past her last year she attended the Races at Springfield Raceway..Granny never missed a race until she became ill....Pam told me Granny treasured that Season Pass like a piece of Gold & thought it was one of the nicest gestures she had been given...
7/31/11 Granny passed on …..
Pam layed the SEASON PASS that she treasured so much by her side as they laid her to rest.I can't say I actually new Granny that well...Usually just a hi Granny , thanks for coming tonight..or a ...keep cool Granny....or did you like the races....I never tasted her sweet tea, never a chocolate chip cookie or that special Fried Chicken that only a Grandma can make but one thing I did know was Granny told Larry I was a Good Man & a very hard worker...& ....Well …
That meant a lot to me....
This Saturday we will Open the Night off at Springfield Raceway by listening to Grannys Favorite song....Go rest high on that mountain by Vince Gill....All cars will be on the track 3 wide for the playing of the National Anthem with Pam & Larry carrying the Flag....
Granny will be up in Heaven
with the Best Seat in the House....
Chekn traps...
PIT GATE 4:30
GRANDSTANDS 6:00
HOTLAPS 6:45
RACING 7:15
B THERE