Safe Trick-or-Treat, Breast Cancer Night this Sunday
October 29, 2019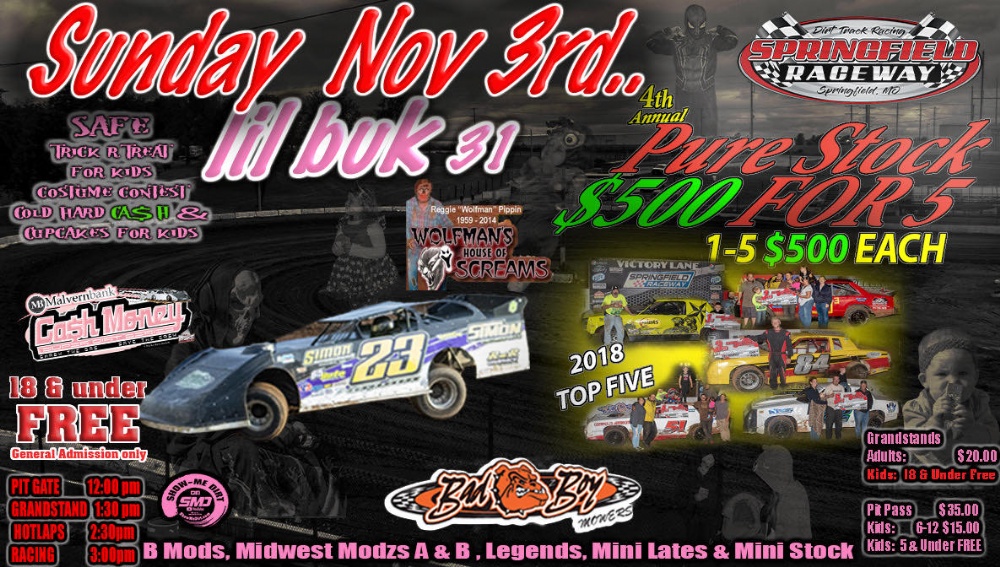 Safe trick-or-treat for breast cancer night tops the card this Sunday, November 3, at the Springfield Raceway. Mom and dad, remember 18 & under get in free. Bring the kids, bring the neighbors kids,juss load up some kids and bring 'em out to Springfield Raceway for a safe trick-or-treat with the kids.
Springfield Raceway will be having a costume contest with prizes along with cupcakes, candy and cash money drawings to be given to the kids.
Drivers will be signing autographs & handing out candy at intermission.
Area businesses that are interested in handing out candy please message the Springfield Raceway Facebook page.
Well it's October again Breast Cancer Awareness month and time to get that pretty pink checkerd flag out for the lil buk 31.
The Malvern Bank Cash Money Late Models along with the 5 for 5 ($500 to win and $500 for top five) Pure Stock event will be the main attractions. Other classes that will be racing include:
B Mods
$400 to win $40
MW Modzs A & B
$200 & $35
$100 & $35
Legends
Mini Lates
Mini Stocks.
PRICES
General Admission is $20
Kids 18 & under FREE
Pits $35 (Kids 14 & under $15)
TIMES
Pit Gate: 2:00
Stands: 1:30
Hot Laps: 2:30
Racing: 3:00
BREAST CANCER INFORMATION
In 2019, an estimated 268,600 new cases of invasive breast cancer are expected to be diagnosed in women in the U.S., along with 62,930 new cases of non-invasive (in situ) breast cancer. About 2,670 new cases of invasive breast cancer are expected to be diagnosed in men in 2019.
After reading those facts & then you think about it you realize how not only breast cancer but any kind of cancer can affect each one of our lives so suddenly.Scars & financial burden are not only left mentally but physically that can trouble one or a entire family.Myself I would not understand about the effects of breast cancer on one or their family until a very close Friend of mine was diagnosed with breast cancer a few years back at a young age of just 34.Today my ol Friend is a survivor living cancer free after surgery. Springfield Raceway will be having a event try to raise some money to donate to a local lady to help a little with some finances during troubled times.
Girls be sure and get those mammograms regularly.