Springfield moves from rainy Saturday to Sunday
September 28, 2019 | by Jerry Hoffman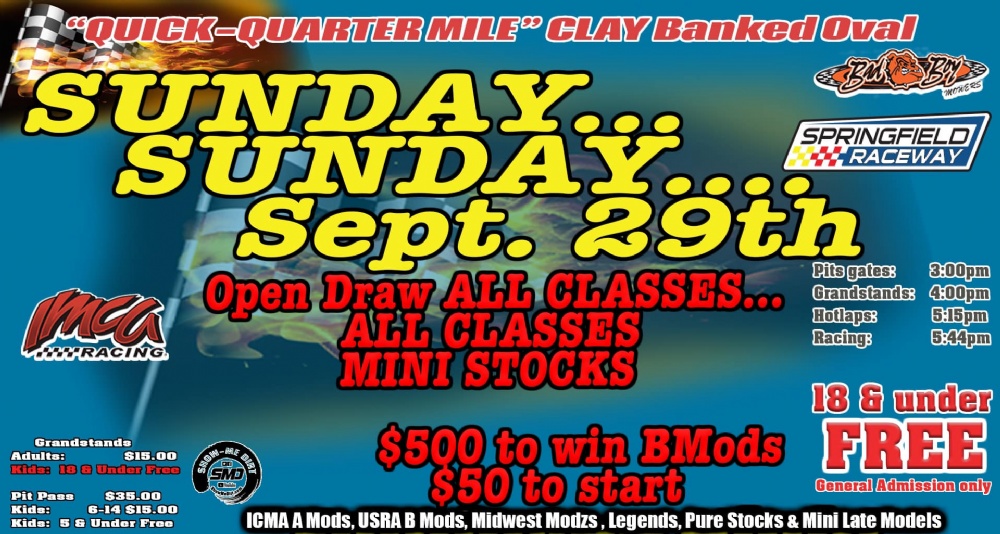 With the rain today & Weatherman's usually never correct but sometimes is close weather forecast of rain tonight we will move the Races to TOMORROW NIGHT SUNDAY, SUNDAY, SUNDAY, SUNDAY
SEPTEMBER 29.
The Season Points will be over as of last week & it will be open draw for all classes...
B Mods
$500 to win $50 to start
BADBOY IMCA
$500 to win $100 to start
MIDWEST A
$200 to win $40 to
start
MIDWEST B
$100 to win $35 to
start
Legends
Pure stocks ( area rules )
Mini Latemodel
Mini Stock
TIMES...
Pit Gate- 3:00
Grandstands- 4:00
Hotlaps - 5:15
RACING - 5:44
B... HERE...
Remember 18 & under are FREE....