Gilmore Dialed Into Springfield Again In USRA B Modified Feature
August 24, 2019 | by Ronnie Williams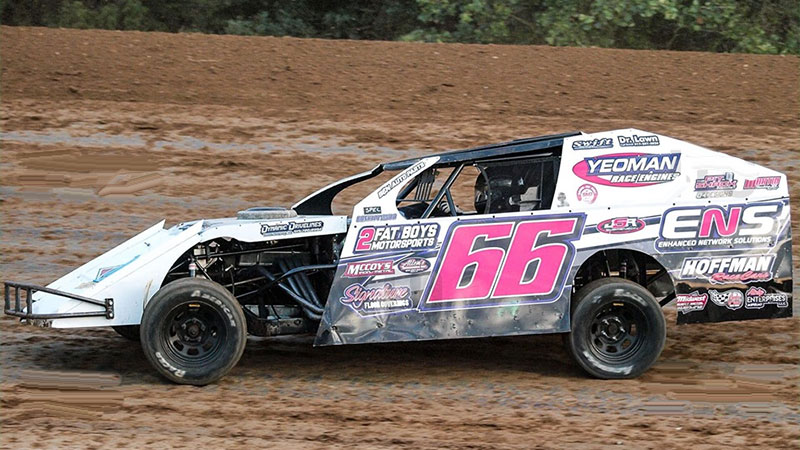 Former USRA Out Pace B Modified National Champion Ryan Gilmore of Springfield took the lead from Danny Martin on the 10th lap and walked the dog Saturday Night in grabbing his 9th feature win out of 11 features At The" Quick-Quarter" of The Springfield Raceway Saturday night in Reliable Chevrolet action.
Rolling off 5th on the grid, it was Martin in his Martin Trucking 33 pulling away quickly from the field as heavy rains from Friday and Saturday morning had the track crew working hard to keep the track as smooth as possible as it was lightning fast. Martin had pulled away while Cody Acklin, Michael Cawvey, Gilmore and a tight group were looking for an opening. Gilmore finally threaded the needle and moved into 2nd and started his charge on the fast moving Martin on lap 6. Gilmore ran down the leader on lap 9 and made the pass to the front while 3rd place was tight with as many of 5 cars in contention.
The 1st caution waved on lap 12 as Martin spun in turn 2 and bunched the pack together on Gilmore.A couple of quick yellows kept the pack on lap 12 as front runner Michael Cawvey of West Plains was involved ending his night. The field gathered it back together as Gilmore in his Enhanced Networking Solutions/Yeoman Engines/2FatBoysMotorsports/Hoffman RaceCars was shot out of a cannon to leave the field racing for 2nd place as Gilmore never looked back. Current track points leader Jackie Dalton charged from his 11th starting spot to capture the runner-up spot in a tight race for the spot followed by Cody Acklin, Levi Phillips and Mark Wolfe.
Summit Weekly Racing action featuring The USRA Out Pace B Modifieds continues Saturday Night with a regular points show with Racing at 7:30 and draw cutoff at 6:45 and hotlaps at 7PM.
For more information visit the Facebook Page for updated information or the Website at WWW.Springfield Raceway.Com