Flyn Farmer 55 this Saturday at Springfield
August 14, 2019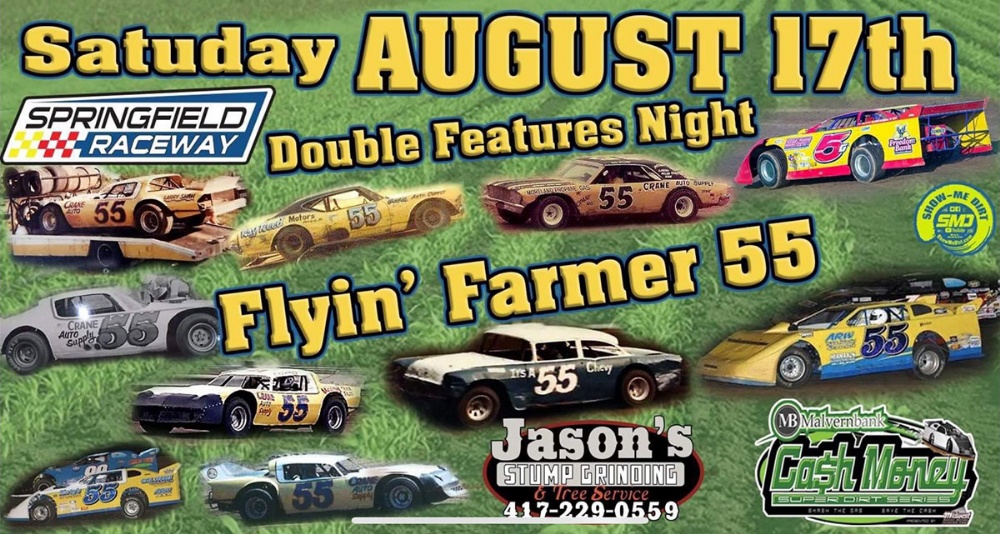 This Saturday August 17 the Malvern Bank Cash Money Latemodels return with the Flyn Farmer 55 a tribute to the Legendary Stock Car Diver Ken Essary.Fans will get to see 2 A Main Events in the latemodel division as the cars will be divided in qualifying.
Other classes racing will be the IMCA Badboy Mowers A Mods, Reliable Chevrolet B Mods, Pepsi Pure Stocks, Wheeler Metals Legends, Caseys General Store Midwest Modzs.
Race Fans don't forget about the Indigo Sky Casino Raining CASH MONEY DROP...
20 Lucky Race Fans & 1 Racecar Driver will be chasing the Indigo Sky Raining Cash Money.....
On August 17 ALL of this will fly from from tha Indigo Sky.....
$ $1055 in $1.00 bills
$ Several hundred Dollars in Caseys General Store Gift Cards..
$ Hundreds of dollars in lottery tickets
$ $1000 in Indigo Sky Casino Bucks.
&
Maybe more surprises....
B here
August 17th....
We already have 4 contestants entered through a ticket draw last Saturday Night...
We will draw 16 more general admission tickets this Saturday August 17 to get the final 16 contestants for the Indigo Sky Casino Cash Money Drop....
LIST OF CONTESTANTS
1. Robert Farnsworth
2. Carolyn McKnight
3.Darrel Edwards
4.Randy Dye
7-20. WILL BE A GENERAL ADMISSION TICKET DRAW AT THE TRACK.
Pit Gate:4:00
Grandstands:6:00
Hotlaps: 7:00
Racing:7:20
About Ken Essary:
Ken Essary became known as the Flyin' Farmer during his racing career that spanned over 40 years. He and his wife Linna live on the family farm and continue to farm today.
Ken was born in 1946. Around age 10 he knew he wanted to be a racer after watching his uncle race at the Fairgrounds in Springfield. He didn't get his first car until the age of 25 in 1971. At that time, there was only one class of cars, Late Models – Ken doesn't remember how he did in his first outing, but he won the first A main he qualified for. In 1974 he won 18 out 20 events at Fayetteville Arkansas. Rolling through the 70's Essary often raced 5 nights a week racking up 50 plus wins per season, collecting numerous track championships and wins in area special events.
In the 80's he started traveling to some of the closer special events and was the USAC Rookie of the Year in 1987. In 1989 he was a co-founder of MLRA. Essary also founded the Show-Me Racin Series in 2004 in an effort to keep racing affordable and provide a way to get started in racing.
Some notable accomplishments:
2006 National Dirt Late Model Hall of Fame Inductee
2007 Ozarks Area Racers Hall of Fame Inductee
900+ Career A Feature Wins
1987 USAC Rookie of the Year
2 Time MLRA Champion
2 Time Show-Me Racin' Series Champion
5 Time 4-State Dirt Track Champion
3 Time Arkansas Dirt Track Champion
2 Time Missouri Dirt Track Champion
Midwest Dirt Track Championship – Muskogee, OK
3 Time World Classic Champion – Van Buren, AR
Even with all the accomplishments of his own racing career, one the greatest contributions that Essary made to the sport is the help and support he has provided for area racers. For years, Ken's race shop was the place to be for parts, fuel, tires, and advice. It would be hard to find a racer in the Ozarks that hasn't been influenced in some way by Ken Essary.