Indigo Sky Casino "Raining Money" this Saturday July 13
July 8, 2019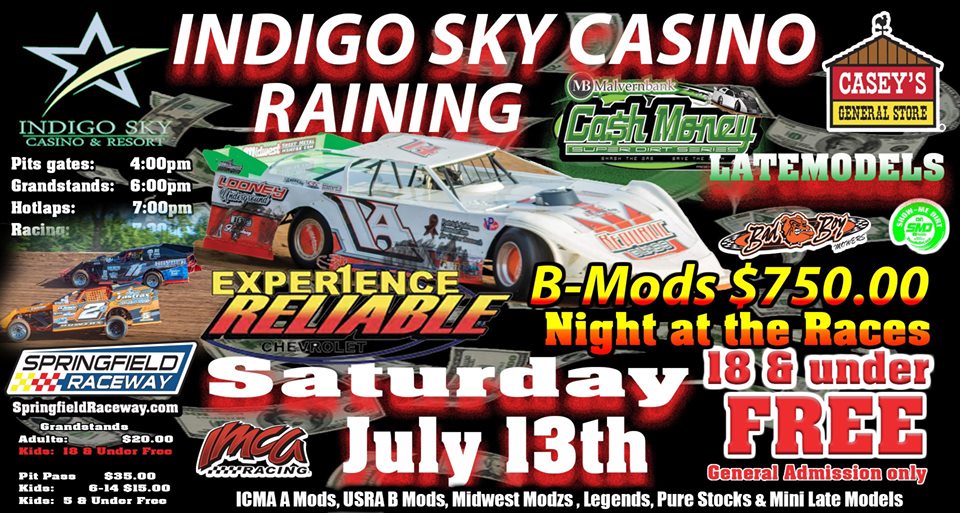 Racing action will resume with a bang in a late firework show & the Malvern Bank Cash Money Latemodel series will be returning to the Springfield Raceway.Race Fans will as well be treated to watching the Reliable Chevrolet B Mods racing for a top prize of $750 to win.The IMCA Badboy Mowers A Mods , Pepsi Pure Stocks,Wheeler Metals Legends , Caseys General Store Midwest Modzs & the mini latemodels will as well be racing on this night.
Race Fans don't forget about the Indigo Sky Casino Raining CASH MONEY DROP...
20 Lucky Race Fans & 1 Racecar Driver will be chasing the Indigo Sky Raining Cash Money.....
On July 13 ALL of this will fly from from the Indigo Sky.....
$ Over $1000 in $1.00 bills
$ Several hundred Dollars in Caseys General Store Gift Cards..
$ Hundreds of dollars in lottery tickets
$ $1000 in Indigo Sky Casino Bucks.
&
Maybe more surprises....
B here
July 13th.
&
A late fire work show....
One big booooom...
FANS STAY TUNED HOW TO GET SIGNED UP TO CATCH SOME MONEY….
We will choose 5 contestants to catch some Indigo Sky Raining Cash Money via a few questions & first to answer on the Springfield Raceway Facebook page.
LIST OF CONTESTANTS
1.Melinda Rodgers
2.Kira Palmer
3.Chris Rodgers
4.Chrissy Maupin
5.Amy Raulston
6-20. WILL BE A GENERAL ADMISSION TICKET DRAW AT THE TRACK.
21. Jackie Dalton