Indigo Sky Casino "Raining Money" this Saturday
June 4, 2019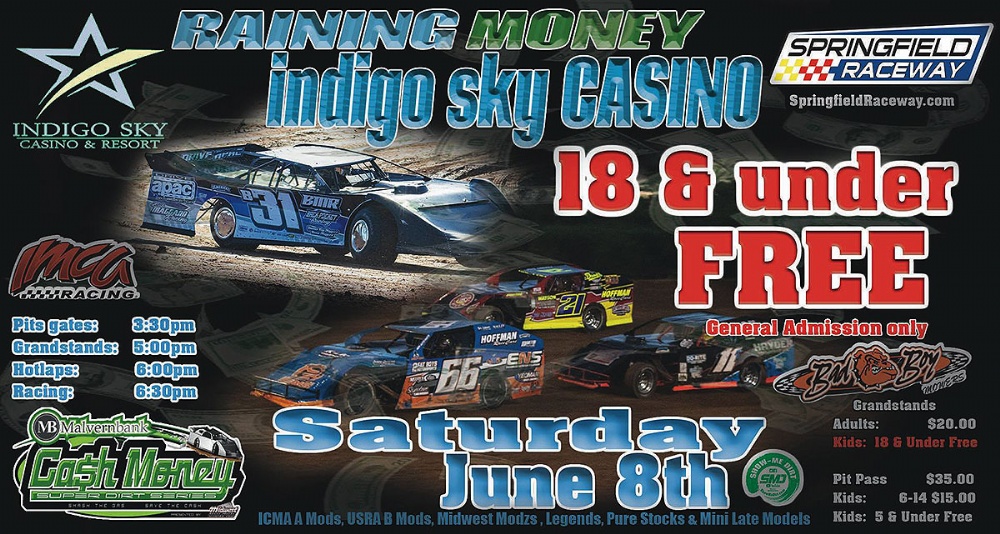 This Saturday, June 8, is the night to be at the Springfield Raceway with the Indigo Sky Casino "Raining Money" Night.
Come on out and enter to be the one to catch the most dollar bills as thousands of dollar bills fly from the Indigo Sky Casino money drop.
Malvern Bank Cash Money Late Models top the card along with six other weekly classes of dirt cars.
Everybody 18 years of age and younger get in for FREE!
Remember, your WiFi will work with your smartphone here. You can take a great selfie and put it on Instagram or Snapchat it to a friend to tell them to get to the Springfield Raceway.
It's dirt track racing right here in Springfield, Missouri. Be here this Saturday.
Mom and Dad: send the kids to the dirt track and you are welcome to follow them to the track and join in the fun.
Grandstands:
Adults $20
Kids 18 & under FREE
Gates Open 5:00
Hot Laps 6:00
Racing 6:30