Smith ushers In IMCA sanction with Modified win at Springfield Raceway
April 6, 2019 | by Ronnie Williams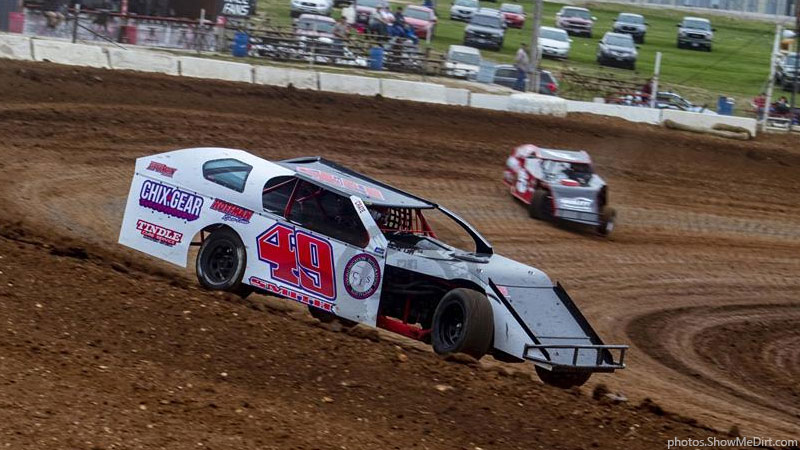 Hard charger Andrew "Opie" Smith showed the rest of the field the fast way around the "Quick Quarter" of the Springfield Raceway by putting his name in the record books in topping the 20-lap Bad Boy Mowers IMCA Modified feature event as the Championship series got underway.
After the two qualifying heats, the drivers redrew for there starting spots as Smith, who has raced a limited schedule in the last couple of years due to the cost of Modified racing was lucky enough to draw the number 1 spot with Cody Jolly, the second heat race winner drew the outside pole in his A=Modified debut.
Smith shot to the opening lead but found the competition tough in the caution-free feature by fending back a late race surge from Mitch Keeter, Jody Tillman and James Thompson. Jolly was riding close behind in the early stages but started to slide back just past the halfway point of the exciting feature.
Springfield Raceway, joined the IMCA family for the 2019 season in the A Modified class and has already saw several drivers making the switch from some of the other classes.
"I really think the rules changes has brought everyone closer together than before," exclaimed a smiling Smith in his always-sharp-looking Chix Gear/Tindle Core Company No. 49. "Holding off drivers such as Mitch Keeter (who started seventh) and defending champion Jody Tillman (who started sixth) was a highlight as those two are some of the best in our area Modified racing. Derek Watson made the jump from B-Mods along with young Shawn Duncan and former front-runner Bobby Pearish is back makes you really get back up on the wheel without feeling like you don't stand a chance.
"I think the transition rules are a good deal and we really expect the count to keep growing with the talk around the area."
Springfield Raceway was one of the first IMCA-sanctioned Modified tracks in Missouri back in 1984 when the track was called Interstate Raceway and ran on Friday nights.
Action continues each Saturday night with Bad Boy Mowers IMCA Modified action every Saturday night.
For more information visit and Like The Facebook Page or go to the website at SpringfieldRaceway.com.
RESULTS:
Heat 1: 1. 52-Mitch Keeter, [1]; 2. 49-Andrew Smith, [3]; 3. 85-Jody Tillman, [5]; 4. 26P-Bobby Pearish, [2]; 5. 71-Chris Tonoli, [4].
Heat 2: 1. 00-Cody Jolly, [2]; 2. 11T-James Thompson, [3]; 3. D7-Shawn Duncan, [4]; 4. 5W-Derek Watson, [1].
Feature: 1. 49-Andrew Smith, [1]; 2. 52-Mitch Keeter, [7]; 3. 85-Jody Tillman, [6]; 4. 11T-James Thompson, [4]; 5. 00-Cody Jolly, [2]; 6. D7-Shawn Duncan, [3]; 7. 71-Chris Tonoli, [8]; 8. 26P-Bobby Pearish, [9]; 9. 5W-Derek Watson, [5].