Looney scores Cash Money payday
October 4, 2018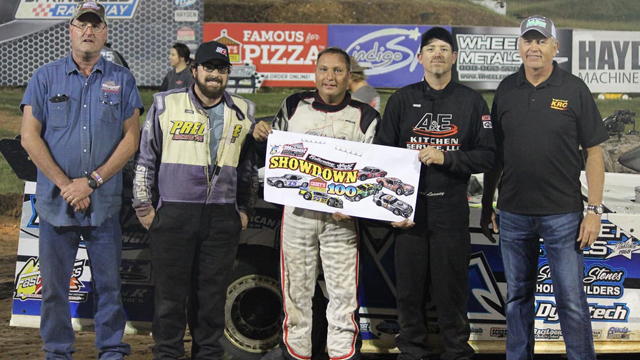 IF YOU WERE NOT THERE, my my my my, WOW, YOU MISSED GOOD ONE...
Springfield Raceway Results-Under The Lights 100 Presented By Midwest Sheet Metal and Casey's General Stores
Malvern Bank Cash Money Late Models
1) Brad Looney 2) Justin Wells 3) Micheal Maggard 4) Joe Godsey 5) Jon Driskill 6) Jeremy Manes 7) Don Cloyd 8) Mike Bitner 9)51M-Eddie Martin(last car on lead lap) 10) Garrett Essary 11) Chuck Comer 12) Chris Hawkins 13) Jarrod Hilton 14) Dustin Mooneyham 15) Carl Thomas Jr. 16) Brandon Hunter 17) Larry Ferris 18) Sundance Keepper 19) Darrin Crisler 20) Brandon Cheek 21) Mark Simon 22) Kylan Garner
Notes-Over 35 plus Late Models and some excellent racing with several very good cars not making the show-Martin and Cheek took emergency Provisionals to attempt and stay-up in the Series points.Nice to see the entire grandstand come to their feet when with 2 laps to go Wells closed-up on leader Looney and make a surge when the white flag flew. Looney held back the fast moving Wells for the win as the feature had many different stories and movers. The last caution at lap 75 involving Dustin Mooneyham and Carl Thomas Jr. as at the time Dustin and Thomas were both in the top 5. Springfield's Michael Maggard held up the hometown flag with a solid run after fighting power steering issues. Don Cloyrd had a fast car and about 30 laps in the feature was coming forward until a flat tire seemed to slow his pace after changing and replacing the tire. Jarrod Hilton was another fast car and had just went 1 lap down on the last caution but recieved the lucky dog award which awarded the 1st car 1 lap down to place them on the lead lap. Issues during the caution ended his strong run for the night.Lots of movers and excellent racing. The capacity crowd were given the chance to see some of our area racing legends and get a chance to get up close with the Late Model A feature cars as they stagged behind the grandstand while track prep was getting the 100 lap feature ready. Great job by the Series staff gathering many different lap sponsors and it paid off with the hard work with a record number of cars. Chuck Comer who rolled his car Friday night drove The Jeff Scroggins number 8 but had to start at the rear because of starting a different car
USRA B Modifieds
1) Jackie Dalton 2) Brian Williams 3) Kameron Grindstaff 4) Rex Merritt 5) Jace Parmley 6) Aaron Scroggins 7) Austin Joplin 8) Matt Rose 9) Alex Christenson 10) Cory Johnson 11) Bill Schahuber 12) Kyle Shrum 13) Cody Rider 14) Rod Inman 15) Kyle Long 16) Adam Kaltenbach 17) Ryan Thomas 18) Casey Willson 19) Kelly Hicks 20) Mark Wolfe 21) Jeff Scroggins 22) James Thompson .
2018 track champion Dalton starting on the pole with Joplin to his outside after the redraw. Normal USRA Modified A Arkansas hot shoe Brian Williams was in the field tonight and had charged from the 6th starting spot to get a chance twice at Dalton fr the win, but Dalton was able to break away as the pack had some excellent door to door racing.Kansas City hot shoe Grindstaff really made the charge of the night.
Special Event Pure Stocks-5 For 500 feature
1) Tyrel Jones 2) Robert High 3) Garrett Tillman 4) Randy High 5) Kyle Purvis 6) Christopher Sawyer 7) Kyle Rowland 8) Roger Starling 9) Mike Kinyon 10) Chester Kaufman 11) Richard Sparks 12) Richard Adams 13) Steve Freeman 14) Ronnie Coulter 15) Jonathon Dean 16) Conrad Kaufman 17) Jonathan Evans 18) Spencer Reiff 19) Josh Farris DQ-CJ Turner.
Because of the hard work from James Redus, Robert and Pam High and Richard Harrington in gather several sponsors and different giveaways-The top 5 each received $500 for their spots-you had a $100 Hard Charger award(Tillman from 16th to 3rd)-It paid 50 to start and had added money behind the top 5 and above11th. It also paid extra to the 1st car that didn't qualifying. OVER 30 plus Pure Stocks running there area home track rules-No Entry Fee and some excellent 3 wide action all night. Top 12 redrew and Sawyer grabbed the pole with High on the outside.To describe the 20 lap feature cn't be wrote as you had to be there. It was a near photo finish at the line for the win and the top 5-6 were all blanketed together. Nice to see 4 heats and a B feature in this class. A big Thank you to James, Pam and everyone involved
Midwest Modz
1) John Lankton 2) Justin Wald 3) Jerad McIntire 4) Jeremy Lahey 5) Ian Morisset 6) Ron McClellan 7) James Lee 8) Ken Walker 9) Kyle Bates 10) Doug Scism 11) Steve Moore 12) Justin Yacko 13) Kabin Eubanks 14) Trent Robinson 15) Roy Kelley 16) Lacey Menzie 17) Timothy Johnson DNS-Dusty Sanderson DQ-Elijah Keepper-Shocks
Good start, rough middle part of feature and then a last dash to the finish as The Lankton family sweeps Midwest this weekend. He had close racing all over-maybe to close and the top 6 were well in striking distance.
Legends
1) Dave Comer 2) Caleb McDugle 3) Wayne Johnton 4) Graysn Cox 5) Richard Powell 6) Steve Harshbarger 7) Shane Lee 8) Colin Bowen 9) James McDugle 10) Justin Pearish.
Small tonight in count-BIG in talent as we had 6 cars going back and forth-Johnston takes the opening spot as Comer plays the let's see what the track and others give me-3 wide action up front as Comer takes over at the hafway point and doesn't see the battle behind him. Clean Sweep for the hard charging veteran.
Next Race- Sunday evening October14th ULMA and Southern Outlaw Late Models will race.