Cash Money 100 lapper up next
September 23, 2018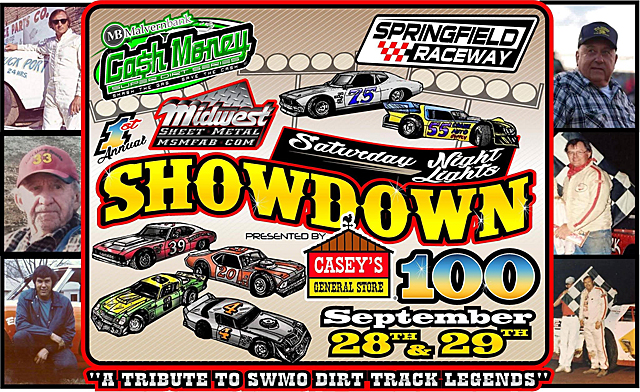 Springfield, Mo.- Springfield Raceway officials have announced starting information for the 2 day event at The "Quick-Quarter" on Sept. 28 and 29th as Midwest Sheet Metals and Casey's General Stores as The Malvern Bank Cash Money Super Dirt Late Models will salute Southwest Missouri area Racing Legends with The Saturday Night Under The Lights 100 Late Late Model feature.
This 2 day event will feature added lap money for certian laps depending on the Legends car number as continued sponsor money is being gathered.
Friday Night will find the Malvern Bank Cash Money Super Dirt Late Models competing in 2 rounds of qualifying heats to help set-up the Feature line up along with the last chance races. The 100 lap feature on Saturday night that will pay $2500 to win & $700 to start. Raceway owner Jerry Hoffman stated with a grin "No pit stops scheduled, but WOW 100 laps on the Springfield Raceway " Quick-Quarter" High-banked dirt oval the fastest car will not win, it will the toughest ol boy that is in good shape.100 laps will be very hard on ya'…...The newly formed Cash money Series has grown leeps and bounds this season with already 50 plus drivers who have registered. At the last race, they had over 32 entries and with the payout set, it could possibly get up to the 40 car mark or even better.

Friday night will find full shows for The USRA Out Pace B Modifieds presented by Reliable Chevrolet will compete for $400 to win and $50 to start along with Summit Racing Equipment National points The Casey's General Stores Midwest Modifieds battle it out in a full show of heats and features for $200 to win and $40 to start Friday night and $400 to win Saturday night with $50 to start. The always exciting Wheeler Metals Legend Cars will be competing for $200 to win and $40 to start. Pit Passes will be $35 on both nights.
Saturday night will feature full shows as The Pepsi Pure Stocks go to battle in the 5 for $500 event, the top 5 positions will all pay $500. Full shows also for the USRA B Modifieds with $400 going to the winner and $50 to start the A feature along with USRA National points, A full show for the Legends with the same payout as Friday Night & the Midwest Modzs will have added money to the win paying $400 to win & $50 to start compliments of Gilbert Racing & Paws Pet Veterinary Clinic.
Saturday the Cash Money Late Models will compete in last chance events and then put on the helmet for 100 laps of pure speed excitment to see who will be the 1st driver to claim the honor of our Area Racing Legends.Cash Money Latemodel Drivers will be competing for $2500 to win & $700
Mark your dates to be there both nights as you won't want to miss the action.
……………………………..
MIDWEST SHEETMETAL SATURDAY NIGHT LIGHTS presented by CASEY'S GENERAL STORE...
Friday September 28
Pit Gate 5:00
Grandstands 6:15
Hotlaps 7:00
Racing : 7;30
Admission Prices
Grandstands - $17.00
Kids 12 & under FREE
Pit Pass - $35
*LATEMODEL-Will run 2 complete sets of heats
Top 8 in points will run a knock out qualifying
2 lap race to determine the first 4 rows of the
100 lap MAIN EVENT.
*B MODS - Complete show heats & feature
$400 to WIN $50 to start
*MIDWEST MODZS- Complete show heats & feature
$200 to WIN $40 to start
*LEGEND- Complete show heats & feature
$200 to Win $40 to start
…………………………………………..
Saturday September 29
Pit Gate-3:30
Grandstands-5:00
Hotlaps- if necessary 6:15
Racing- 6:30
Admission Prices
Grandstands- $20
Kids 12 & under FREE
Pit Pass $35
*LATEMODEL- 2 Last chance Races
100 LAP MAIN EVENT
PURE STOCK - 1)$500 2)$500 3)$500 4)$500 5)$500
6-10 added money 11-20) $50 to start
B MODS-Complete show heats & feature
$400 to WIN $50 to start
MIDWEST MODZS-Complete show heats & feature
$400 to WIN $50 to start
LEGEND-Complete show heats & feature
$200 to WIN $40 to start