Comp Cams Super Dirt Series back at Quick Quarter
September 7, 2018 | by Ronnie Williams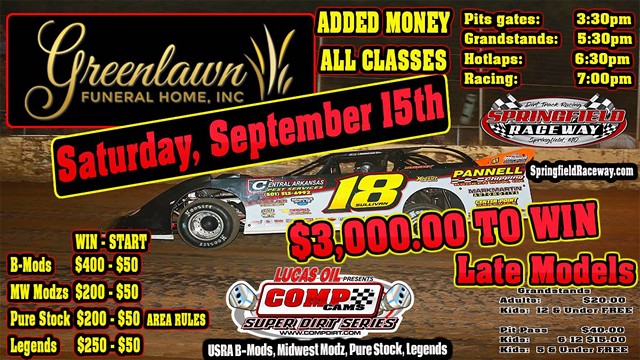 The high-power Super Late Model action of The Lucas Oil Comp Cams Super Dirt Series will tackle The "Quick-Quarter" of The Springfield Raceway on Saturday Night, Sept.15th as Green Lawn Funeral Homes will be the presenting sponsor.
The Comp Cams Late Models helped start the Springfield season back in March as current point leader and defending series champion "Action" Jack Sullivan was able to wrestle the top spot from leader B>J. Robinson at the mid point in taking the win back in March in the series 1st ever visit to the High-banked multi-grooved dirt oval.
Sullivan has had some great runs in the past as he has captured 2 Turkey Classics along with several top 3 finishes in other series events.
The competition level will be high and strong as Robinson, Hunter Radson, Gavin Landers, Robert Baker and several others from the Southern Based Arkansas Series rolls into The Queen City of The Ozarks. For Sullivan, it has been a small dry spell as his last Comp Cams win came July 28th at West Plains.
There will plenty of local expected hot shoes ready to defend the home turf including Lebanon's Tony Jackson Jr. who has captured 2 Comp Cams Series features this season, Republic's Peyton Looney, Hot Shoe Wil Vaught of Crane, West Plains and defending Turkey Classic winner Logan Martin of West Plains, Scott Crigler of Alton another former Turkey Classic winner and many others ready to battle for The $3,000 to win event.
Support classes for this race include USRA B Modifieds battling for $400 to win and 50 to start, INEX Legends with $250 to win and 50 to start along with Midwest Modz and Pure Stocks competing for $200 to win and 50 to start. Pure Stocks will run under there area home track rules.
Pit Gates will open at 3:30 with the Grandstands opening at 5:30, hot laps at 6:30 and racing at 7PM.
Grandstand Admission will be $20 for Adults with Kids 12 and under Free for this high-power event while Pit Passes are $40 , Kids 6-12 are $15 and under 6 Free.
For more information visit and be sure to like The Facebook Page and visit The Website at WWW.SpringfieldRaceway.com.
Green Lawn Funeral Homes And Jake Diemer-Jake Diemer is a former Dirt Late Model area racer in The Springfield Area for several seasons. Starting his career in area Mini-Stocks, The yellow 15 Volkswagon are almost a sure pick to be in the winner's circle. Jake spent a season racing on The Pavement at The Springfield Fairgrounds Speedway in the 1977 season running against the likes of Larry Phillips, Rusty Wallace, Mark Martin, David Goldsberry and many other top drivers. Moving into the Dirt Late models, Jake and his Blue number 15 was always in the hunt having to compete against Phillips, Ken Essary, Skip Thompson, Roger Chism and the area house hold front runners at Bolivar, Monett and the other area dirt tracks always running the same type of equipment that Larry Phillips competed in.
Diemer is a strong supporter of The Ozarks Area Racers Reunion and Hall Of Fame along with the Green Lawn Funeral Home-Green Lawn has 3 locations in Springfield, 1 in Branson and 1 in Bolivar. When his schedule allows, Jake can be seen at the area tracks and has sponsored events before.
You can visit them at WWW.GreenLawnFuneralHome.Com for more information.