Ca$h Money Late Models back this Saturday
August 23, 2018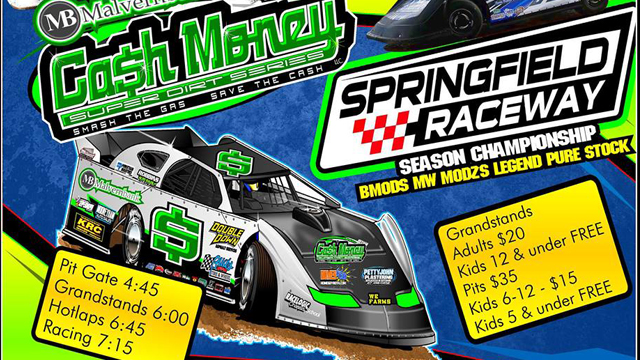 -The quickly growing and popular Malvern Bank Cash Money Late Model Series will be in action Saturday Night as Springfield Raceway presents the 2018 season Championship night on The:"Quick-Quarter"
The 1st year Super Dirt Late Model Series is enjoying an outstanding season with strong car counts and a tight point battle itself. This will be a good warm-up event before they take to the track in late Sept. for a 2 day event which will feature a 100 lap event. Added money is being added in all the regular classes as The Out Pace USRA B Modifieds will battle for $400 to win and $50 to start. Jackie Dalton seems to have wrapped up the track title and is currently ranked 5th in The Summit Weekly Racing Series National Standings despite being involved in a wreck in heat race action last week. Joplin's Justin Comer grabbed his 1st Springfield USRA win last week and is ranked 2nd in track points in his 1st season in a B Mod for the Legend Car front runner and winner. Comer pulled off The Double-Up wins last week by capturing both features. Another strong field of drivers are expected in The B Mod class. Drivers will draw for heat positions and passing points will help set the feature.Aaron Scroggins holds 3rd in the standings and will be competing also in his Cash Money Late Money Late Model. The dog-fight for 4th between dfending champion Ryan Gilmore, Bill Schahuber and Rex Merritt can go either way for the spot. The USRA Modified title was settled last week as Jody Tillman was crowned the 2018 Track Champion and with a few more features, he could land in a top 10 National finish. James Thompson finished the season in 2nd in points while Jim Body finished 3rd. The USRA Modifieds will have
this Saturday
Night off. Added money will also be added in The Midwest Modz, Legends, and exciting Pure Stocks with each class paying $200 to win and $40 to start with normal qualifying procedures and 3 different titles up for grabs. Currently Rob Muilenburg and Scott Campbell are tied for the top spot with Elijah Keepper only 2 points behind a another large car count is expected. Tyrel Jones holds a narrow 6 point margin over hard charger Kyle Purvis in the Pure Stocks and Trenton Simon hangs on to a 5 point lead over Rolla's Wayne Johnston in The Legends. Normal line-up procedures will be used so the heat races will be fast and tight. The Pit Gates open at
4:45
while The Grandstands open at
6PM.
Hot laps are at
6:45
with Racing slated for
7:15
. Draw and check-in cut-off is at the
6:35
time frame Grandstand Adult Admission is only $20 for this action packed night at The track that never disappoints in action with kids 12 and under Free. Pit passes are $35 with kids 6-12 $15.