Watson Metal Masters Night at the Races
August 15, 2018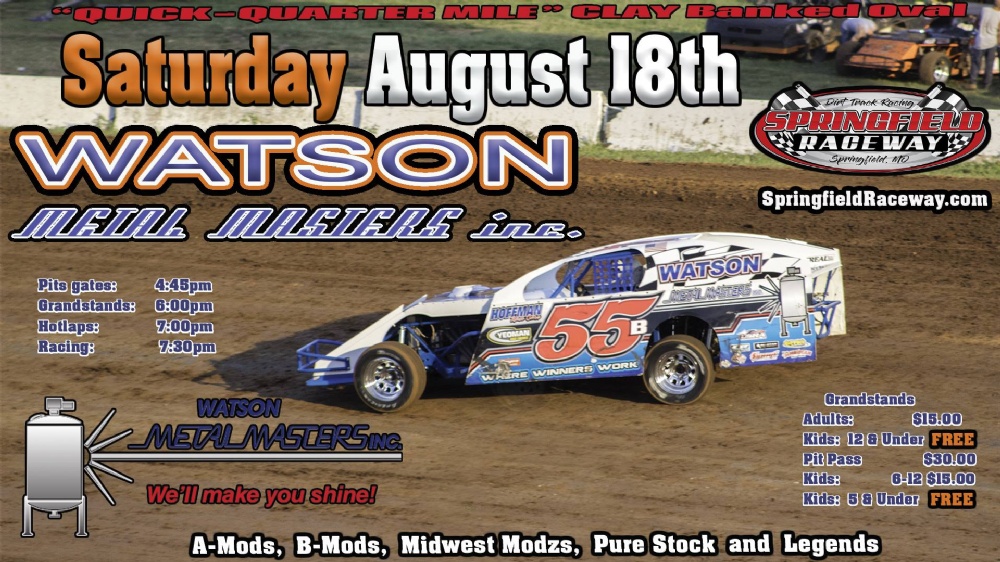 Saturday , August 18 Springfield Raceway will be back in action with Watson Metal Masters night at the races. Fans will be treated with all 5 classes racing on the 1/4 mile clay oval . With only 2 weeks left in the Championship Chase the action should be heated as there is only a few points seperating Drivers in the classes .
Pit Gate open at 4:45
Grandstands open at 6:00
Hot at 7;00
Racing at 7:30
For more information go to the springfieldraceway web page or check us out on Facebook.
About Watson Metal Masters
Watson Metal Masters, Inc. is a stainless steel tank and vessel manufacturer located in Springfield, MO. They are a family owned and operated company and have grown tremendously over the past few years.
Owner Bill Schahuber says their biggest challenge is hiring qualified people. There is a skills gap in the labor market because of the high number of baby boomers retiring. So many of them were in the trades, working with their hands and building things. It is getting harder and harder to find that type of person these days, Bill says.
Watson Metal Masters is always looking to hire skilled fabricators, welders and grinders of stainless steel. This is a great industry to be a part of in the Springfield market, with about 20% of all manufacturing jobs being in the stainless steel industry, according to the Springfield Chamber of Commerce.
Springfield Raceway is the perfect place for Watson to advertise because of the culture of the racing community. They are tight nit group of people that build their cars, race against each other and hang out together before and after the events. That is much like the Watson shop is. They have many company-family outings and get togethers. They build tanks and get to hand out together evenings, weekends and company events.
If you are looking for a great company to work for and have the skills Watson is looking for, come apply in person or on line.