Pure Stock Special this Weekend!
July 19, 2018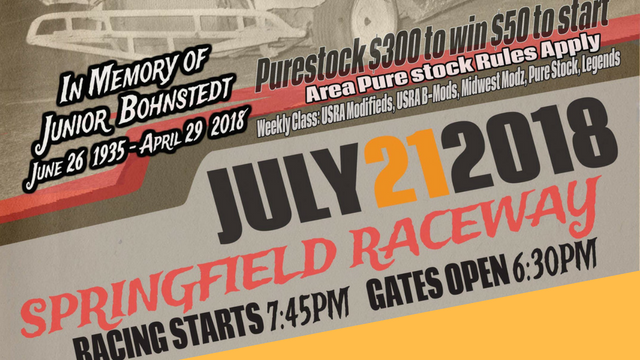 Springfield Raceway will be back in action this Saturday July 21st with the Mechanics Races as the 5 regular classes will be racing along with the Mini Latemodels.Purestocks will be paying $300 to win & $50 to start with NO ENTRY FEE.
The Raceway along with Family & Friends will be honoring Junior Bohnstedt. Junior was born & raised in Springfield Missouri. Junior began racing in 1953 & hung up his steering wheel to focus the Family business in 1973.
B&W Auto Salvage was started by Lloyd Walker and Ona Bohnstedt. Hence the name B&W. They started selling used auto parts in 1949. James and Junior Bohnstedt grew up working in the yard. They was always interested in cars. The brothers started racing at local tracks in the early 50's. In his peak year's, racing his '63 Chevy, Junior was a hard man to beat. Junior accumulated dozens of Feature wins & has 5 Track championships at the Ava, Humansville, and Springfield Speedways. Junior & his brother James was inducted into Ozarks Racers Hall of Fame in 2004. Junior and James took over the operation of B&W in 1971. It was one of Springfield's largest salvage yards and they added Auto sales, and a mechanics shop to the business. It was The top Salvage Yard in sales and customer satisfaction. Junior and his wife Juanita operated the yard after brother James left the business. Juniors 2 sons Robert & Clifford has taken control of B&W and is still serving the Springfield area.
Pit Gate: 5:00
Grandstands: 6:30
Hotlaps : 7:15
Racing : 7:45