Hayden Machinery Night this Saturday!
July 13, 2018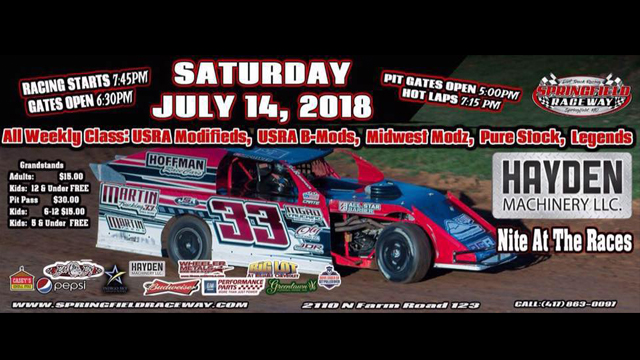 This Saturday Dirt Track action continues at the Springfield Raceway with weekly racing & Hayden Machinery Night at the Races. All 5 classes will be competing.
Grandstands :
ADULTS : $15.00
KIDS 12 & under FREE
Pit Gate: 5:00
Grandstands: 6:30
Hotlaps : 7:15
Racing : 7:45

About Hayden Machinery
Welcome to Hayden Machinery LLC
Hayden Machinery, LLC is an independent heavy equipment dealer headquartered at the heart of the United States in Springfield, Missouri. While proudly renting, selling and supporting used equipment on both the wholesale and retail markets all across North America and around the world; Hayden Machinery also represents quality new products such as Kobelco Excavators, Bell Trucks, Atlas Copco Hydraulic Attachments and Kawasaki/KCM Wheel Loaders.
Hayden Machinery was founded in 2008 by Justin and Sarah Hayden and has since grown to become a globally recognized player in the heavy earth moving equipment business. Built around strong moral principles and flexibility, Hayden Machinery stands proudly behind their Money Back Guarantee, customer service, and a win-win mentality. This structure has built a loyal customer following in the local, domestic and international markets. With decades of experience, Hayden Machinery excels at supporting specialized industries such as environmental, mass excavation and civil construction, land and right-of-way clearing, quarrying and mining, energy distribution, recycling, waste handling, and more!
Excellent parts support is an essential asset to any equipment user; Hayden Machinery can meet the demand with our superior customer service, new and used parts, and quality ground engaging tools that can deliver a lower cost of ownership on your machine(s). We also buy machines for dismantling purposes, offering an option for a value driven used parts inventory.
Our shop and field service capabilities keep your machine up and running in the most critical times; whether you need a hydraulic hose repaired, or a complete machine rebuild, Hayden Machinery has the experience and support to keep you working! We offer specialty services such as fabrication and structural repair, line-boring up to a 24" diameter, special application buildout, and component rebuilds.
Hayden Machinery now has two locations to better support our customers: Springfield, Missouri and our newest location in the St. Louis, Missouri metropolitan area.
Whether you're right up the road building a pond, pipelining in Pennsylvania, remediating in Utah, or looking for your next quality used machine, Hayden Machinery is ready to partner up and support your needs.