Casey's General Stores Night
June 16, 2018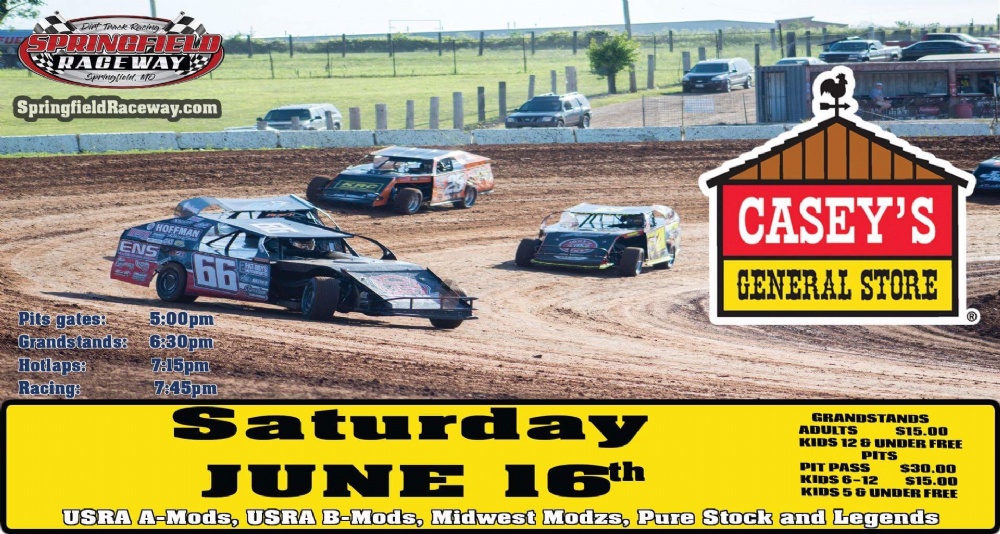 This Saturday June 16 Dirt Track Racing continues at the Springfield Raceway with Casey's General Store Night at the Races. All 5 classes will be tearing the 1/4 mile clay oval up for the quest of a FEATURE EVENT WIN. Mom & Dad don't forget the Family with the most kids WIN a FREE LARGE Casey's pizza. We don't care if they are your kids or the neighbors kids ( kids 12 & under are FREE ) get them kids up off the couch & out of the house & head to the Springfield Raceway.

If you did not use your original Casey's General Stores Discounted ticket, bring it and they will be honored.If you did use it already, be sure to bring back your blue ticket, which you was handed on the way out, and they will be honored as well.
B THERE THIS SATURDAY...
START TIMES FOR THIS SATURDAY JUNE 16
Pit Gate- 5:00
Grandstands- 6:30
Hot Laps- 7:15
Racing- 7:45
In 1959, Donald Lamberti leased a service station in Des Moines, Iowa, from his father. After successfully remodeling the station into a convenience store and operating it for nine years, his gasoline supplier and friend, Kurvin C. (K.C.) Fish, suggested that he purchase the Square Deal Oil Company, a service station available for sale in Boone, Iowa. Lamberti followed Fish's advice and purchased the station, which he renamed "Casey's" after Fish and as with his leased store converted the station into a convenience store. The logo on the Boone store is the same logo used today by the Casey's chain.
The Boone store (located in a town of only 12,500) did well, so Lamberti decided to see if he could duplicate his success. He built another store in Creston, Iowa (population 7,000) and that store did well also. Lamberti became more ambitious and decided to open a store from scratch in the even smaller town of Waukee, Iowa (population 1,500 at the time). The Waukee store proved to be the most successful of the three, so Lamberti decided to purchase and open more stores, concentrating on towns of less than 5,000 population (a variation on the tactic used in the early success of Wal-Mart).
By the late 1970s (when Casey's opened its first warehouse) the chain had 118 stores, including the original store operated by Lamberti's parents which entered the Casey's fold in 1977.
In 1982, Casey's opened its first Distribution Center in Urbandale, Iowa.
Casey's became a publicly traded company in October, 1983, with an initial public offering of 700,000 shares. Around this time Casey's began to sell doughnuts in its stores; in December 1984 it introduced pizza into its stores (which is one of its signature items today).
In 1990, Casey's moved to its current facility in Ankeny, Iowa.
Casey's 1,000th store opened in Altoona, Iowa in 1996, the same year Casey's exceeded US $1 billion in annual sales.
In January 2006, Casey's purchased Lincoln, Nebraska-based Gas 'N Shop.[2] On August 7, 2006, Casey's agreed to purchase the 33-store HandiMart chain, based in Cedar Rapids, Iowa, in a $63 million deal.[3]
In March 2010, Alimentation Couche-Tard (operator of several convenience store chains, including Circle K) offered $1.9 billion for control of the company, and later announced a proxy fight for control. Casey's rejected Couche-Tard's offer and was successful in September 2010 in retaining its board of directors vs. Couche-Tard's nominated slate.[4]
While Casey's and Couche-Tard were battling for company control, in September 2010, 7-Eleven offered a $2 billion bid for control of the company. Casey's and 7-Eleven engaged in discussions, but in November 2010 elected not to proceed with a merger.[5]
Casey's announced in 2017 that it plans to open about 10 new locations in western Ohio.