All Metals Recycling Bombers this Saturday
April 12, 2023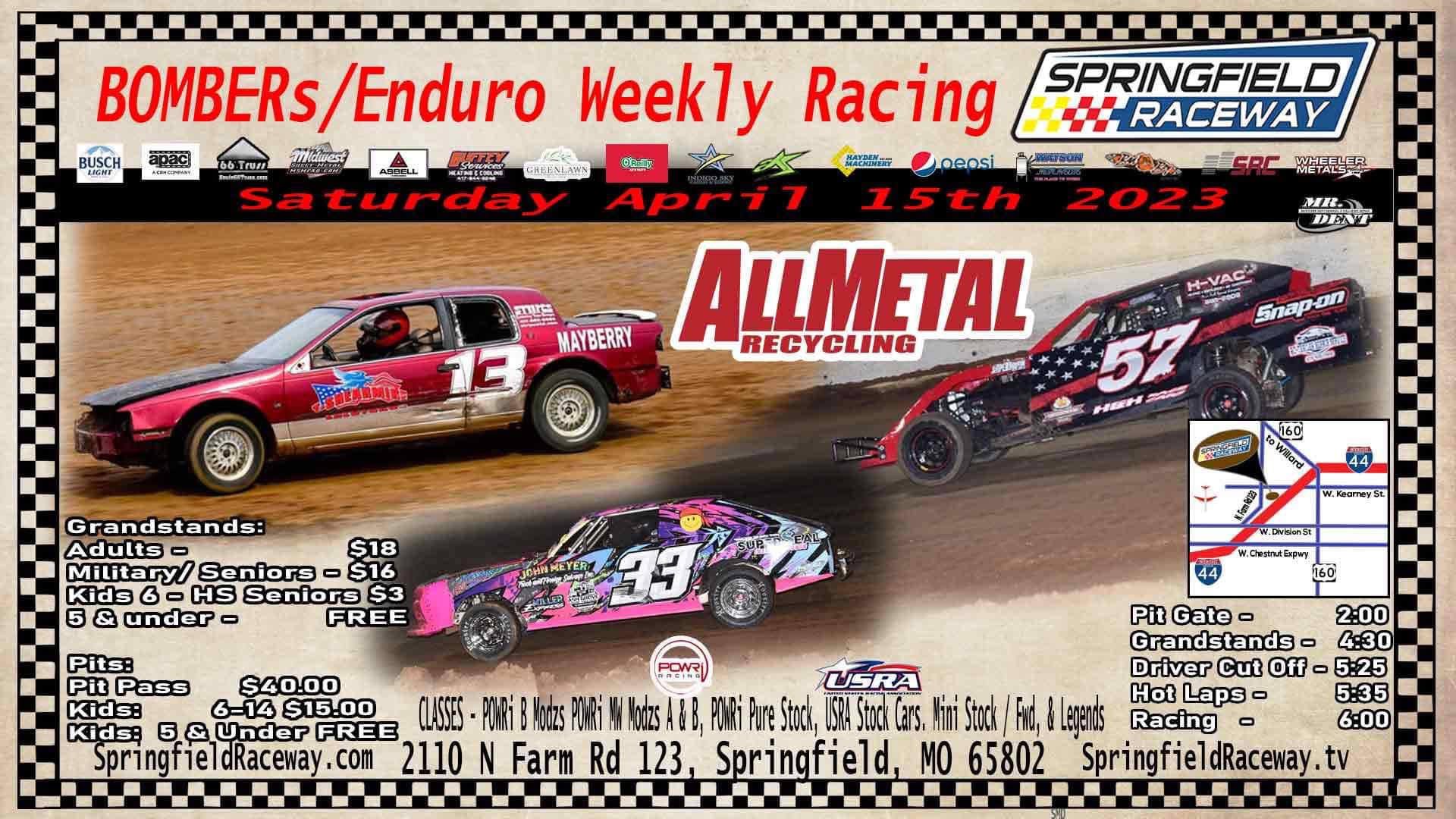 Racing action continues at Springfield Raceway with the All Metals Recycling Bombers Enduro along with weekly racing.
$144 to win & $50 to start the A Main for BOMBRs / Enduro cars…
# All BOMBRs / Enduro cars MUST check in & rent a transponder in the grandstands area…
# All BOMBRs / Enduro MUST go to PRE TECH & must take their transponder with them …if u don't tech u will get dqued…
# BOMBRs / Enduro Cars will hot lap last & they will time in for the lineup of their 44 lap MAIN…
# BOMBRs / Enduro cars with a passenger that WIN the MAIN receive a $44 Bonus…
# BOMBRs / Enduro rules are on the Springfield Raceway Website…
Springfield Raceway has 6 Classes of Dirt Cars that compete weekly to be in Watson Metal Masters Victory Lane each week.
66 Truss USRA Stock Cars
All trailer Services POWRi B Mods
Indigo Sky Casino POWRI MW Modzs A
​Wheeler Metals Legends,
Hayden Machinery MW POWRi Modzs B
Pepsi Pure Stock
Guffey Services Heating & Cooling
Mini Stock / Fwd.
DIRECTIONS
Driving Directions: I-44 to exit 75, then south to Kearney Hwy., then 1.0 mile west to Westgate Ave., then 0.3 mile south.
2110 N Fm Rd 123
Springfield Missouri
WEEKLY EVENT $ $
Grandstands
Adults- $18
Seniors/Military- $16
Kids 6-Seniors in High School- $3
5 & under - Free
Special Events prices subject to change.
PIT PASS $ $
Adults- $40
Kids 6-14 - $15
5 & under FREE
Special Events prices subject to change.
Times for 4/15/23
Pit Gate - 2:00
Grandstands- 4:30
Driver Cut off - 5:25
Hot laps - 5:30
Racing - 6:00
If you can't attend the Springfield Raceway you have the option to watch it from your home live at https://springfieldraceway.tv.