Turkey Bowl Countdown; Turkey Bowl XIII
November 23, 2022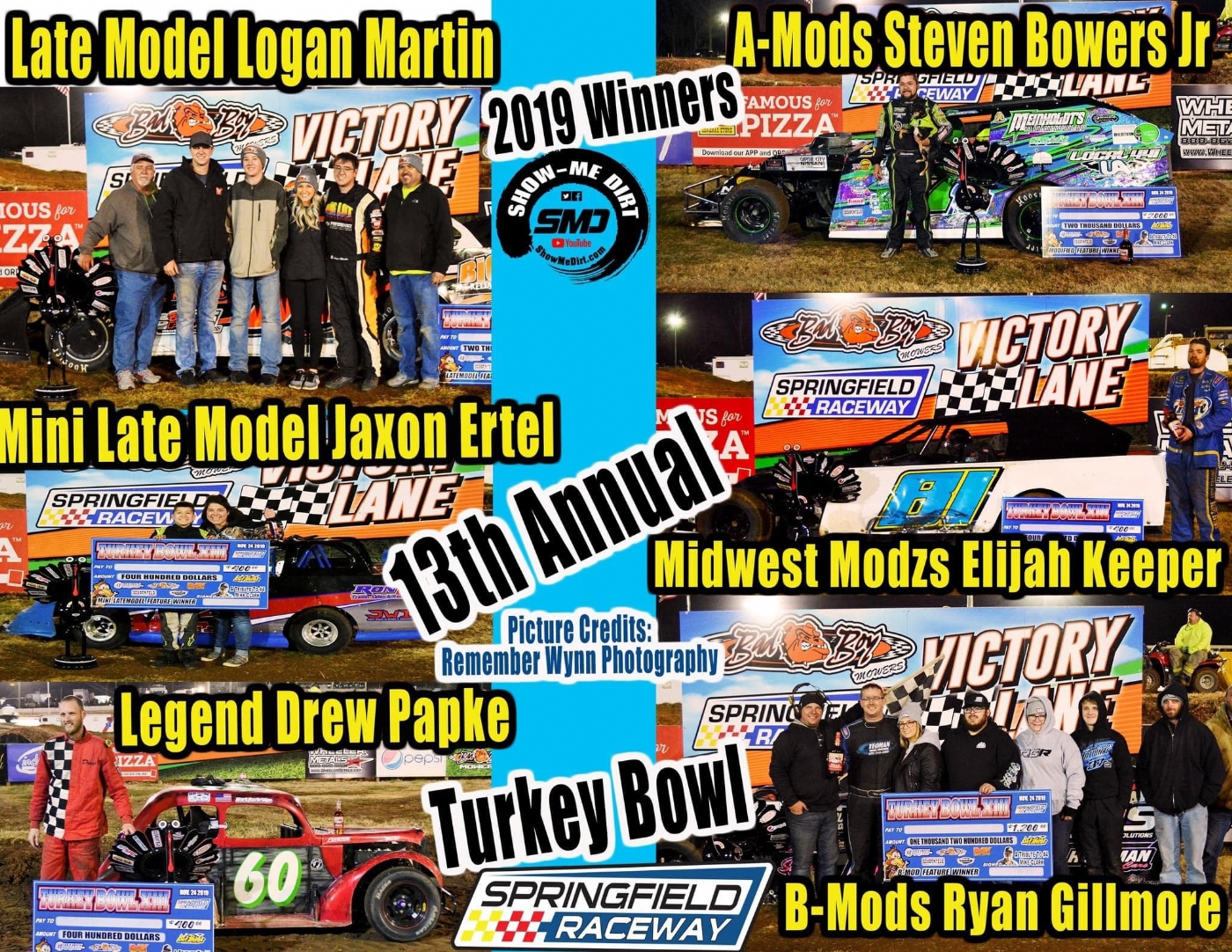 3 Days until the official Start of the Turkey Bowl XVI.
The 13th Annual Turkey Bowl was run on Saturday November 23, 2019 but was moved back 1 day due to weather to Sunday, November 24.
Ryan Gillmore would pick up his second win at a Turkey Bowl in the B Mod.
Steven Bowers Jr. picks up that first Turkey in his Modified. I think it's going to be the first of many to come.
Elijah Keeper Picks up his first Turkey win in the MW Modzs Modz. Can he pull off a win this year to make it two in a row?
Drew Papke Picks up his first Legends win.
This would be the first year of the Min Late Model and the youngest winner of the Turkey Bowl Turkey Jaxon Ertel . The Mini Late Models would only turn for 2 years ending in 2020
Turkey Bowl Winners
B MOD
Colt James Cheevers early 2009 2nd Annual
Billy street late 2009 3rd Annual
Jesse Sobbing Racing 2010 4th Annual
Kris Jackson early 2012 5th Annual
Kris Jackson late 2012 6th Annual
Shawn Strong 2013 7th Annual
Kris Jackson 2014 8th Annual
Ryan Gillmore 2015 9th Annual
JC Morton 2016 10th Annual
Justin Comer 2017 11th Annual
Jackie Dalton 2018 12th Annual
LATEMODEL
Ken Eassary late 2009 3rd Annual
Justin Wells 2010 4th Annual
Jack Sullivan early 2012 5th Annual
Kyle Beard late 2012 6th Annual
Jesse Stovall 2013 7th Annual
Tony Jackson 2014 8th Annual
Ryan Gustin 2015 9th Annual
Scott Crigler 2016 10th Annual
Logan Martin 2017 11th Annual
Scott Crigler 2018 12th Annual
LEGEND
David Bauer late 2009 3rd Annual
Jason Rayle 2010 4th Annual
Mike Hailman early 2012 5th Annual
Justin Comer late 2012 6th Annual
Kylan Garner 2015 9th Annual
Grasyn Cox 2016 10th Annual
Caleb Mcdugle 2017 11th Annual
Caleb Mcdugle 2018 12th Annual
MODIFIED
Jackie Dalton 2007 1st Annual
Terry Phillips early 2009 2nd Annual
Steve Martin late 2009 3rd Annual
Jody Tillman 2010 4th Annual
Terry Phillips early 2012 5th Annual
Terry Phillips late 2012 6th Annual
Terry Phillips 2013 7th Annual
Scott Crigler 2014 8th Annual
Ryan Gustin 2015 9th Annual
Ken Schrader 2016 10th Annual
Mitch Keeter 2017 11th Annual
Ryan Gustin 2018 12th Annual
MW MODZS
Shawn Duncan 2017 11th Annual
Scott Campbell 2018 12th Annual
360 SPRINT CAR
Danny Lasoski 2007 1st Annual
Brian Brown early 2009 2nd Annual
MIDGETS
Zach Daum 2007 1st Annual
Brad Loyet early 2009 2nd Annual
Thanks to Tom Shaw for Turkey Bowl history… If you would like to help Tom promote your event drop him a PM. Tom is happy to help make your event stand out.
Thanks to Wynn Photography for all the great photos. If you need a Photo Melanie Wynn will have what you need.
Catch all the action live & replays @https://springfieldraceway.tv/
#SpringfieldRaceway
#TurkeyBowlXV2022
#BuschLight
#MakingTheDirtGreatAgain
#ShowMeDirt
#MidwestSheetMetal