Powder Puff Races Top the Car this Saturday, September 24
September 21, 2022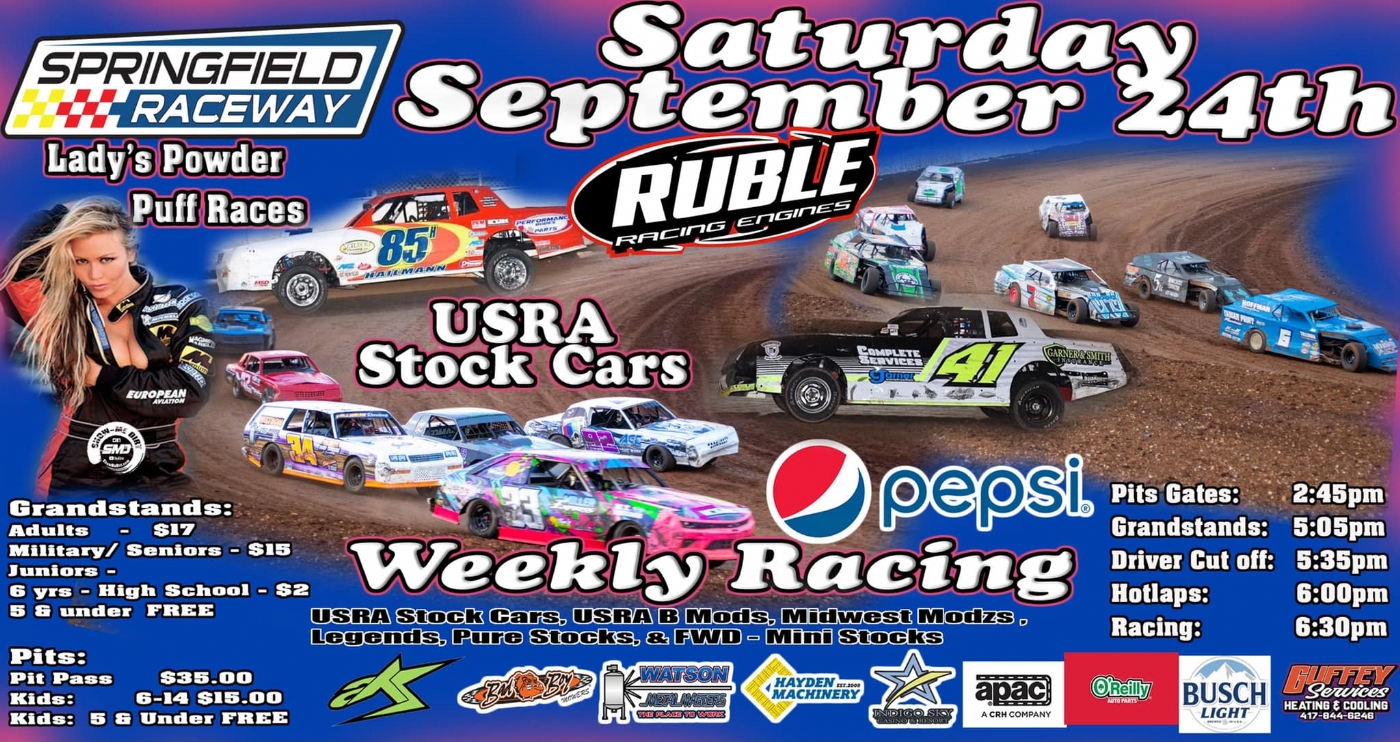 Springfield Raceway continues weekly racing with Pepsi night at the Races. Ladies this is your night to shine as the Ladies powder puff races will top the card with who knows what will happen. Ruble Racing Engines brings USRA Stocks to the racing line up for this Saturday along with all the other weekly classes.Stock Cars will pay $350 to Win & $80 to start the Main.
CLASSES RACING SEPTEMBER 24
ALL TRAILER SERVICES B Mods
RUBLE RACING ENGINES USRA Stock Cars
INDIGO SKY CASINO MW Modzs
HAYDEN MACHINERY MW Modzs B Class
INEX Legends
PEPSI Pure Stock
GUFFEY SERVICES HEAT & AIR Mini Stock / Fwd
If you can't make it to the Springfield Raceway you can still watch all the action live from your favorite easy chair at https://springfieldraceway.tv
PRICES: 9/24/22
Adult - $17
Seniors/Military $15
Kids 6- Seniors in High School FREE
Kids 5 & Under Free
TIMES
Pit- 2:45
Grandstands- 5:05
Driver Cut off -5:35
Hot Laps - 6:00
Racing - 6:30
About Pepsi
PepsiCo, Inc. is an American multinational food, snack, and beverage corporation headquartered in Harrison, New York, in the hamlet of Purchase. PepsiCo's business encompasses all aspects of the food and beverage market. It oversees the manufacturing, distribution, and marketing of its products. PepsiCo was formed in 1965 with the merger of the Pepsi-Cola Company and Frito-Lay, Inc. PepsiCo has since expanded from its namesake product Pepsi Cola to an immensely diversified range of food and beverage brands. The largest and most recent acquisition was Pioneer Foods in 2020 for US$1.7 billion[3] and prior to it was buying the Quaker Oats Company in 2001, which added the Gatorade brand to the Pepsi portfolio and Tropicana Products in 1998.