USRA Stock Cars added to KTTS Ozark Area Dirt Track Championships
August 29, 2022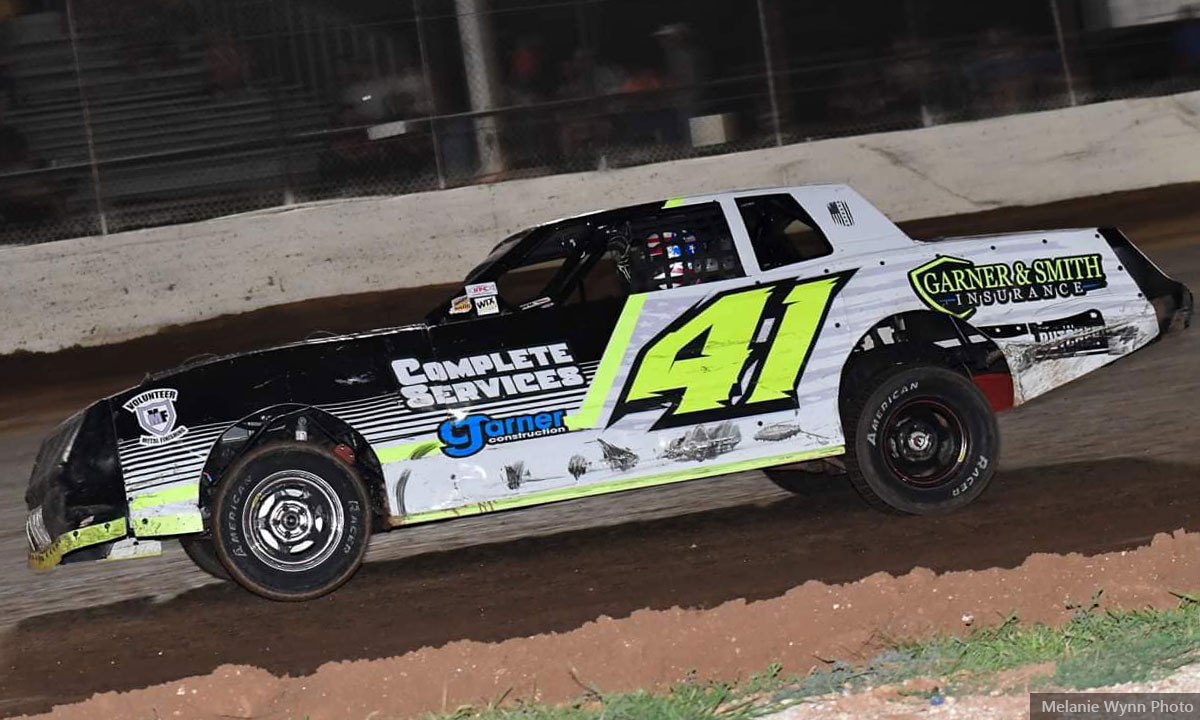 Bryan White won the USRA Stock Car main event on Aug. 13.
After a successful debut on Aug. 13, the Medieval USRA Stock Cars will be back at Jerry Hoffman's quick quarter-mile Springfield Raceway in Springfield, Mo., for the KTTS Ozark Area Dirt Track Championships on Sunday, Sept. 4.
The exciting and rapidly growing full-fendered division will compete at least two more times, Hoffman added, with Sept. 17 and Sept. 24 already penciled in for this season with Summit USRA Weekly Racing Series national points awarded at each event.
Springfield Raceway officials also announced that Randy Mooneyham will serve as the Grand Marshal this Labor Day Weekend during the KTTS Ozark Area Dirt Track Championships at the Springfield Raceway on Sunday, Sept. 4.
KTTS is not a stranger to huge Labor Day dirt track racing events leading all the way back to the 1970s at the Bolivar Speedway promoted by Nevelle Neil when the event was called Fina Dirt Track Championships. The same show moved to the Monett Motor Speedway and was promoted by Curtis Lockhart.
Mooneyham and his family took over the Monett dirt track in 1980, renaming the event the KTTS 4-State Dirt Track Championships and continued hosting the Labor Day event until selling the 3/8-mile clay "Grand Ol' Lady" in 2017.
"Growing up, the KTTS Labor Day race was always a big event and it really is a honor to have Randy Mooneyham as the Grand Marshal of our KTTS Ozark Area Dirt Track Championships," Springfield Raceway owner Jerry Hoffman said. Randy and his family owned and operated dirt tracks around the area for 47 years.
The Mooneyhams not only had a love for dirt track racing but a love for Republic (Missouri) Tigers athletics as well. Randy served on the Republic R3 School Board for 15 years. He and his wife, Linda, have five children and they all participated in Republic athletics.
The entire Mooneyham family worked together at the race tracks. The Springfield Raceway and Mooneyham family together are going to have an athletic scholarship for a graduating senior in the class of 2023.
The Dirt Track Bank Cash Money Late Models top the card this Sunday with a $1,000-to-win, $325-to-start main event. The series is owned by Randy Mooneyham's older brother, Darrell Mooneyham, and his son, Dustin Mooneyham.
In addition to the USRA Stock Cars and USRA B-Mods, classes on this Sunday's card also include Indigo Sky Casino Midwest Modz (A Class), Hayden Machinery Midwest Modz (B Class), INEX Legends, Pepsi Pure Stocks and Guffey Services Heating & Cooling front-wheel-drive Mini Stocks.
Driving Directions: I-44 to exit 75, then south to Kearney Hwy, then 1.0 mile west to Westgate Ave, then 0.3 mile south to 2110 N Farm Rd 123, Springfield, MO 65802.
The pit gate will open at 11:30 a.m. and spectator gates open at 2 p.m. Draw cutoff for competitors is 2:30 and hot laps (if necessary) are planned for 2:45. Heats for weekly classes begin at 3:10 with hot laps for Late Models and Stock Cars at 6:40. Opening ceremonies start at 7:05 and the main events are slated to get the green flag at 7:15.
Any cars after cutoff will tail to rear of a heat race and not receive passing points, only the heat position finish. Passing points used to set fields for Stock Cars and B-Mods with top 8 redrawing for starting spots. Midwest Modz, Pure Stocks and Legends straight up lineup for feature. How many transfer will be determined by car count in each class.
Grandstands ticket prices are $20 for adults or $18 for military and seniors. Kids ages 6 through high school seniors are just $2 per ticket while children 5 and under get in for free. Adult pit passes are $35 and kids 6-14 are $15, Children 5 & under are free.
In case of inclement weather, the backup date is Monday, Sept. 5.
Visit usraracing.com for schedules, points, photos, souvenirs, videos and follow USRA social media on Facebook, Instagram, Twitter and YouTube.
LATEMODEL
Cash Money Late Model Rules apply
USRA STOCK CAR
Payout: 1)700 2)400 3)300 4)250 5)220 6)200 7)140 8)120 9-20) $100
Non-Qualifiers $80 (must start Last Chance to collect)
Entry Fee $30
B-MODS
USRA Rules
Payout: 1) 700 2) 400 3) 300 4) 250 5) 220 6) 200 7) 140 8)120 9-20 100
Non-Qualifiers $80 (must start Last Chance to collect)
Entry Fee $30
LEGENDS
1)400 2)275 3)200 4)125 5)100 6)90 7)85 8)80 9)80 10)75 11-20 70
Entry Fee $25
MIDWEST MODZ A CLASS
RULES: Springfield/E-Mod - Lakeside, I-35, Grain Valley (must run 6000 RPM chip)
1)400 2)250 3)200 4)150 5)120 6)100 7)90 8)80 9)75 10)75 11-20 80
B Main - $60 (must start B-Main to collect)
Entry Fee $20
MIDWEST MODZ B CLASS
RULES: Springfield
1)300 2)200 3)150 4)125 5)110 6)100 7)100 8)90 9)85 10)80
Entry Fee $20
PURE STOCK
RULES: Springfield, Dallas County, Lebanon, Nevada, Salina, Lake Ozark,Crawford County, Caney, Humboldt I-35, IMCA Hobby Stock
1)$400 2)200 3)150 4)125 5)120 6)$100 7)95 8)90 9)90 10-20) $80
Entry Fee $25