John Schneider comes to Springfield November 6
October 13, 2021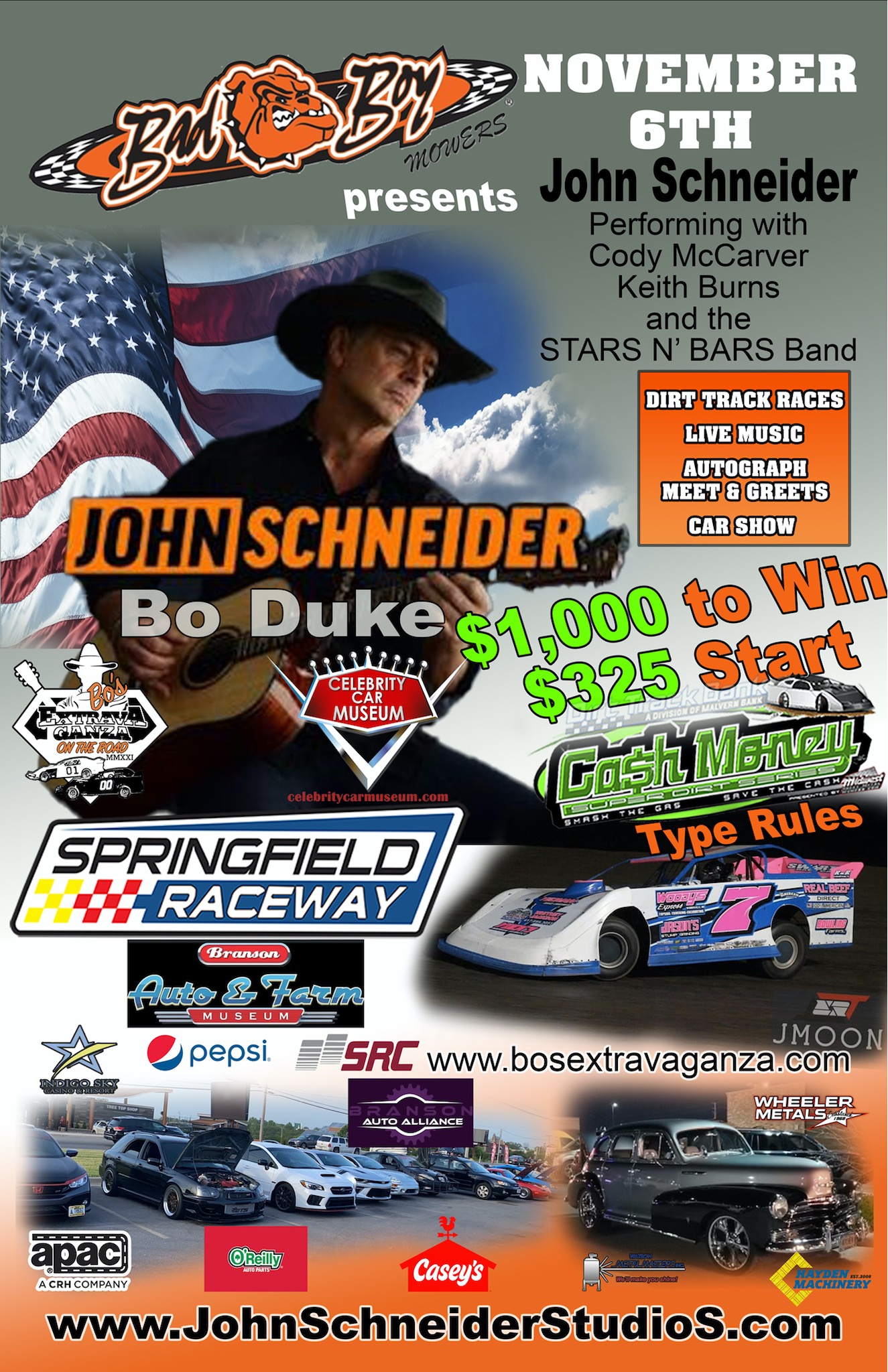 BADBOY MOWERS presents and Springfield Raceway welcomes The John Schneider "Bo's on the Road Extravaganza" on Saturday November 6, 2021.Latemodels, B Mods,Pure Stock,MW A MW B & Legends are the Dirt Car Classes for this Event.
LATE MODEL
Cashmoney type rules
May groove & sipe
$1,000 to Win $325 start
$60 entry
B MOD
Turkey Bowl rules
$400 to Win $50 start
MW A Class
$250 WIN $50 start
MW B Class
$100 WIN $50 start
PURE STOCK
$250 WIN $50 start
LEGENDS
$250 to WIN $50 start
Schedule of Events
10:00- Lucky VIP Fan Ride with Bo Duke in General Lee
11:00- VIP Gate open/Car Show
12:00- VIP Meet & Greet
1:00-Concert Admission Tickets can be bought at the Gate.
Adult $30
Kids 6-High School $2.00
5 & Under FREE
The $30 ticket gets you the Concert/Car Show & the DIRT CAR RACE
1:00- Pit Gate Opens
2:00- Keith Burns
2:30- Cody McCarver
3:00- John Schneider
3:45- Race Gate Open
Adults $20 / Seniors $18
Kids- 6-High School $2.00
5 & Under FREE
4:00-Hot Laps
4:45-National Anthem John Schneider
5:00-Racing
Possible Autograph Session after Races….
The day begins with the Dukes of Hazzard Star John Schneider (Bo Duke) giving a Lucky VIP Fan a ride in the World famous General Lee. VIP Meet & Greets are available for purchase! A Car Show sponsored by Branson Auto Alliance with local Cars as well as Worls Famous Cars from the Celebrity Car Museum located in Branson MIssouri. John Schnieder will perform a country music Concert with his Stars & Stripes Band, which includes country stars Keith Burns (of the band Trick Pony) and Cody McCarver (of the band Confederate Railroad).
John, who is a great American patriot, believes we should ALL STAND for our National Anthem. John will speak the meaning of the words of our National Anthem, and then together, at Springfield Raceway, we will all stand as John sings our great National Anthem. Following the National Anthem, John and his wife, Alicia, will race their modifieds at Springfield Raceway! After the race, John will be available to sign autographs.
Please click on the link below to purchase Advance Event Tickets & VIP Meet & Greet tickets with John Schneider! Note, there are a limited number of meet & greets available, so act as fast as the racing!!
https://www.etix.com/ticket/p/2967654/lets-get-dirty-springfield-raceway-livingston-drivein-theaters
Springfield Raceway owner, Jerry Hoffman, says: "This is pretty neat to bring John Schneider to the Springfield Raceway. The Dukes of Hazzard was my favorite television show growing up. John is a true American patriot. Please follow him on Facebook. With all the negative media and crazy political views in the world, it is refreshing to see all the GOOD that John Schneider stands for and it is an honor to host him at Springfield Raceway."
John Schneider said many people assume that his interest in fast cars began with his role as Bo Duke driving the General Lee on the iconic television program "Dukes of Hazzard."
"People say, 'Did you start to love cars after Dukes?' No, I was always a car fan," Schneider said, adding that his interest was sparked as a youngster by movies like Grand Prix and trips to watch racing at Watkins Glen in his native New York state.
"I have heard great things with Springfield Raceway being a multi groove fast , wide ¼ mile clay track and I can't wait to get to Springfield Raceway. Springfield is the heart of the Ozarks with Branson Missouri being only 45 minutes away'' Schneider stated. . Driving a race car has Schneider particularly pumped. He said bragging rights will be on the line between John & his wife Alicia when he gets behind the wheel of his Modified.
"We're really serious," Schneider said of racing the Modified , half-joking "there's really only one person out there I really want to beat, and it's (my wife , Alicia). If fearlessness has anything to do with it, I'm gonna be in a world of hurt. She's a little ball of fire and she's as tough as a Waffle House steak. Somebody is gonna have bragging rights at home."
"This will only be my 5th race in this car," he said. "I want to be somebody that's hard to beat, not somebody that just hangs out. With my history, I've got to be a force on the race track or else I'm just in the way."
Schneider, with 112 acting credits in terms of films and television programs, said fast cars have been in his blood "for as long as I can remember."
"My dad did automobile upholstery and my mother was the first person I saw turn the top of an air cleaner upside down so the car would sound better," Schneider said. "So I come by it fairly naturally. Somewhere in my past, I think it was maybe an uncle who raced a cigarette boat. The need for speed has always been a part of me."
The role on Dukes of Hazzard was a natural fit and driving the orange 1969 Dodge Charger was in his wheelhouse.
"This notion of going into an oval and throwing a car into a corner is really what I did for years on Dukes," Schneider said. "This really seems to be a natural fit for me. But these cars are much better. People think of the General Lee as being an amazing car. Well, no, it was really light and easier to throw around corners. It was harder not to.
"So when I get out there it feels like one of the more natural things to me. I feel like I can get really good at this. I am not yet. Once I can equate my current car to a '69 Charger – I have one sitting not far from where I am – I can pretty much make that car do anything I want it to. My new car, I'm not real familiar with it yet."
His goal on Saturday night – along with finishing ahead of Alicia – will be to finish.
Schneider has charted 11 top-10 singles in the 1980s on the country charts including four No. 1 hits – "I've Been Around Enough to Know" (1984), "Country Girls" (1984), "What's a Memory Like You (Doing in a Love This Thing) (1986) and "You're the Last Thing I Needed Tonight" (1986). "Truck On is my 24th album, but there's still a lot of folks who know the music from the '80s, but they don't know it's me," Schneider said. "We remind them and it's great fun. The music is high-energy. We're gonna have a great amount of fun.
"You know, fun is contagious. I've never had more fun, except maybe when I'm on the race track – but not hitting the wall. I can't think of another place I'd rather be than on stage."
For more information about John, his movies and his music go to JohnSchneiderStudios.com.
If you can't make it to Springfield Raceway you can watch it live at https://springfieldraceway.tv/.