Watson Metal Masters presents Season Championship this Saturday at Springfield Raceway
October 13, 2021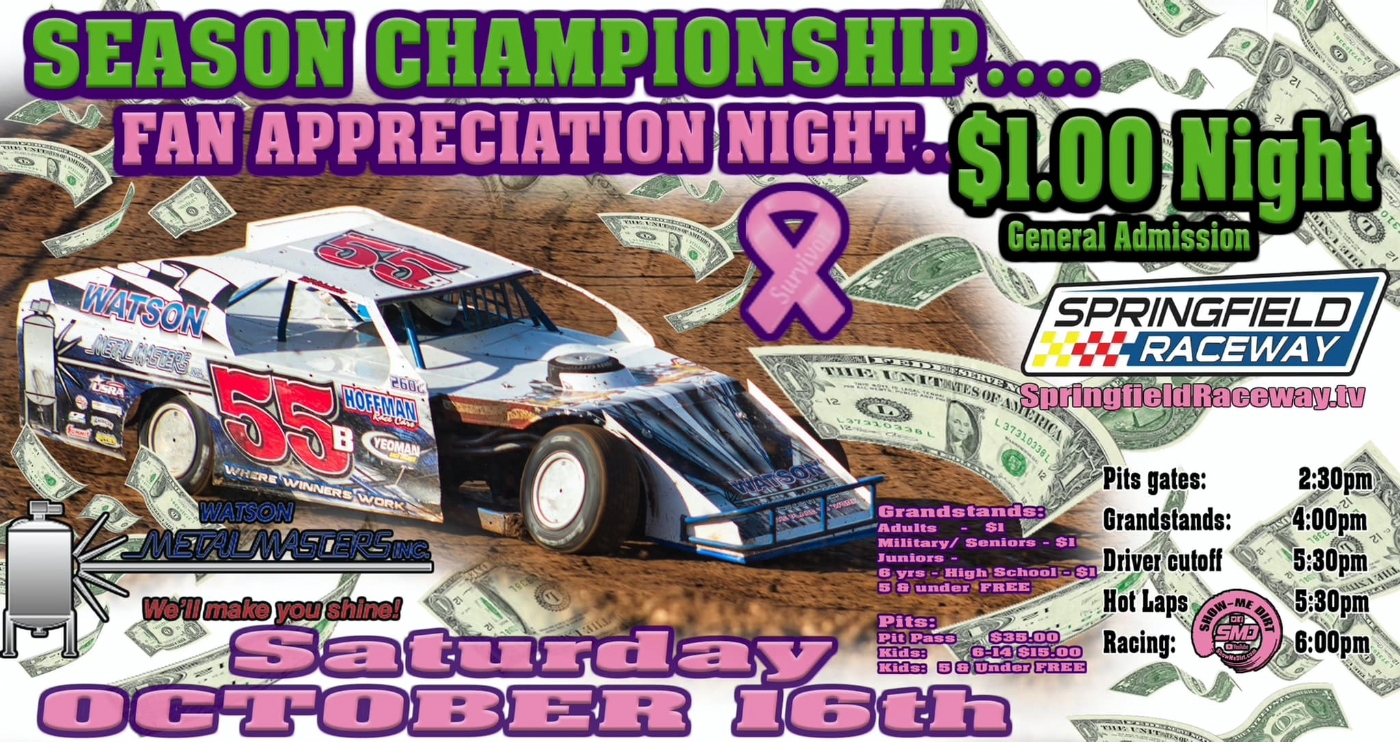 Springfield Raceway & Watson Metal Masters present Season Championship Night with $1.00 General Admission this Saturday October 16. Bill Schauber, President of Watson Metal Masters said "Championship Night at Springfield Raceway is great to be a part of & offering Race Fans $1.00 General Admission should help bring in some new Fans to the Springfield Raceway." Race Fans will get to watch 7 Classes of Dirt Cars Race on the ¼ mile clay oval . Mom & Dad load your kids & the neighbor kids up & be at Springfield Raceway this Saturday. Race Fans Be sure & get here early we will have Race Cars with Drivers to meet & greet with Fans in the Grandstand Area before Racing begins.
Times
Pit Gate: 2:30
Grandstands : 4:00
FAN MEET & GREET
Driver Cut Off - 5:30
Racing - 5:58
CLASSES
BADBOY MOWERS MODIFIEDS
IMCA / USRA / UMP type
USRA BMODS
CASEYS MW A CLASS
HAYDEN MACHINERY MW B CLASS
PEPSI PURE STOCK
INEX LEGENDS
APAC HORNETS / FWD / MINI STOCK
The A MODIFIED rules will be open to the Turkey Bowl rules for the rest of the 2021 Season. We will be combining the sanctioning body rule packages.Payout will be $500 to Win & $100 to start …
MODIFIEDS RULES..
NO MIXING OF RULES…
IMCA Type - USRA Type UMP Type
USRA -
•NO rear spoiler (may leave sides)
•American Racer Tire K7704
IMCA type -
Must run all 4 Hoosier G-60 / May Groove & sipe
4 " Maximum height rear spoiler ( open motor or crate )
39" Maximum height rear deck
No rear panel
2400 min. weight rule
UMP type-
May run UMP 60s on rear or IMCA G 60s on rear
2500 Min.. weight rule
Must have 50 lbs of lead in front of midplate
8000 Max. chip rule
About Watson Metal Masters
Established in 1995 , Watson Metal Masters is a provider of small tanks and component parts. It specializes in the fabrication of stainless steel process tanks and vessels. The company also offers services, such as engineering, fabrication and field fabrication. Watson Metal Masters offers a wide range of products, which include jacketed tanks, agitated tanks, electro polished tanks, horizontal tanks and many more. It serves various industries, such as food, meat, poultry, dairy, beverage, chemical, petro-chemical, pharmaceutical, pulp and paper, health and beauty aid, paint, cosmetics, and many other industries. Watson Metal Masters Inc. specializes in stainless and alloy custom fabrication industry.