Weekly Racing + Powder Puff this Saturday
September 22, 2021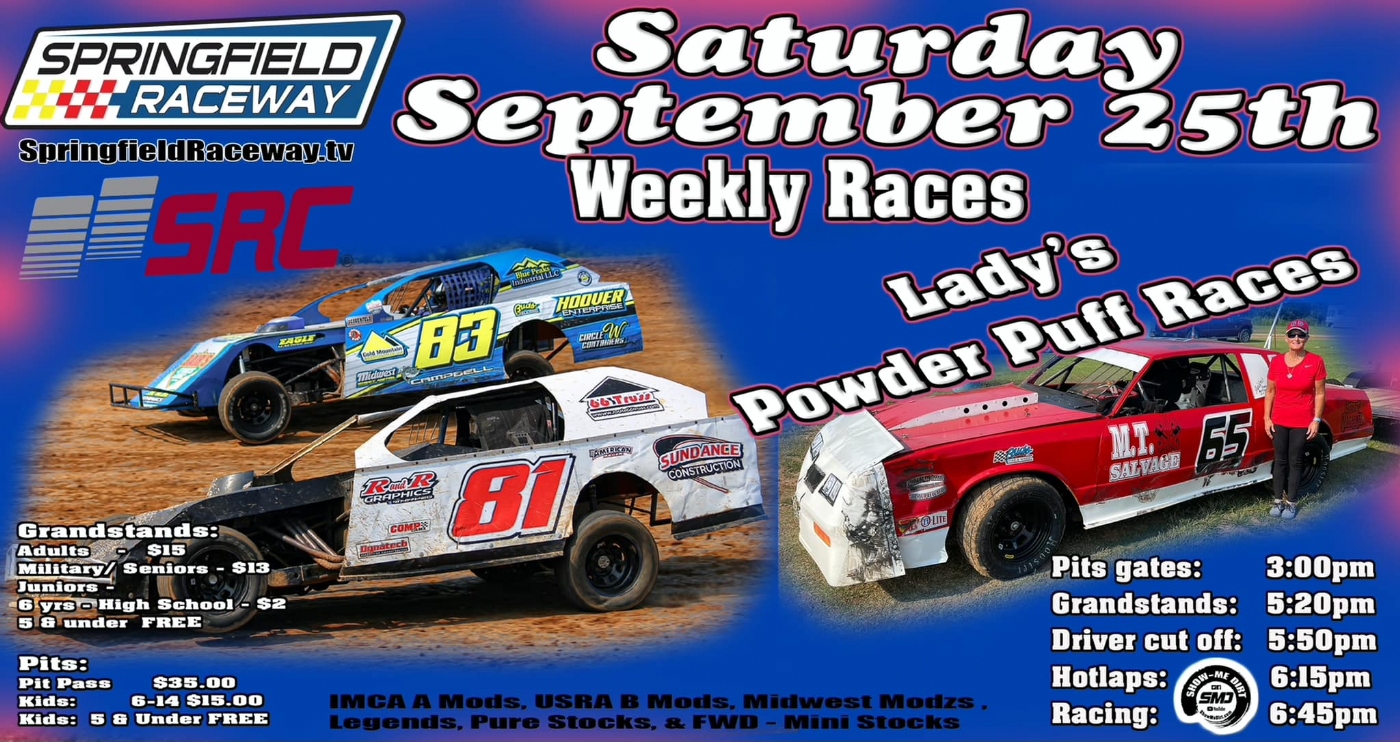 This Saturday September 25 SRC Companies Presents Weekly Dirt Track racing action at Springfield Raceway. Ladies Powder Puff racing tops the card along with 6 classes of Dirt Track Racing. Drivers remember they say behind every good Man there is a greater lady. This Saturday is time to put her in your car or maybe it's her car either way let her shine & make some laps…..
See you at the Races this Saturday…..
BADBOY MOWERS IMCA MODIFIEDS
USRA B-MODS
CASEYS MW A CLASS
HAYDEN MACHINERY MW B CLASS
PEPSI PURE STOCK
INEX LEGENDS
APAC HORNETS / FWD / MINI STOCK
PRICES
GRANDSTANDS
ADULTS: $15:00
SENIORS: $13.00
AGE 6 - Seniors in Hogh School $2.00
KIDS 5 & UNDER FREE
TIMES
PIT GATE 3.00
G S 5:20
DRIVER CUT OFF 5:50
HOTLAPS 6:15
RACING 6:45
Remember… if you can't make it to the track for some unknown reason … well you can watch live from home at
https://springfieldraceway.tv/
ABOUT SRC HOLDINGS CORP
Acknowledged as a Top 25 Best Small Company in America by Forbes, SRC is an employee-owned remanufacturer in North America directly servicing original equipment manufacturers (OEMs). We are known world-wide for our open-book culture, The Great Game of Business®, which focuses on transparency, integrity and business literacy.
Since 1983, we've been helping OEMs sell parts and whole goods through custom remanufacturing programs for the agricultural, industrial, construction, truck, marine and automotive markets. Our expertise has grown far beyond remanufacturing to include warehousing, logistics, core management, kitting and packaging, and material salvaging.
Our success would not be possible without our associates who continue to better the organization daily. Our associates take pride in their reputation as businesspeople who understand how they can impact our bottom line. Their excellent technical skills – accompanied by their role as employee-owners – has become our legacy in the industry.