BACK TO SCHOOL BASH for the KIDS Saturday, Aug. 19
August 21, 2023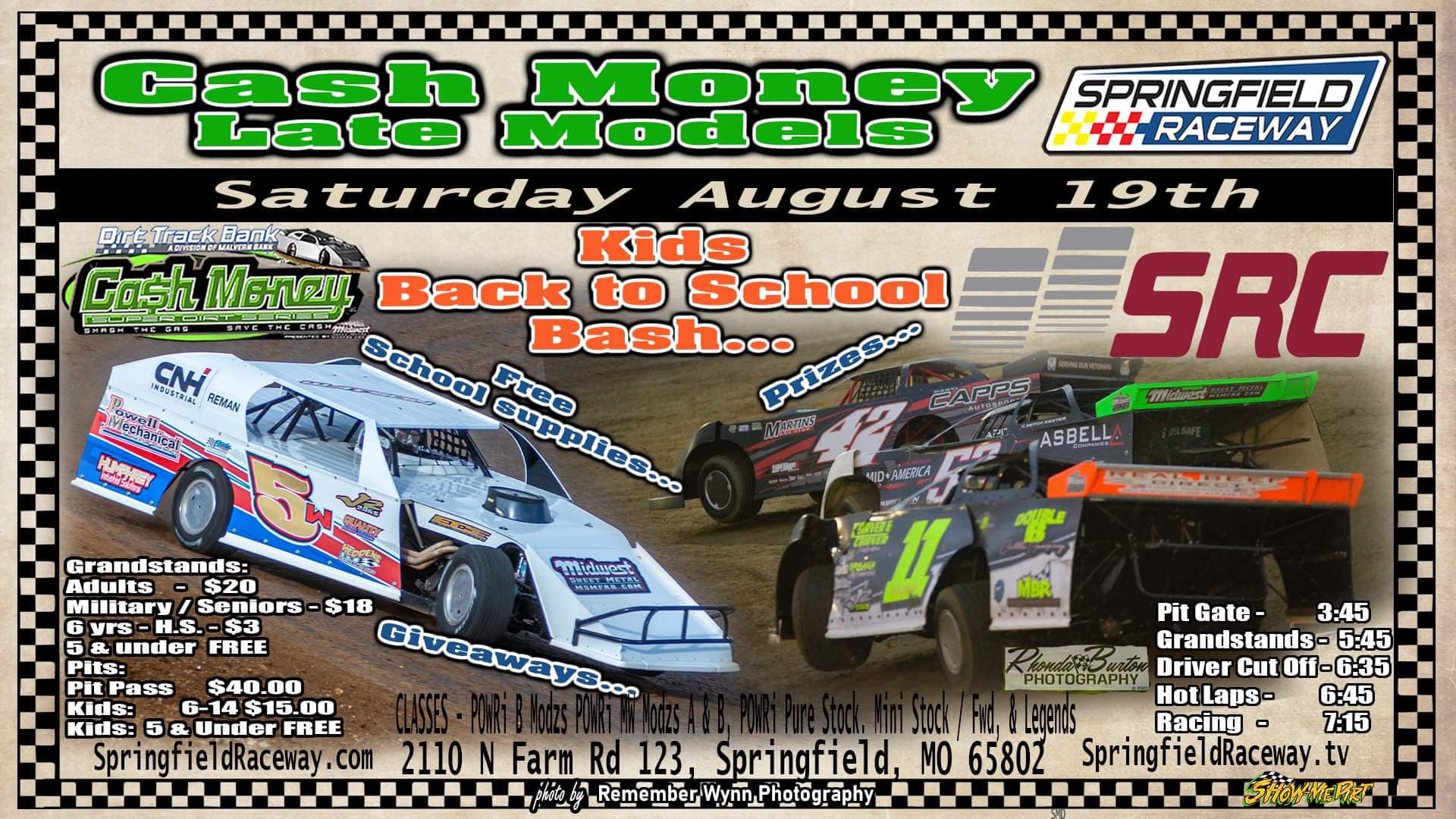 BACK TO SCHOOL BASH for the KIDS…
CASH MONEY LATE MODELS with the FLYin FARMER 55 (Tribute to Ken Essary)
…….EVENT TIMES TODAY …..
Pit Gate: 3:45
Grandstands: 5:45
Driver Cut Off : 6:35
Hotlaps: 6:45
Racing: 7:15
Saturday August 19 Src Companies & Race Brothers Farm & Home Supply presents the Back to School Bash with the Cash Money Late Models Flyin' Farmer 55 a tribute to the Legendary Stock Car Driver Ken Essary.Springfield Raceway will as well have 6 weekly classes competing for Watson Metal Masters Victory lane on this night.
Race Brothers Farm & Home Supply owner Roger DeForest said " Kenny was in & out of our Race Brothers store many of time's through the years buying items for his farm. Kenny & I not only had a business relationship but a friendship & it is an honor to be a part of a night paying tribute to Kenny Essary for his accomplishments in Dirt Track Racing.
Springfield Raceway, Buds Tire & Wheel & an Kenny Essary Race Fan will be giving a Tire away to the A MAIN WINNER TONIGHT in the
B Mod , MW A & B & Pure Stock Class.
ALL TRAILER SERVICES B Mods $455
PEPSI Pure Stocks $255
WHEELER METAL Legends $255
INDIGO SKY MW Modzs $255
HAYDEN MACHINERY MW B cls $155
GUFFEY SERVICES HEATING & COOLING Mini Stk /Fwd $155
Mom & Dad bring the kids as the first 150 kids get a Springfield Raceway drawstring bag along with a few other goodies.A couple of the bags will have a special prize. Freddy's Frozen Custard will give all kids a free cone with their Super Reader Program.
Thanks goes out to Roland Auto Center in Joplin Mo. for some help with some school supplies.
Indigo Sky Casino will give a Lucky Race Fan a Play & Stay at Indigo Sky Casino which includes a one night Deluxe King or Double Queen Room, $50 in Dining Credit & $20 Rewards Credit for 2 people .This is a $239 value.
DON'T FORGET TO CELEBRATE YOUR BIRTHDAY AT SPRINGFIELD RACEWAY FOR FREE….
The week of your Birthday Sunday through Saturday show valid Id for proof of your Birthday & watch the Races for FREE at Springfield Raceway…
Springfield Raceway as well offers discounts on groups for any type of gathering & especially a Birthday.
You can check the details out on the Springfield Raceway web page at https://springfieldraceway.com/
For booking a BIRTHDAY PARTY you can call or text 1-417-863-0097 & leave a message & someone will contact you back.
HAPPY BIRTHDAY from SPRINGFIELD RACEWAY & Track Owner Jerry Hoffman…
DIRECTIONS
Driving Directions: I-44 to exit 75, then south to Kearney Hwy., then 1.0 mile west to Westgate Ave., then 0.3 mile south.
2110 N Fm Rd 123
Springfield Missouri
……….TIMES…………
Pit Gate: 3:45
Grandstands: 5:45
Driver Cut Off : 6:35
Hotlaps: 6:45
Racing: 7:15
………..PRICES…….
GRANDSTANDS
Adults- $20
Seniors/Military- $18
Kids 6-Seniors
in High School - $3
5 & Under - FREE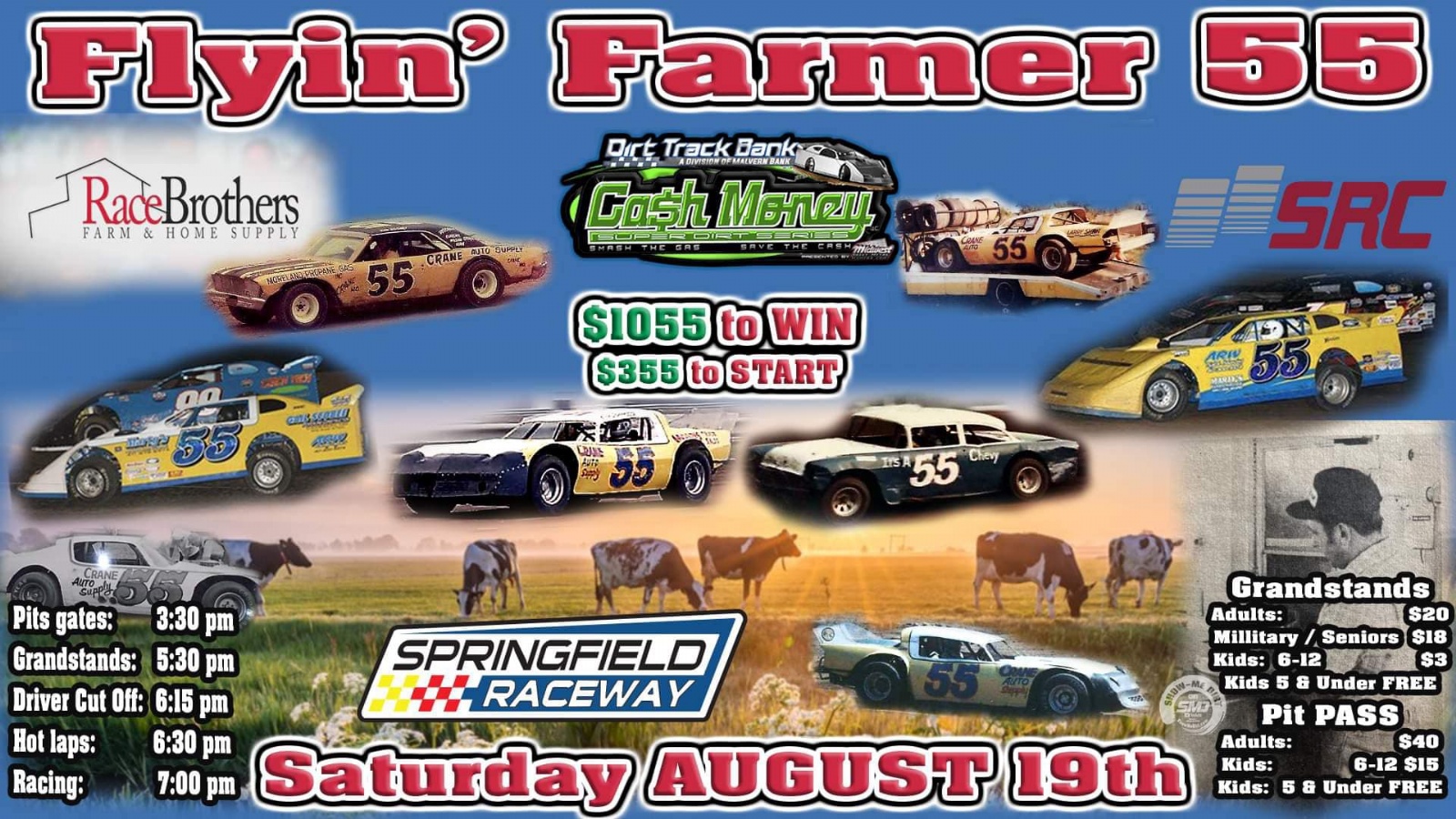 About Ken Essary:
Ken Essary became known as the Flyin' Farmer during his racing career that spanned over 40 years. He and his wife Linna live on the family farm and continue to farm today.
Ken was born in 1946. Around age 10 he knew he wanted to be a racer after watching his uncle race at the Fairgrounds in Springfield. He didn't get his first car until the age of 25 in 1971. At that time, there was only one class of cars, Late Models – Ken doesn't remember how he did in his first outing, but he won the first A main he qualified for. In 1974 he won 18 out 20 events at Fayetteville Arkansas. Rolling through the 70's Essary often raced 5 nights a week racking up 50 plus wins per season, collecting numerous track championships and wins in area special events.
In the 80's he started traveling to some of the closer special events and was the USAC Rookie of the Year in 1987. In 1989 he was a co-founder of MLRA. Essary also founded the Show-Me Racin Series in 2004 in an effort to keep racing affordable and provide a way to get started in racing.
Some notable accomplishments:
2006 National Dirt Late Model Hall of Fame Inductee
2007 Ozarks Area Racers Hall of Fame Inductee
900+ Career A Feature Wins
1987 USAC Rookie of the Year
2 Time MLRA Champion
2 Time Show-Me Racin' Series Champion
5 Time 4-State Dirt Track Champion
3 Time Arkansas Dirt Track Champion
2 Time Missouri Dirt Track Champion
Midwest Dirt Track Championship – Muskogee, OK
3 Time World Classic Champion – Van Buren, AR
Even with all the accomplishments of his own racing career, one the greatest contributions that Essary made to the sport is the help and support he has provided for area racers. For years, Ken's race shop was the place to be for parts, fuel, tires, and advice. It would be hard to find a racer in the Ozarks that hasn't been influenced in some way by Ken Essary.
ABOUT SRC HOLDINGS CORP….
Acknowledged as a Top 25 Best Small Company in America by Forbes, SRC is an employee-owned remanufacturer in North America directly servicing original equipment manufacturers (OEMs). We are known world-wide for our open-book culture, The Great Game of Business®, which focuses on transparency, integrity and business literacy.
Since 1983, we've been helping OEMs sell parts and whole goods through custom remanufacturing programs for the agricultural, industrial, construction, truck, marine and automotive markets. Our expertise has grown far beyond remanufacturing to include warehousing, logistics, core management, kitting and packaging, and material salvaging.
Our success is made possible by our associates who continue to better the organization daily. Our associates take pride in their reputation as businesspeople who understand how they can impact our bottom line. Their excellent technical skills – accompanied by their role as employee-owners – has become our legacy in the industry.
2,000 / Associates
4.4M / Square feet of manufacturing & warehouse space
100% / Employee-owned
#1 / Most innovative business practice by Inc. Magazine
$3M+ / In charitable giving since 2006
39 / Years as an employee-owned company
100 / Business books featuring the SRC origin story
60 / Individual business spin-offs since 1983
OUR HISTORY
Our story begins in the recession of the 1980s when SRC was a small division of International Harvester – who, for the past two years, had been laying off 1,000 employees every week. The Springfield, Missouri, factory would be next on the chopping block. With no job outlooks, Jack Stack and the other managers became desperate. To save everyone's jobs, they scraped together $100,000 and set out to buy the company.
After being rejected for a loan by over 50 financial institutions, Jack finally found a bank to grant them the loan. The final deal is still the worst loan in corporate American history – an $8,900,000 loan with $100,000 in equity.
In his quest, Jack learned the "language of business" and realized it wasn't that difficult to understand. With an 89:1 debt-to-equity ratio with an 18% interest rate, he needed every employee to understand that meeting their loan payment was critical to their success, how to reach that goal and that their jobs were at stake if they didn't. The key was open-book management with the idea that if everyone was working to build a great company, they would be unstoppable.
On February 1, 1983, Springfield Remanufacturing Corp. was born and vowed to do things differently. They taught all employees the company's financial statements and how they impacted those numbers. They created The Great Game of Business® to serve as a tool for teaching business metrics. Soon they had grown to one of the most successful businesses in America, and journalists from all over the world began flying to Springfield, Missouri, to learn more about these incredible associates and their unique way of running a company.