Watson Metal Masters Weekly Racing Continues Sat. Aug. 5
August 1, 2023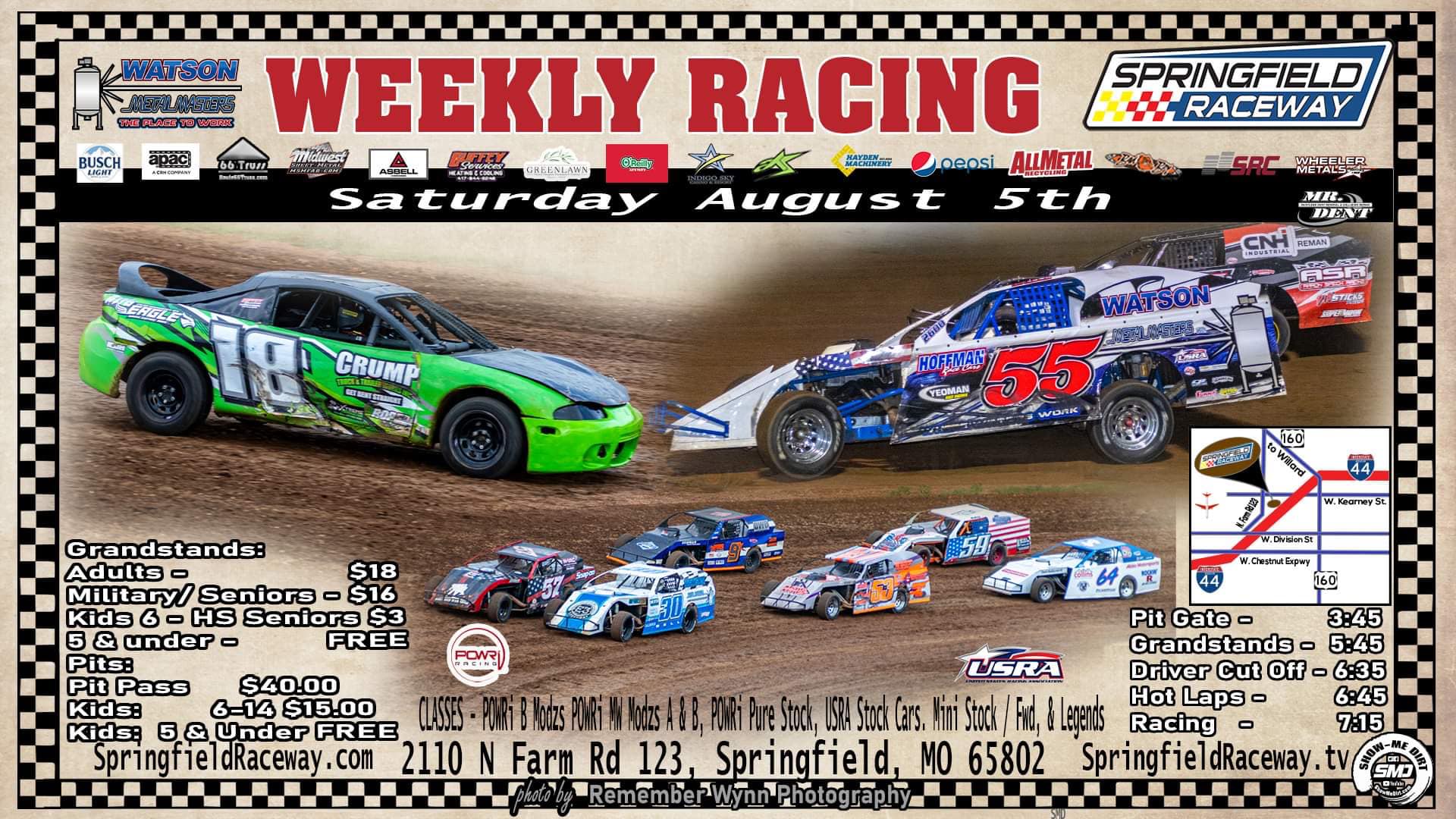 This Saturday August 5 will continue Watson Metal Masters Weekly Racing at Springfield Raceway.
Springfield Raceway will be racing 7 Classes of Dirt Cars this Saturday that compete weekly to be in Watson Metal Masters Victory Lane at the end of each night.
66 Truss Usra Stock Cars
All trailer Services POWRi B Mods
Indigo Sky Casino POWRI MW Modzs A Wheeler Metals Legends
Hayden Machinery MW POWRi Modzs B Pepsi Pure Stock
Guffey Services Heating & Air
Fwd Mini Stock
DON'T FORGET TO CELEBRATE YOUR BIRTHDAY AT SPRINGFIELD RACEWAY FOR FREE….
The week of your Birthday Sunday through Saturday show valid Id for proof of your Birthday & watch the Races for FREE at Springfield Raceway…
Springfield Raceway as well offers discounts on groups for any type of gathering & especially a Birthday.
You can check the details out on the Springfield Raceway web page at https://springfieldraceway.com/
For booking a BIRTHDAY PARTY you can call or text 1-417-863-0097 & leave a message & someone will contact you back.
HAPPY BIRTHDAY from SPRINGFIELD RACEWAY & Track Owner Jerry Hoffman…
DIRECTIONS
Driving Directions: I-44 to exit 75, then south to Kearney Hwy., then 1.0 mile west to Westgate Ave., then 0.3 mile south.
2110 N Fm Rd 123
Springfield Missouri
SPECIAL EVENT $ $
Grandstands
Adults- $18
Seniors/Military- $16
Kids 6-Seniors in High School- $3
5 & under - Free
Special Events prices subject to change.
………………….
PIT PASS $ $
Adults- $40
Kids 6-14 - $15
5 & under FREE
Special Events prices subject to change.
…………………..
Times for 7/5/23
Pit Gate - 3:45
Grandstands- 5:45
Driver Cut off - 6:35
Hot laps - 6:45
Racing - 7:15
………………………
If you can't attend the Springfield Raceway you have the option to watch it from your home live at https://springfieldraceway.tv/