Cash Money Late Models return to the Springfield Raceway this Saturday May 13
May 10, 2023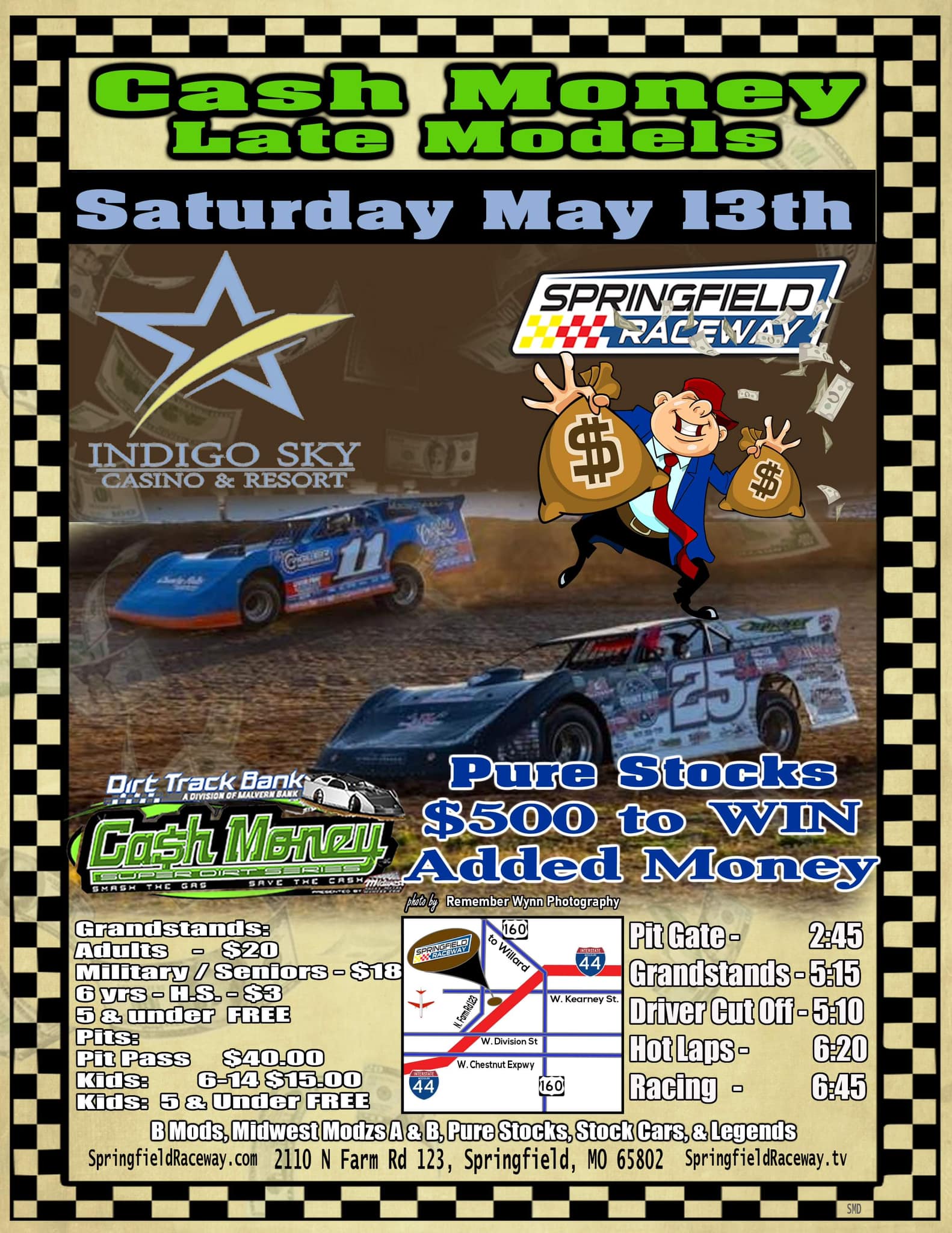 Cash Money Late Models return to the Springfield Raceway this Saturday May 13. Mitch Keeter from Webb City, Missouri holds a 2 point lead over Neosho Missouri's Jace Parmley in the Championship Chase.
The Hampton / Bussard Family will be adding money to the POWRi Pepsi Pure Stocks purse this Saturday in memory of the late Bob Hampton. The A Main will pay $500 to Win with added money throughout the field. Bob was a lifelong resident of Springfield Missouri.Bob hardly ever missed a race at Springfield Raceway & loved watching the Cash Money Late Models. Bob passed away this last Valentine's Day.
Bob Hampton ….
10/29/49 - 02/14/23 R.I.P.
This Saturday you will have the best view of our ol dirt track from way up above … THANKS for being a great fan of our ol dirt track…
Jerry Hoffman …
POWRi Pepsi Pure Stock Payout 5/13/23
1)500 2)300 3)200 4)170 5)160 6)155
7) 100 8)100 9)100 10)100 11-20) 50
Springfield Raceway will as well be racing 6 Classes of Dirt Cars this Saturday that compete weekly to be in Watson Metal Masters Victory Lane at the end of each night.
66 Truss Usra Stock Cars
All trailer Services POWRi B Mods
Indigo Sky Casino POWRI MW Modzs A Wheeler Metals Legends,
Hayden Machinery MW POWRi Modzs B Pepsi Pure Stock
DIRECTIONS
Driving Directions: I-44 to exit 75, then south to Kearney Hwy., then 1.0 mile west to Westgate Ave., then 0.3 mile south.
2110 N Fm Rd 123
Springfield Missouri
SPECIAL EVENT $ $
Grandstands
Adults- $20
Seniors/Military- $18
Kids 6-Seniors in High School- $3
5 & under - Free
Special Events prices subject to change.
………………….
PIT PASS $ $
Adults- $40
Kids 6-14 - $15
5 & under FREE
Special Events prices subject to change.
…………………..
Times for 5/13/23
Pit Gate - 2:45
Grandstands- 5:15
Driver Cut off - 5:10
Hot laps - 6:20
Racing - 6:45
………………………
If you can't attend the Springfield Raceway you have the option to watch it from your home live at
https://springfieldraceway.tv/